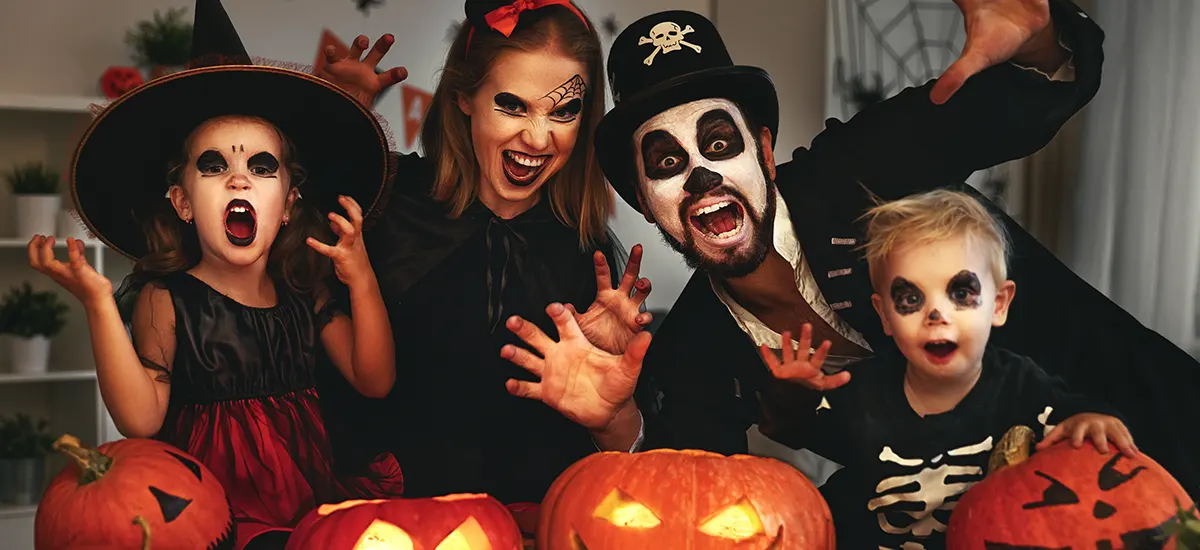 October has been a busy month for small business owners, whether it's getting Halloween products out and ready in time or decorating storefronts – much preparation goes into preparing for the spooky holiday. Luckily, this Halloween looks like it will be a promising one, with an estimated 65% of Americans celebrating this year, which is comparable to the pre-pandemic level. According to the National Retail Federation, Americans spend an average of $102 on Halloween costumes, candy, decorations, and greeting cards, amounting to billions of dollars in revenue for businesses. While Halloween increases profit margins, it's also a golden opportunity for small businesses owners to connect and give back to the communities they serve.
Joining the Fun
Communities and business leaders across the country are organizing free events to attract customers, boost sales, and lift morale. Contests such as pumpkin carving, Halloween costumes, and "gloom" decorating allow participants to have fun while competing, theater productions and musical performances provide entertainment and fundraisers to help those in need. Businesses sponsoring the events will be offering prizes to winners: monetary amounts, gifts donations, and gift cards.
Halloween activities inspire creativity and encourage people of all ages to get people out of the house, have fun and enjoy their neighbor's company. The return of Halloween events provides a sense of normalcy that Americans have lacked since the start of the pandemic. Being able to attend social gatherings and socialize freely (while respecting COVID-19 guidelines) is crucial for one's health and happiness. Indeed, some community business leaders, have been clear about their intentions for organizing Halloween events, "to uplift the community's spirits", said Sean Newton, president of Armstrong Spallumcheen Chamber of Commerce. Others, like Brandon Le, coordinator of Fullerton Market in Fullerton, CA, wants to give local artisans a place to sell their products, network, and gain visibility. Last weekend, Fullerton Market organized a Halloween pop-up market where 23 different vendors were selling a variety of goods, such as dog treats, plant accessories, candles, and food. A few participating vendors expressed how the pop-up market allows them to meet new people, have fun and support each other's small businesses.
Getting Closer to Customers
Halloween's festivities might not offset financial losses from the pandemic, but they will allow small businesses to recoup some much-needed coins and enjoy time with their customers at community events. Many small businesses have experienced a decrease in customers and sales due to the pandemic. Retail stores, in particular, have been forced to reinvent themselves by moving to e-commerce, developing new products, and connecting with customers on social platforms. Businesses have also made an unprecedented move to adopt new and improved technology to serve their customers. For instance, there's been a boom in payment processing hardware such as contactless payment systems and mobile POS systems. The ease of tapping and waving credit and debit cards makes transactions quicker by diminishing wait times and exposure to germy surfaces. Being able to meet clients where they are at, whether they are at the doctor's office, on their doorstep, in their car, or on the curb has enabled businesses in various industries to carry on their work– even during the strictest health and safety measures.
Customer Relationship Management
The move towards greater adoption of contactless payment systems is in most businesses' interest. POS systems are equipped with a multitude of functionalities enabling business owners to better manage their businesses from the nitty-gritty, time-consuming tasks to financial reporting and everything in between. Customer relationship management systems (CRMs) stand out for retailers, especially. It captures customers' purchase history and behaviors, allowing retailers to send their customers' special offers and promotions based on their preferences. Depending on the CRM, there are built-in loyalty programs that help create brand awareness and lasting relationships with customers.
Conclusion
With COVID-19 restrictions still in place, it's necessary for businesses to take every opportunity to get closer to their customers. Investing in new payment processing hardware is one way, however, simply getting outside, having fun, and connecting with your customers in person is another way. Small businesses owners understand this more than ever, as demonstrated by many businesses jumping on the Halloween bandwagon in organizing and participating in free spooktacular festivities in their respective communities. We hope everyone has a fun-filled and spooky weekend! Happy Halloween!
To learn more about contactless payment systems, subscribe to Sekure's blog.
Curious about POS systems and want to know how Sekure's payment experts can help your business, drop us a line.