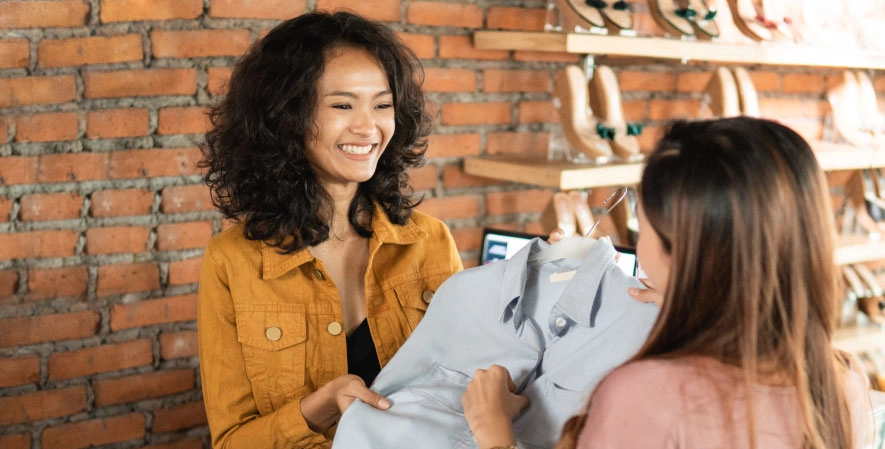 According to Trueship, return policies influence whether customers make purchases or not. In other words, customers are more likely to purchase items from your brick and mortar or online retail store if returns are possible.
In another survey, 69% of customers responded that having to pay for returns would limit their chances of buying from the same retail store again. This demonstrates that having a flexible and clearly articulated return policy for your retail store (whether online or at a physical location), will likely make a difference. When customers know what to expect, they will be more apt to buy from you.
What The Law Requires For Returns
While most retail stores allow returns or exchanges, they aren't required to do so by law: they're only obligated to accept returns if goods are defective or damaged.
There are both federal and state laws regulating consumer refunds. For instance, under federal law, the "Cooling-Off Rule" allows refunds to be made up to 3 days after purchase. The seller must clearly communicate the cancellation policy at the time of the sale : by giving customers cancellation forms and receipts. Items must be valued at $25 or more for sales at home and $130 and over for sales made at temporary locations. But to be clear, the location of the purchase – be it at a customer's home, workplace or a temporary location, doesn't have a bearing on the refund.
It must be noted that the Cooling Off Rule doesn't apply to all situations. As per Consumer Information from the Federal Trade Commission:
Sales cannot be made online, by telephone or by mail
Arts and crafts sales are not applicable
Real estate, insurance or securities are not applicable
Vehicles (if seller has a temporary location)
Good or services that don't pertain to personal, family, or household uses
Most state laws on consumer refunds are similar in that return and refund policies depend on the retail store, however there are exceptions. Some states require retail stores to post their refund policies in visible areas (at the cash register) and if they don't, cash or credit refunds must be accepted within 20-30 business days. Other states, like New York state, don't require retail stores to have a specific refund policy or exchange policy.
Be sure to check your state's laws before drafting a return policy.
How To Create A Return Policy
Having a return policy is essential for your retail store. It sets clear standards and expectations for your customers by informing them on what, how and when items can be returned or exchanged.
Your return policy will depend on your business type. If you own a clothing retail store, be specific about the clothing's condition (unwashed, unworn) and the reason for returning them (they don't fit well, change of heart).
While returns may result in loss of sales, always be considerate of your customer. Your policy should be fair and flexible (depending on what you're selling) and include disclaimers. Giving customers 30 days to return items for a refund or offering exchanges or store credits is also a good way of introducing them to new products in your retail store.
If a customer requests a return outside your return policy, use your discretion. Accommodating them can go a long way. Customers who have a good experience are more likely to give your retail store positive ratings and reviews and be repeat customers.
Where To Post Your Return Policy
Your return policy needs to be displayed in visible areas in your retail store: at the cash register, point of sale or directly on the items you're selling. Happy customers are well-informed customers, therefore post signs in a few places, especially if it's required by law. It's also helpful to gently remind your customers of your policy while they're shopping in your store or already at the cash register. If you have the option of offering both electronic or paper receipts, give your customers a choice. Electronic receipts are practical for returns – it means less inventory costs on paper receipts which is better for the environment and your health.
If you're selling products online, be sure to include links to your policy on your website. Customers frequently abandon their purchases in the midst of checking out, a phenomenon known as "cart abandonment". Sometimes customers change their minds, other times they're missing crucial information that prevents them from going through with the purchase. To avoid misunderstandings, Shopify suggests including your return policy in these places: your website footer, FAQ page, product page, shopping cart or checkout.
Have questions about drafting your own return policy? Reach out to our CPP Certified Payment Professionals for assistance on crafting a clear return and exchange policy.