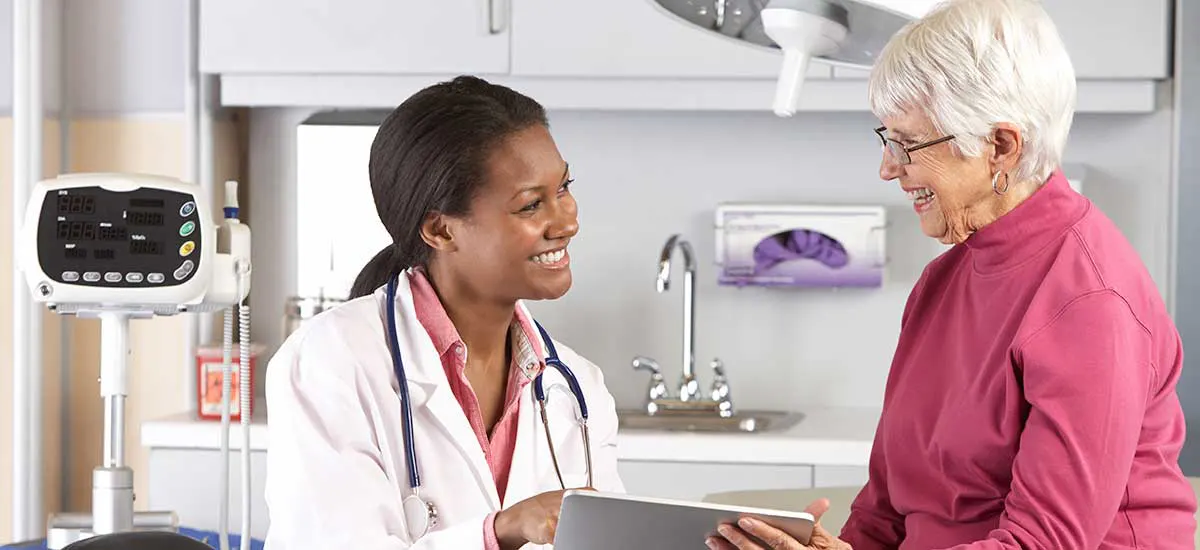 COVID-19 has greatly impacted every facet of the global healthcare system; from acquiring medical supplies to staffing and leveraging technology, to better serve patients. Consequently, the healthcare industry has been forced to find solutions and, in doing so, uncovered fundamental shifts. We looked at numerous reports and compiled this list of trends to watch out for when you are future-proofing your medical practice for the post-COVID-19 economy. According to these reports, including those published by McKinsey--
The Essentials of Healthcare Innovation
and Deloitte's "
2021 Global Health Care Outlook
", among others-- some key areas include patient engagement, technology, staffing, and how the healthcare sector actors collaborate.
Increased Patient Engagement, Changes to Care Model
COVID-19 has inspired the average person to take a more active and involved interest in their health. As a society, we are paying closer attention to health, asking more questions, and using the resources at our disposal to better track and monitor our health. Advances in
artificial intelligence
(AI) are making it easier for clinicians to "interpret data, personalize the health experience and automate health care operations". More people are "using their medical records to make care-related decisions, using fitness trackers to monitor their health, and ordering prescriptions online". People are also more likely to seek care from a trusted clinician and opt for a virtual visit than before the pandemic. These factors are contributing to a shift from "healthcare to health and well-being, more resources are being allocated from the end of the healthcare value chain to the beginning. There will be a greater focus on promoting healthy lifestyles, wellness; on primary and secondary prevention; and on early diagnosis" (Deloitte Insights 2021, pp 5-6).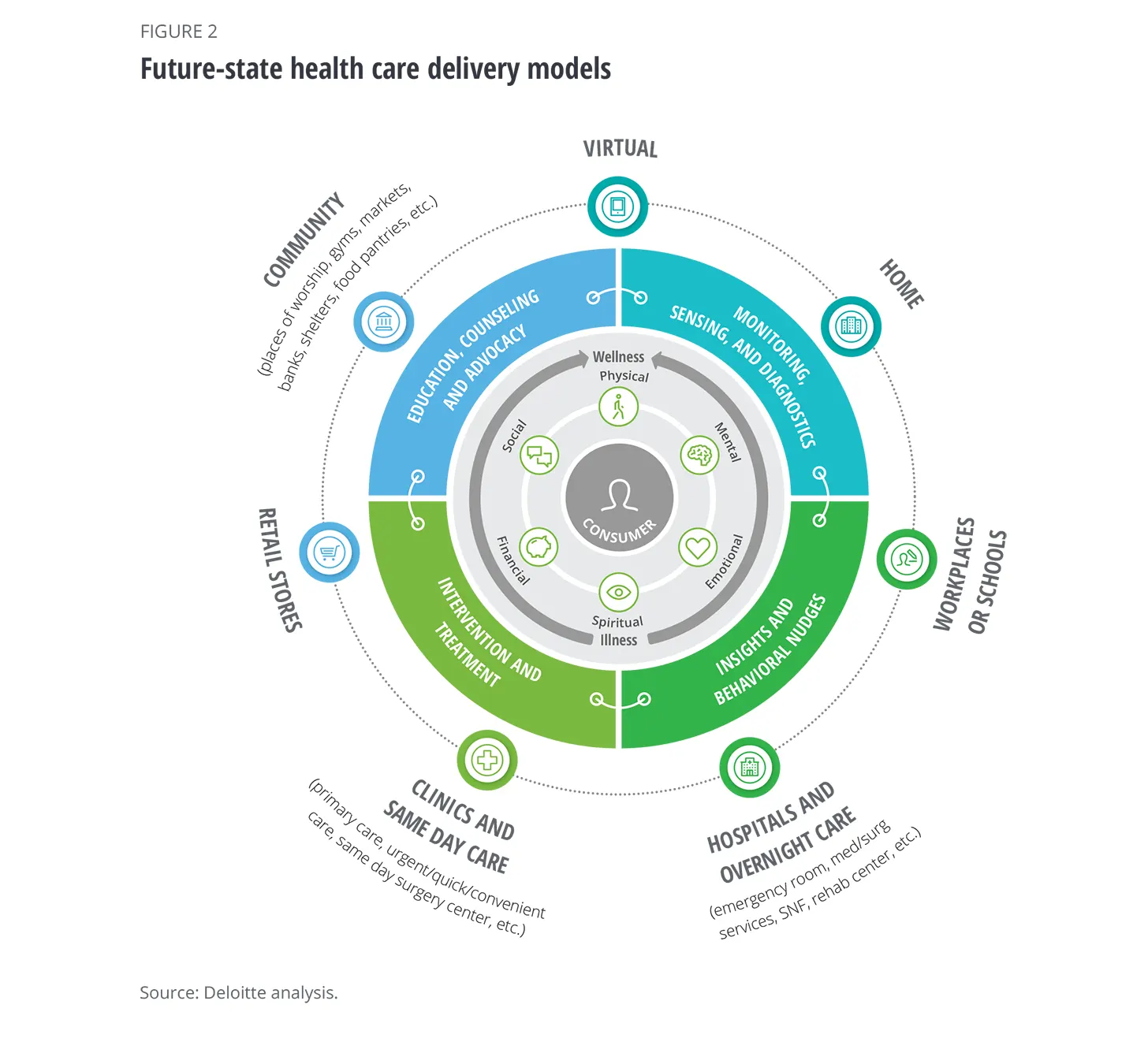 More concretely, health care organizations are investing in technology in order to adapt their practices to meet both consumer and healthcare practitioner expectations. Technology is helping practitioners to meet patients where they are through telemedicine and virtual visits. Remote medicine also helps to reduce workloads that are even heavier than they were during the pandemic as a result of clinician burnout and the exodus of staff out of the medical field. Technology allows more clinicians to work remotely and more automation lessens their administrative burdens as well.
Harnessing Technology
The old adage that "needs must when the devil drives" holds true in medicine, as well, and new technology is quickly being put in place to enable clinicians to work smarter and better engage with patients. COVID-19 has indeed made the health care system move faster towards technological innovation. By embracing technology and embracing new technology, health care practitioners were able to see and treat "50 to 175 times the number of patients via telehealth a few months into the pandemic compared with what they did before" according to an
article on Telehealth
reported by McKinsey & Company. In McKinsey's article, "
Virtual Health: A Look at the Next Frontier of Care Delivery
", the authors observe that advances in cloud computing have led to wider spread adoption of remote care. Clinicians can treat patients virtually and easily access patient electronic health records (EHRs) virtually. Advances in
artificial intelligence
(AI) are making it easier for clinicians to "interpret data, personalize the health experience and automate health care operations". The increased use of technology is allowing clinicians to provide a better patient experience because it reduces the time they are spending on redundant administrative tasks. In addition, patients are able to control their own medical data and information and are empowered to manage and monitor their health.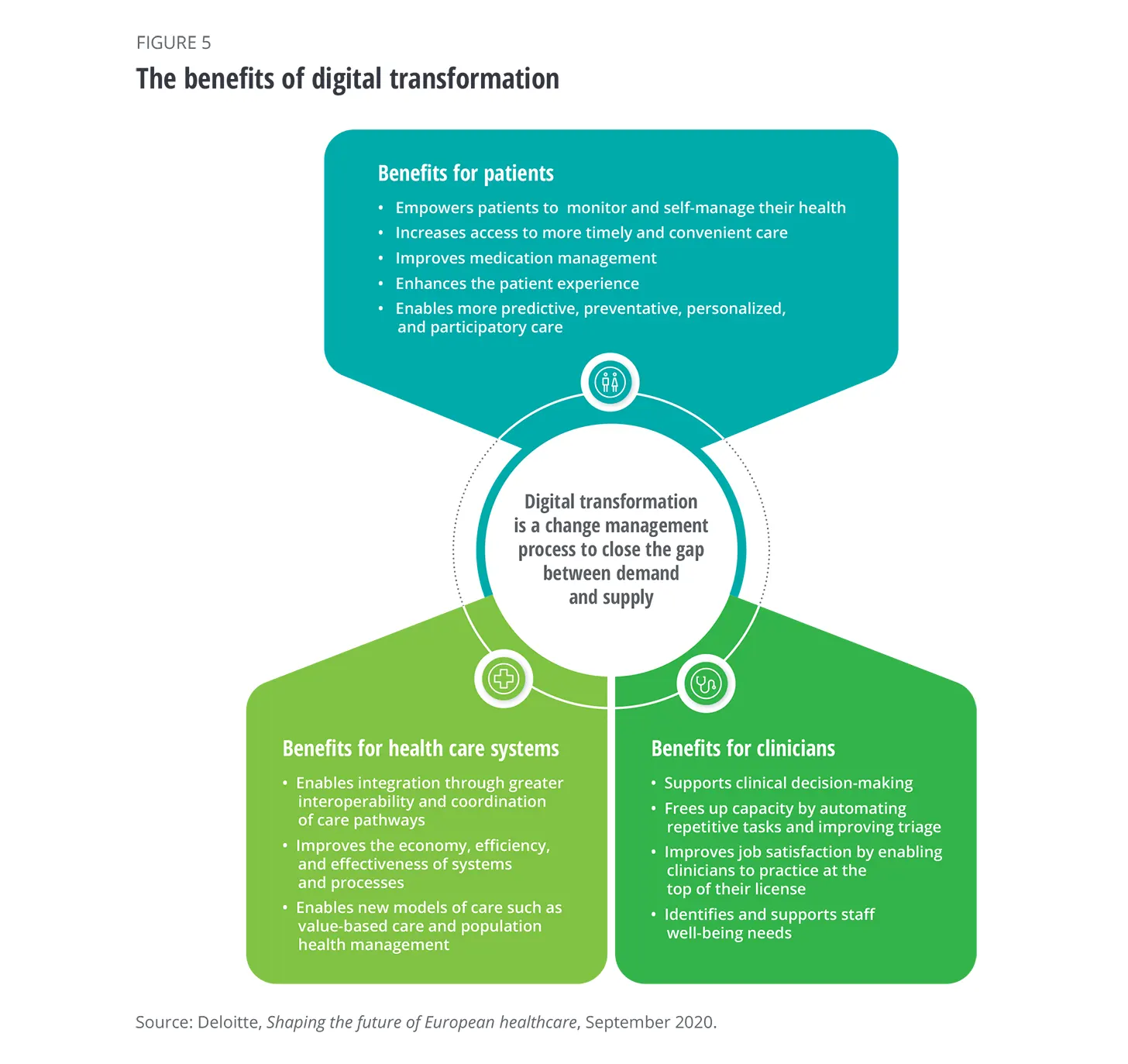 Medical Staffing, Health Disparities, More Collaboration
The healthcare system has had to deal with a shortage of healthcare workers, due to the
heavy toll
of the pandemic. The Lancet reports that COVID 19 has resulted in health care workers experiencing "high rates of depression, anxiety, insomnia, and distress" including "depressive symptoms, post-traumatic stress disorder, and burnout". Given this, is it any wonder that the global medical community is experiencing staffing shortages? Besides facing a
global shortage
of healthcare workers by 2030, the healthcare industry will need to work on employee retention while also managing the transition to a more virtual workplace. This push will require more skills training and adapting to using technology while also maintaining the human connection that is so crucial to patient care. COVID-19 has also highlighted the disparities in health care available to patients in different income brackets. Now, medical and governmental agencies are working to address this and make health care costs more transparent and accessible for low-income groups and communities. Part of the solution rests in health care organizations - both public and private, in
developing partnerships
to better serve these communities and working through an equity lens/framework.
Strengthening Medical Supply Chains
Collaborations across the health care landscape are essential. Global collaboration has always been pivotal in pushing the medical sciences forward through the sharing of scientific knowledge and publication of their discoveries. Now, the future of medicine and indeed the ability for the global medical communities to treat patients in future global pandemics depends on strengthening the medical supply chains and ensuring
adequate medical supply
remains in stock. Improving communication and eliminating barriers between vendors and distributors is instrumental in maintaining sufficient supply levels. Healthcare providers will benefit from forming partnerships with health or non-health-related companies, by "leveraging data analytics to improve health education, prevention, and treatment" (Deloitte Insights 2021, p 24).
Gradual Transformation
As healthcare systems grapple with the aftermath of COVID-19, we can expect to see gradual shifts in the next coming years. Because of the magnitude of the changes required and the necessary steps required to undertake such transformations, a multipronged approach that "assesses the gap between the current state and desired state, that prioritizes initiatives to invest in and develop, implement, monitor and measure" (Deloitte 2021, pp 9) will be of utmost importance. While cost may be a deterrent, there is an urgency to act quickly in finding sustainable solutions to improve outcomes - for the sake of frontline workers, medical staff, and patients.
Become a Sekure Insider
Stay up to date and in the know on topics important to the clinicians and staff of American medical clinics by becoming a Sekure Insider.