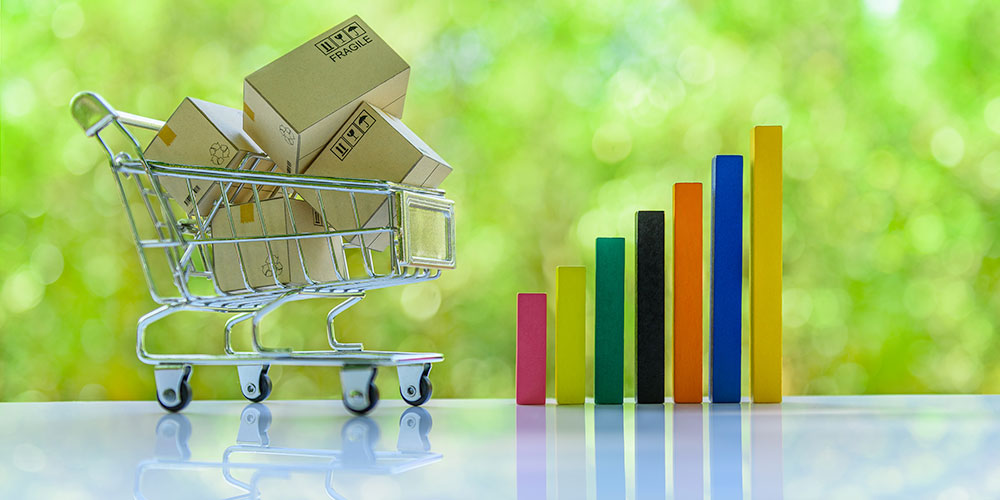 If you're a retailer with a physical store, offering eCommerce sales can help boost your bottom line. Since the pandemic, the majority of businesses are using online platforms to sell their products and services.
For a brick-and-mortar business to thrive, eCommerce is an appealing option in today's competitive retail market. eCommerce supplies your existing customers with an added level of convenience while introducing your brand to a vast, new, and global customer pool.
Adding ecommerce to a business is not just for the big box chains. In fact, the addition of online shopping to the brick and mortar locations of small businesses allows you to successfully compete with national brands.
Here's how to add eCommerce to your brick and mortar business:
Use the 20/80 Rule
The 20/80 rule is the ratio of merchandise you should offer online versus in-store. This allows you to start small and feature only your best-selling products– the ones you already stock plenty of and have a strong appeal– online. Keeping your offerings limited will allow you to focus on technology, inventory, shipping, and cross-channel marketing. If you aren't ready to commit by converting your website into an ecommerce platform, try selling through Amazon, eBay, or Etsy first. This will allow you to test the waters and build your online selling skills before fully opening your own digital storefront.
Be Mobile Friendly
Look around your store and you will see your customers (and maybe some employees) gazing down at a device while "browsing" your wares. Even when they are in your place of business, customers are searching your competitors, reading reviews, and checking inventory of the items they're interested in.
Be sure to keep your Google My Business information up-to-date so that customers searching for your products or service will be able to easily find you. And even if you do not have ecommerce capabilities, make sure that your website is optimized for mobile devices and tablets. Your customers and bottom line will both thank you.
Be Consistent
The barriers between the digital and "analog" world are eroding at an ever-quickening pace. As they do, the once-siloed channels your customers used to find you are becoming fluid. "Online" and "offline" are a thing of the past and the Internet of Things (IoT) reigns supreme.
This shift to omnichannel retail has brought with it vast benefits to merchants and consumers alike, but it has also taken away some small but important pleasures as well. Where buying online fills a need, shopping in-store is a fulfilling and personal experience.
Many of most successful omnichannel businesses started off as small mom-and-pop shops and grew because they offer their customers the same fantastic experience no matter where their customers are visiting them. Be consistent in your messaging at every touchpoint and share your brand's unique je n'est c'est quoi with the world.
A Note About PayPal
If you are considering adding eCommerce to your business website, you have no doubt looked into PayPal. Many customers prefer to use PayPal for online purchases because it is a secure platform that lets them complete online transactions without sharing their valuable payment information with an online seller.
PayPal is a convenient option for eCommerce because it gives your customers an added payment channel without limiting you to one payment processor online. PayPal can be offered either as a stand-alone option or in addition to whichever payment processing company you already use for your business.
A Note About Shopify for Brick and Mortar
Shopify is another household eCommerce name and a popular partner for small brick-and-mortar shops expanding to add digital locations. Shopify is a subscription-based Software as a Service (SaaS) that makes it easy for merchants to design and build a shoppable website with all the bells and whistles from savable shopping carts to multi-price and quick, easy inventory management. Shopify is easy to add to most websites and is available as a WordPress plug-in.
Choosing a Gateway, Shopping Cart, and Processor
Accepting payments online involves several components, most commonly a gateway, shopping cart, and processor.
Payment gateways are your online store's point of sale terminal. Like a POS terminal, payment gateways like PayPal, Square, Braintree, and Stripe authorize payment for the transactions made through your website.
Just like their real-life counterparts, online shopping carts let your customers store their selections until they are ready to check out. Unless each customer that comes into your store has their own, customized cart, the similarities between them end there.
eCommerce shopping cart technology from companies like Shopify, 3dcart, WooCommerce, Ecwid, and Magento OS not only let your customers store and save their selections prior to purchase, they also capture their contact and payment details. This streamlines payment and delivery as well as gives you the ability to remarket to customers with abandoned shopping carts and make the sale.
Payment processors will already be familiar to small business owners since they are a necessary part of doing business in brick and mortar settings. Online, the most common payment processors are PayPal, Stripe, Square, Amazon Pay, and Shopify, and they handle online transactions for you.
The prevalence of online shopping has made it imperative for small business owners to wade into the sometimes murky waters of ecommerce in order to satisfy consumer expectations for convenience and the ability to make purchases whenever and wherever the mood strikes. eCommerce has convenience in abundant supply, but it lacks one key thing that is valued by every consumer worldwide: a personal, human touch. Case in point, online selling god, Amazon, invested over $13 billion to acquire Whole Foods, whose business model has transformed the tedious task of grocery shopping into a lifestyle experience.
Learn how Sekure can help your small business expand by opening an online location.