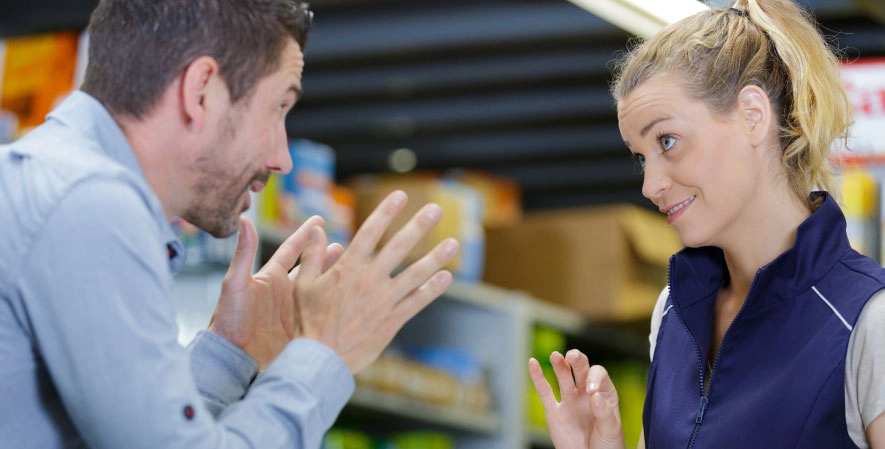 When it comes to unhappy customers, good news travels fast—and bad news travels faster. Remember the United Airlines broken guitar fiasco of 2008? The incident, which involved United baggage handlers tossing around guitars at Chicago O'Hare, became a viral public-relations disaster for United and was immortalized in a song that currently has 20 million views on YouTube. Back in the day, a displeased customer would need to take out a full-page spread in a national newspaper to reach that many people, but these it can be done online, instantly, and to dramatic effect.
As a business owner, it's in your best interest to keep customers happy to avoid bad PR and the associated, often lasting, consequences. In fact, transforming an unhappy customer into a loyal advocate and brand ambassador can be done quite easily.
Here are a few ways to help you navigate the minefield that is unhappy customers.
Know thy customer
According to a University of Florida study, complainants can be placed into five categories:
The meek customer. They generally don't complain and require active engagement to extract comments and complaints.
The aggressive customer. This archetype has no problem complaining, tends to unleash ranting tirades, and expects acknowledgement of a problem and a ready solution.
The high-roller customer. This complainant expects the best, wants results and is interested in how you handle the situation.
The rip-off customer isn't interested in the complaint—they just want something to which they are not entitled.
The chronic complainer is never satisfied and loves to complain. They are the most frustrating complainant, but are nevertheless a customer and must be handled.
Once you know what kind of customer you are dealing with, you will be able to take a suitable approach.
Don't take it personally
When a disgruntled customer expresses their displeasure to you, it's easy to take the situation as a personal attack, get defensive, and unfurl your spines. Take a deep breath and calm your heart rate, and remember that they're not mad at you—they're simply disappointed because a certain expectation wasn't met. By creating this separation, you will be in a better position to understand where the customer is coming from and help resolve the situation.
Address the situation immediately
Don't let an unhappy customer stew in their discontent. Bricks-and-mortar issues should be settled on the spot, while online situations should be addressed in under 24 hours. A quick response makes your customers feel important—not to mention they expect it. In fact, the most important characteristic of good customer service, according to customers themselves, is a fast response time.
Avoid unhappy customers altogether
Here's one way to avoid sticky situations: streamline your point of sale. A great point-of-sale system is your best friend and ally. Accepting contactless and chip-card payments in store is a must and will help you speed up the customer's journey, while if you sell online, offering multiple payment options will make for happy customers.
If your current system is outdated and triggering bottlenecks, consider a solution such as Payanywhere. In addition to accepting payments, it also helps you handle inventory, disputes, and account information, as well as manage customers and report on their experience.
Customer service done right: An example
I'll leave you with a case study and masterclass in customer service. Earlier this year my wife purchased a bra online but ultimately didn't like the fit and decided to return the item, so she called the company to sort out a refund. If she had been expecting a fight, she certainly didn't get one: to her surprise, the customer service representative told her to keep the bra and pass it on someone who might like it, adding that the company would issue a full refund.
Bewildered and delighted, she sent the bra off to a friend, who ended up loving it and subsequently bought two more—and presumably spread the good word to friends and family.
To Conclude…
When it comes to customer service, as marketing guru Neil Patel puts it, "We are even more satisfied when we've had a problem and it's been satisfactorily handled than if we never had the problem to begin with." With that in mind, frame unhappy customers not as a negative but as an opportunity to create even happier customers, forge loyalty, build brand advocates, and ultimately improve your business.