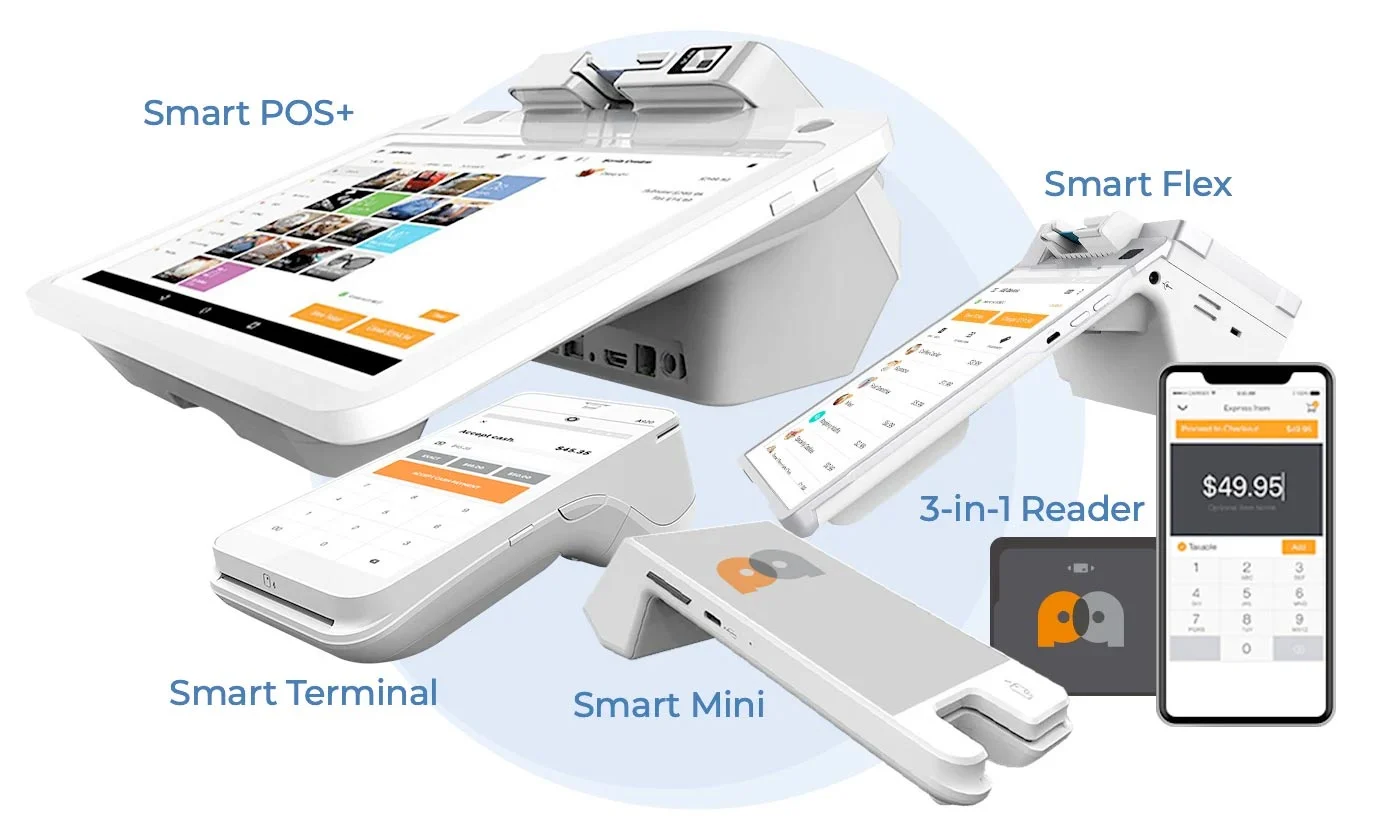 What is a POS?
Small- and medium-sized business owners wear several different hats on any given day. They are responsible for all of the administrative, management, and marketing tasks needed to keep their business running smoothly. A POS system features a combination of hardware and software that streamline those tasks, eliminating the need for multiple different software tools and which function like a "virtual back room" where you can manage inventory, build sales reports, and perform a host of other tasks.
Point-of-sale (POS), or point-of-purchase, refers to the place– in store, online, your booth, stand, or food truck– where customers pay for their goods. You might know these better as cash registers. However, given that these devices do so much more than hold cash, the name has been updated to reflect their more robust functionality.
POS systems are broken down into 3 components: the POS system, POS software, and POS terminal. Because these terms are important to understanding the full, robust functionality and features of these necessary business tools, we want to break them down to make each aspect easier to understand.
What is a POS system?
A point-of-sale (POS) system is, like the name implies, the point at which a customer pays for the product or service they receive from your business. In other words, they complete a point of sale transaction. Advances in software technology and computer processing power have transformed what POS systems are capable of. Where once they performed simple credit card processing tasks, now they are versatile tools that include mobile and contactless payment systems and integrate seamlessly with e-commerce platforms.
These numerous features have led to business owners across sectors embracing the multi-purpose functionality at their fingertips with a POS system. That said, there are still many business owners who are using a combination of manual record-keeping, cash registers, accounting software, and spreadsheets to process sales and manage operations. The likely reason for this is that learning to use and navigate new software can take more time than seems unnecessary when a system has been working well for years.
Modern POS systems are easy to learn
While it is true that some programs have steep learning curves, modern POS systems are designed with the needs of small- and medium-sized business owners in mind. This has inspired improvements to the user experience which might surprise many still using ad hoc systems to manage their business. They now feature simpler user interface design, templates, and point-and-click functionality that allow users of any comfort level with technology to quickly feel confident using them.
Modern POS systems quickly become indispensable business management tools that improve the accuracy of accounting and inventory record keeping, help you boost profit margins, and manage your employees all from one central hub.
Types of POS system
In order to understand how POS systems work, it is first important to investigate the different types of POS systems available and in use by businesses. There are three main types of POS systems: legacy, cloud, and hybrid. Each of these has its benefits and drawbacks which are important to understand when searching to implement a POS system or upgrade an existing setup.
They can be categorized based into 3 main categories:
Legacy POS Systems
Cloud-Based POS Systems
Hybrid POS Systems
Legacy POS
Legacy- or traditional POS systems operate within an internal network and store your data on local servers. With a server-based POS, the software is installed on the server and the server is physically present – usually in the back room or office. As a business owner, it is your responsibility to manage installation, maintenance, repairs, and security for the system or to source and contract an external company to take care of it.
Because server-based systems are only accessible on-site, you cannot take your work home with you so to speak. This means that data access is limited and that repairs must also be done on-site, which can potentially lead to delays and downtime.
Legacy POS system pros and cons
Pros
Data security Because these systems store data on-site and within an internal network, the information they store is very secure.
Reliability: Legacy POS systems will stay up and running smoothly as long as your business has power. Because it isn't connected to the cloud, internet connectivity and third-party systems issues are never an issue.
Customization: Because you own the hardware, software, and data, you have the freedom to make whatever changes you deem necessary, and can create a truly customized business POS system.
Cons
Price tag: On-premise POS systems come with hefty price tags. Between the upfront hardware costs and maintenance costs, business owners can expect an average investment of between $30-50,000 USD/year.
Maintenance: As with anything you own, it is your responsibility to keep your POS system in good working order. Because legacy POS systems are often complex, they require IT specialists familiar with your setup to do backups, maintain proper security, and manage its infrastructure.
Upgrades: Both hardware and system upgrades need to be done routinely, and it is the responsibility of the system owner to ensure these tasks are done. Typically, an internal IT team is required to manage these tasks.
Cloud-based POS systems
Cloud-based POS systems are accessed using your web browser and store your data on secure, cloud-based servers. These systems are offered as subscriptions through third-party vendors, which is why they are also referred to as Software as a Service (SaaS) POS systems. For a monthly fee, your service provider will handle things like security, system updates, data backups, and all of the other complex technical tasks many business owners do not have the capacity to handle in-house.
Cloud-based POS systems operate using WiFi which means that you can access it anytime, from a smartphone, a tablet, a laptop, or a desktop computer. This also means that you don't need to have a lot of expensive equipment in order to accept card payments. As long as you have an internet connection and a device that can access a web browser, you can accept card payments!
Because they are managed by SaaS providers, cloud-based systems come with a host of capabilities that are not matched by legacy POS systems like advanced reporting, customer management, and marketing tools.
Cloud-based POS system pros and cons
Pros
Price: SaaS POS systems are typically sold on a subscription basis and often involve low- or no upfront costs for the business owner. Included in the monthly fee are the software, data storage, backup, security, and even your hardware.
Ease of Use: SaaS companies create their systems with the end-user at front of mind. This means that the systems are easy enough for even non-technical users to learn and become comfortable with. Additionally, these companies also offer customer support to help you when you get stuck.
Instant Data Insights: Because the cloud saves data instantaneously, you can track sales, update prices, and place orders in real-time, wherever and whenever you want (provided you have an internet connection).
Cons
Limited customization: Cloud-based POS systems have limited customization capabilities compared to legacy systems.
Connectivity: Web-based POS systems will only work if you have a stable internet connection. Additionally, cloud-based systems come with a higher (albeit still low) risk of a data breach.
Technical support: Customer service and technical support may only be available during office hours. This means that tech support might not be available when you need it. It's important to keep this in mind when researching vendors.
Hybrid POS systems
Like their name implies, hybrid POS systems run on local servers and store data locally like legacy systems do, but also store that data in the cloud, as well. This means you have access to your business' data and can run reports from wherever you happen to be. A hybrid POS system blends the convenience of cloud-based POS with the reliability of legacy systems. It prevents service disruptions due to internet connectivity issues or outages. With a hybrid system, customers can pay when the system is offline – which adds convenience and adds to the customer experience.
Hybrid POS systems are most commonly seen in the restaurant industry that relies on multiple devices to facilitate the meal service from reservations and seating to ordering and checkout. They integrate with your kitchen ordering system and ensure that, even if there is no internet, customer orders make their way to the kitchen quickly.
Hybrid POS system pros and cons
Pros
Reliability: Because they can run offline and data is stored locally, internet disruptions will not prevent you from being able to process transactions if there are disruptions to your internet connection.
Seamless connectivity: Having everything connected to a local server means there are no disruptions or lag in information being sent from front to back-of-house or the kitchen. Moreover, because they aren't solely reliant on WiFi, you can process payments offline or in dead zones like basement or outdoor seating.
Scalability: These types of systems can grow with your business easily as your needs change.
Cons
Setup: Because they involve both local and cloud-based elements, these systems are complex and require IT professionals to be heavily involved.
Cost: The setup, ongoing support, hardware, system updates, and other steep costs associated with legacy POS systems are somewhat lower since hybrid systems can be found on a subscription basis. That said, companies using hybrid systems must still employ dedicated staff to maintain the local server and systems.
Maintenance: The more complex the system, the more important it is to keep every touchpoint in top working order. Maintenance needs to be conducted by someone close at hand since a large portion of the system is not accessible via the cloud.
What is a POS terminal?
POS terminals are where your customers tap, swipe, or insert their card in order to complete a purchase. These machines have built-in software that reads payment information, whether it comes from the magstripe, EMV technology (chip cards), NFC technology (tap payments), or online payment. The device reads their card data and sends it to the issuing bank which will approve or deny the transaction based on available funds. These machines can be connected or wireless depending on the model and your needs.
Originally, POS terminals tied business owners to their physical store if they wanted to accept card payments. Now, Near Field Communication (NFC) technology means that you can accept card payments wherever you are selling to your customers, be that a farmer's market, festival, in their home, or even tableside at a restaurant. You can accept payments using a smartphone, tablet, laptop, or desktop computer.
In addition to processing payments, modern POS terminals can also:
Go paperless: Let customers choose either a paper or digital receipt– or no receipt at all.
Tip options: Present pre-calculated tip options to help diners leave an appropriate amount for their server.
Discounts: Calculate discounts and tax, and process refunds.
Automate invoicing: Create invoices and set up recurring payments.
On its own, your POS terminal can perform a number of tasks that improve customer experience and ensure that taxes, discounts, and tips are calculated accurately. When the terminal is connected to a wider POS system, it is one element of a holistic business management solution that makes business management simpler and faster.
Inventory management: When a sale or refund is performed, the system automatically updates your available inventory accordingly.
Customer management: Offer promotions and recommendations based on purchase history, and optimize your business based on buying behaviors you can track in the POS system.
Customization: Easily customize sales, employee, and inventory reports.
Software integrations: Your POS system can integrate with other apps and tools you use day-to-day in running your business.
What POS hardware do I need?
The POS hardware you need depends on a number of factors like your industry, the size of your business, and how and where you accept payments. The hardware you'll need to connect to your POS system will vary depending on your needs, but generally may include the following:
POS terminal: This is the computer, laptop, tablet, or smartphone that your POS will run on. It will include a touchscreen and be placed in an easily accessible place where it can be used by your employees and customers.
Credit card terminal: This is the piece of hardware that your customers tap, insert, or swipe their credit or debit card. POS vendors will often provide their own versions of these machines to merchants they support.
Cash drawer: As the name implies, this is where you will keep the cash payments your company accepts. Cash drawers connect to your POS terminal wirelessly or through a USB port so it can store an accurate record of all transactions.
Receipt printer: Even with email receipts gaining in popularity among consumers and business owners alike, the printed receipt remains a mainstay and therefore a necessity for business owners. These devices, like your cash drawer, can be wireless or connected to your POS by a USB. Most traditional credit card terminals also print receipts, but small mobile units, among others will not.
Barcode scanner: This is the device that lets you scan items to be rung up at checkout. Like the other devices, these can be wireless or connected depending on the make, model, and needs of your business.
.
Types of cloud-based POS systems
There are many names for cloud-based POS systems, so it's best to pay attention to the features and functionalities instead of the names (multichannel, terminal, tablet, mobile, etc.). For example, a tablet POS system falls into a subcategory of a mobile POS, and multichannel and omnichannel POS systems both allow you to sell products across multiple channels.
The rise of contactless payments
Most card-not-present transactions were mail and phone orders in the 1990s, however, large companies like Pizza Hut and Coca Cola experimented with offering their customers the ability to pay online or by SMS. Fast-forward to the 2000s, contactless payment became widely adopted in the U.S., after the arrival of EMV payment card technology in 2015. Businesses have been able to increase their profit margins and serve customers better due to these technological advances.
Due to the COVID-19 pandemic, there has been a tremendous increase in the adoption of contactless solutions to limit contagion, allowing customers to continue their shopping experience online.
Mobile POS
A mobile POS (mPOS) is a mobile point of sale device that transforms your smartphone or tablet into an on-the-go point of sale terminal. Along with the hardware, business owners will need to download a POS app onto the devices you will be using. Once you have completed this quick setup, you can accept debit and tap, chip, and swipe credit card payments the same way you would using a traditional POS device.
Ideal for:
Curbside pickup and delivery
Outdoor festivals and tradeshows
Food trucks
Home and repair services
Self-service kiosk
A self-service kiosk allows customers to scan and pay for their purchases without the assistance of a store employee. These kiosks help to decrease wait times at cash registers, mitigate staffing shortages, minimize theft, and have been shown to increase the average transaction size by 22%!
Ideal for:
Restaurants
Grocery stores
Retail
Hospitality & tourism
Multichannel/Omnichannel POS
Multichannel or omnichannel POS systems streamline in-store, on-the-go, and online sales management by synchronizing inventory and pricing across all sales channels. This means that your customers can be sure to receive the same promotional prices and know that an item is in stock no matter where they are browsing and buying your wares, even with social selling channels like Facebook or Instagram and third-party marketplaces like Amazon or eBay.
Ideal for:
Online Retailers
Brick and mortar stores that sell online
Mobile vendors that want to expand their reach
POS system business management tools
The different management systems that most POS systems are equipped with help business owners manage all aspects of their business.
Inventory & pricing
Employee management
Customer management
Loyalty programs
Gift cards
Data insights & analytics
Inventory and price management
The built-in inventory management tools in your POS system make it easy to add new stock to your inventory, customize categories and items, and track stock levels across channels in real-time – which means no more running out of stock or overstocking. Set low-stock alerts to notify you when inventory is running low and set no-stock sale rules to include as few or as many employees as you deem fit to do so.
Set and manage pricing rules with multi-price variants so sale prices come into effect wherever your customers are shopping.
Bulk inventory uploads
Category and item customization
Real-time inventory updates for in-person, online, and on-the-go sales
Easy price management
Employee management
Employee management doesn't have to be strenuous: with the right system, you can easily control employee access, view their activity and performance, manage tips and commissions, and– the most dreaded– create and modify employee schedules. Many POS systems have an email function to inform employees of any changes to their schedules so you can ensure your business has the staff coverage it needs.
Employee scheduling
Payroll
Tips & commissions
Performance
Customer management (CRM)
One of the most valuable systems you can get, customer management (CRM) allows you to get to know your customers and build relationships with them. With a CRM, you can safely collect (non-sensitive) information about your customers such as their contact details and purchase history. By tracking their purchase history, you can offer them targeted promotions, send them reminder emails to book appointments and recommend products related to ones they have previously purchased.
Increase customer loyalty
Build customer database for email marketing
Targeted promotions
Appointment reminders
Loyalty programs
Delight your customers and make higher sales using a loyalty program you can create with your POS system. Not only do loyalty programs enhance the customer experience and turn repeat buyers into loyal brand ambassadors, but they also benefit your bottom line by making it easier to up- and cross-sell merchandise.
Gather customer contact details and detailed transaction histories
Email promotions are always relevant and attractive
Send appointment and scheduling reminders
Gift cards
It is estimated that global gift card sales will top $2.7 trillion USD by 2027. And is it any wonder? POS systems make it easy for small- and medium-sized business owners to offer their customers the ability to pay with or to purchase gift cards.
Increase sales and generate cash flow, even when gift cards are not redeemed.
Encourage impulse buys, which boost your profit margins.
Real-time tracking and enhanced security reduce fraud and simplify reporting.
Data insights, reports and analytics
POS systems collect an immense amount of data about your inventory, customer behaviour, sales, and employees that you can use to grow your business and operate more efficiently. Every transaction your POS processes is accompanied by information that may seem useless on its own but, when looked at from an organizational level, can act as a litmus test for the overall health of your business.
This data can give you daily, weekly, and monthly performance overviews and help you forecast needs for the year to come. Your POS system will have some report generation capabilities, and many allow business owners to customize their dashboards and reports so they get only the information that is most important to them.
Sales reports: Sales reports that can be generated by your POS system include sales summaries, product sales reports, and sales by customer reports. From these, you can understand your profit margins, when and at what price certain products are selling, and which customers are purchasing what items. All of these insights can help you determine which products to stock which is especially helpful when you are looking to scale your business.
Inventory Analytics: Real-time inventory tracking is critical to maintaining a good reputation with your customers and also allows you to cash in on scarcity marketing. It also ensures you are always well-stocked with popular items, helps you to spot and leverage trends, and optimize your inventory and store shelf real estate more effectively.
Customer Behavior: Your POS system captures valuable data that gives you an in-depth look into customer shopping patterns, preferences, and purchase history. This will allow you to understand your customer base more thoroughly and, in turn, improve your marketing efforts by communicating with them and offering promotions that will be more meaningful to them.
Employee Management: Gain insights into your employee performance, work hours, sales, number of transactions, and a variety of different data points. Ensure your business is properly staffed to manage the busy times and the slow ones.