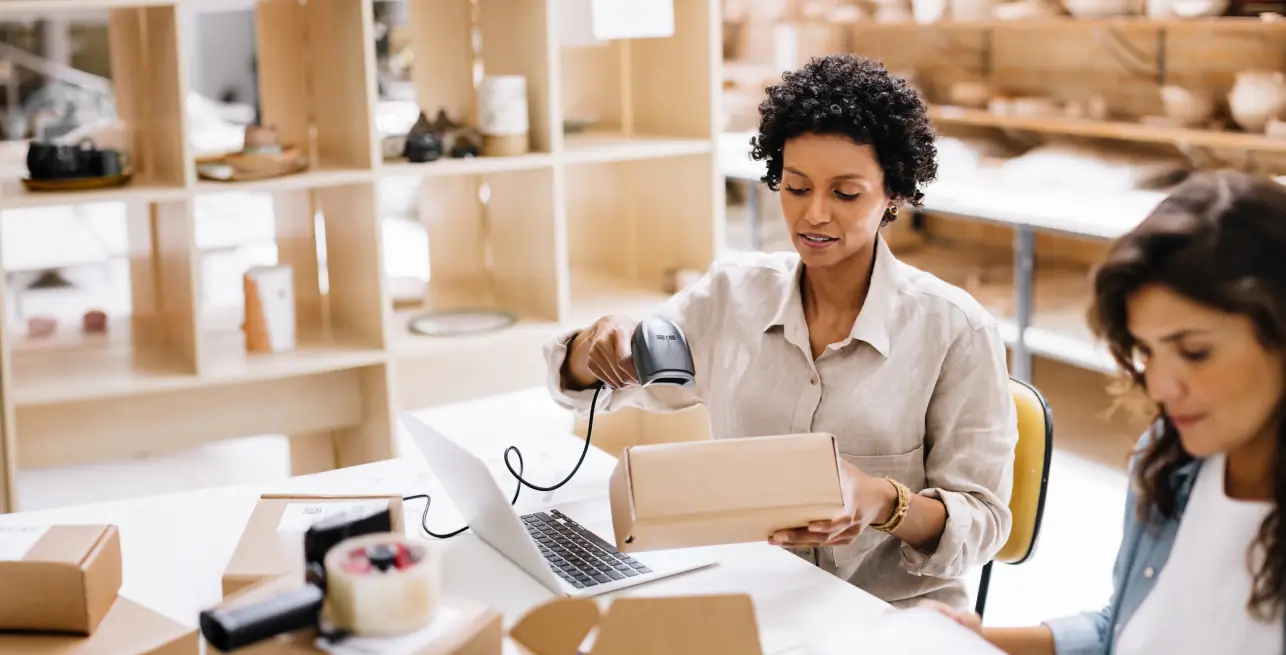 Ah! the modern shopper. The line between online and offline is becoming increasingly blurred with each passing year. Customers research online, visit physical stores, shop on social media, order online, pick up items in store and a myriad of other combinations. 
Providing a seamless link between online and offline is now critical for retailers looking to thrive in the new era of shopping. But how does all of this work for merchants? How can store owners create a smoother experience for customers and behind the scenes?
A proper eCommerce POS system integration, that's how. Let's take a deeper look at the new ally of the modern merchant.
What is an integrated POS system?
Stores often work with a wide range of tools to accomplish many tasks. Accounting, inventory, you name it. But how does it work when a store has both an online and offline presence? An integrated POS system connects your retail ecosystem online (eCommerce) and off (brick-and-mortar). An eCommerce POS integration streamlines inventory management, sales tracking, and customer data, allowing businesses to operate cohesively across multiple channels. Integration ultimately means connection and consistency.
What does an integrated POS system mean for customers?
For customers, an integrated system means they can order online or in-store with ease, their customer information is available no matter where they shop, and they can expect a similar experience when they visit a physical store or shop online.
What does an integrated POS system mean for merchants?
A connected POS system means less work for merchants and a constant flow of data and information between the online and offline ecosystems. Merchants can essentially access all of their information in one place.
Why do eCommerce stores use a POS system?
eCommerce stores use POS systems when they're looking to expand their offerings in an in-store environment. A POS system or point of sale system is the software used to handle sales in-store at a brick-and-mortar location. eCommerce stores connect with a POS system so that their online back office works as one with their offline system.
Benefits of an eCommerce POS integration
There are definitely many benefits to connecting your eCommerce and physical store via an integration. Having two separate systems that don't talk to one another opens the door to mistakes and confusion, ultimately hurting both your staff's ability to do the job properly and your customer experience. 
Manage inventory online and off
One of the most significant advantages of integrating a POS system with your eCommerce platform is the ability to manage your inventory from a single point. This simplifies the process of tracking product availability, ensuring that you never oversell or run out of stock. Real-time synchronization eliminates the need for manual inventory updates, saving time and reducing errors.
Consistent customer service
Customers like to use multiple touchpoints when shopping. From browsing online to picking up items in-store, the customer journey is no longer linear. This means a seamless shopping experience is the key to retaining customers. With an integrated POS, customers can enjoy the convenience of purchasing products online and picking them up in-store or returning items bought online at a physical location. This flexibility improves customer satisfaction and encourages repeat business.
Unified loyalty program
With an integrated POS eCommerce system, you can establish a single loyalty program that covers both online and offline purchases. This means that customers earn and redeem loyalty points or rewards regardless of where they make a purchase. Say a customer regularly buys their skincare products from your online store, racking up points for their loyalty program. One day they decide to stop by your physical store to quickly stock up on some essentials. With an integrated loyalty program, your customer would also be able to apply their in-store purchase points to their loyalty program using their email or other information. Unified loyalty programs ultimately simplify the customer experience and make it more enticing for shoppers to engage with your brand across all channels.
Manage your business all in one place
An integrated eCommerce and POS system gives you access to everything you need in one back office. With disconnected systems, you'd have to check for information separately through different providers and systems. With an integrated system, you can access inventory, reports, employee and sales data all in one dashboard. Information is updated in real-time, allowing you to always have access to the most up to date information, no matter where you are.
Enhanced sales reporting and analytics
Comprehensive sales data is essential for making informed business decisions. Integrated POS systems provide a holistic view of sales across all channels, allowing you to analyze performance trends and identify top-selling products. This data-driven approach enables you to optimize your product offerings and marketing strategies for better results.
How to connect a POS with an eCommerce platform
Integrating your POS system with your eCommerce platform may sound complex, but modern technology has made it relatively straightforward. Whether you already have an eCommerce shop or a POS in your store, or you're just running on a cash register, there are several ways to integrate your systems.
1. Choose your eCommerce and POS integration method
A compatible POS system
If you want a quick and easy integration, start by seeing what's compatible with your system. Many popular eCommerce platforms like BigCommerce offer a range of POS integration options. BigCommerce works with an open API. If your POS system works with an open API, it should be able to work with an eCommerce platform that has an open API. The best eCommerce and POS integration will depend on your needs and the current systems you use.
While you're looking at compatibility, it's also a great time to analyze whether or not your existing eCommerce provider or POS provider fits the bill. Ensure that your chosen POS system can seamlessly connect with your eCommerce platform and that it supports the features you need for your business. Some eCommerce or POS platforms already have the option to integrate both with just a simple click of a button. Ultimately it depends on the type of system you're using and what's available. Other providers could offer better integrations or systems. If you're looking for a fully integrated system that works with your unique workflows and industry, Sekure Payment Experts can help by giving you expert advice through our wide range of POS, eCommerce partnerships and eCommerce payment solutions.
How does BigCommerce work?
With BigCommerce you can set up your online business easily. BigCommerce is an eCommerce platform that works with many POS systems to provide an integrated POS solution. With BigCommerce, you have access to popular online marketplaces like Amazon and eBay as well as social selling platforms like Instagram Shopping.
Third-party integrations
If your chosen POS system doesn't have a native integration, you can often find third-party solutions or apps that bridge the gap between your POS and eCommerce platform. These apps serve as intermediaries, facilitating data exchange between the two systems.
Custom eCommerce POS integration
If there's no easy plug and play option, some systems can accommodate a custom integration. Essentially this would require both eCommerce and POS providers to create a custom code and workaround that combines both systems and allows for a seamless flow of information. While this could, in theory, provide you with the most connected and flexible eCommerce POS integration that fits your needs, it is the more complicated one to accomplish and likely the most costly.
If you don't have a cloud-based POS or an eCommerce platform
If you're just starting out, are running on a legacy POS system or even a cash register, it's time to move to a cloud-based POS. With older POS systems, you might not be able to integrate your POS, limiting your options and forcing you to run two entirely disconnected systems. A cloud-based POS will give you the option of connecting with an eCommerce shop and fully integrating your shopping experience.
2. Configure and get set up
Once you've chosen your integration method, follow the provided instructions to configure and set up the integration. This typically involves connecting your POS system to your eCommerce platform by providing necessary credentials and establishing a secure connection, working with third-party integrations or your service provider to facilitate the process.
3. Sync your data
After the initial setup, your POS system and eCommerce platform will start synchronizing data in real-time. This includes product information, inventory levels, sales data, and customer information. This synchronization ensures that both online and offline channels have access to up-to-date information.
Test, test, test
Once your integration is up and running and your data is all synced up, it's crucial to thoroughly test the integration to ensure that data flows correctly between your POS system and eCommerce platform. Test various scenarios, such as processing online orders, updating product information, making a sale in-store and managing inventory, to confirm that everything functions as expected.
Maintenance and support
Like any technology integration, an integrated POS system requires regular checkups. Make sure to update your software regularly and always have the latest version. Your POS and eCommerce platform will likely update your system with the latest features, security patches, and bug fixes. If you see a problem, let your provider know. They'll likely either already be working on it, or might not even know about it.
Get started with Sekure and BigCommerce
The retail world is an omnichannel world. While online sales are set to outpace retail sales in 2023-2027, both in-store and eCommerce sales are on the rise. This means that the more unified your experience is, the more opportunities you'll be able to create to connect with customers and make that sale. As your business ally, we'll help you find the POS and payment processing dream team for your eCommerce store.
Schedule a demo today to start bridging the gap between your online and offline sales.