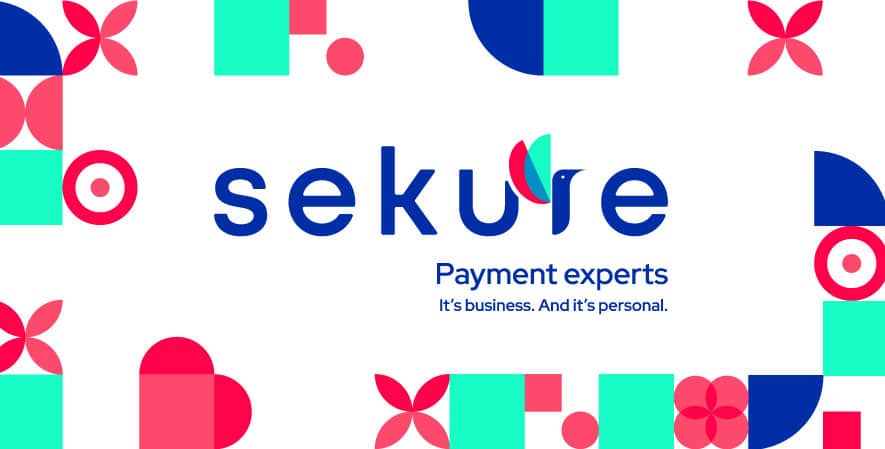 Sekure unveils new name, logo, core values, and website as part of an extensive rebrand initiative.
New York, NY, August 26, 2022 – Sekure Merchant Solutions announced today it has changed its name to Sekure Payment Experts as part of an extensive rebranding effort in response to continued company growth. The name change is at the heart of the company's vision to deliver merchants "expert advice on worry-free payment processing solutions" for small and medium-sized businesses.
New tagline, renewed vision of merchant advocacy
The new vision is an extension of the company tagline, "It's business. And it's personal." Sekure's Payment Experts are the business allies merchants can count on for all their payment processing and point of sale needs. They understand how confusing and frustrating payment processing can be and proactively look out for merchants' best interests to make sure they always have the best rates and the right equipment setup.
Sekure knows every merchant is unique. That's why they provide customized solutions to meet every merchant's needs. From the very first interaction with Sekure, merchants will know they will get the right and best solution for their specific business.
New values and a new standard for customer service
Superior customer service is the key to Sekure's success. Their Payment Experts are always looking ahead and making merchants' troubles disappear. They understand that small businesses don't have time to worry about their payment solutions. Sekure's support, service, and expertise ensure merchants always get the best possible deal, uniquely crafted for their specific point of sale and payment processing needs.
Sekure's core values of caring, collaboration, positivity, expertise, and trust represent a promise to create and deliver a more gratifying experience to ensure the success of small and medium-sized businesses.
As part of its newly unveiled identity, the Hummingbird becomes the brand equity marker for Sekure Payment Experts. In legend, many believed the hummingbird was the sun in disguise. Its arrival signifies that stressful times are over, bringing news of light, optimism, and a joyful future. Like the arrival of the hummingbird, engaging with Sekure Payment Experts will make all your troubles disappear.
——————————————————————————————-
About Sekure Payment Experts
Sekure is a national payment solutions provider founded in November 2008 by four managing partners. Sekure has worked with many small business owners and now has expert insight into the payment processing needs of small and medium-sized businesses, with a desire to create an optimistic future by relieving their pain points.
Over 35,000 businesses trust Sekure to manage their payment processing and merchant solutions in the US. Their Payment Experts work with them daily, building long-term relationships that achieve mutual success.
—-
View the new website here: sekuremerchants.com
Find Sekure Payment Experts on social here: Facebook, Instagram, and Twitter.
For media inquiries, please contact: Andrea Portugal, Marketing Director
aportugal@sekuremerchants.com