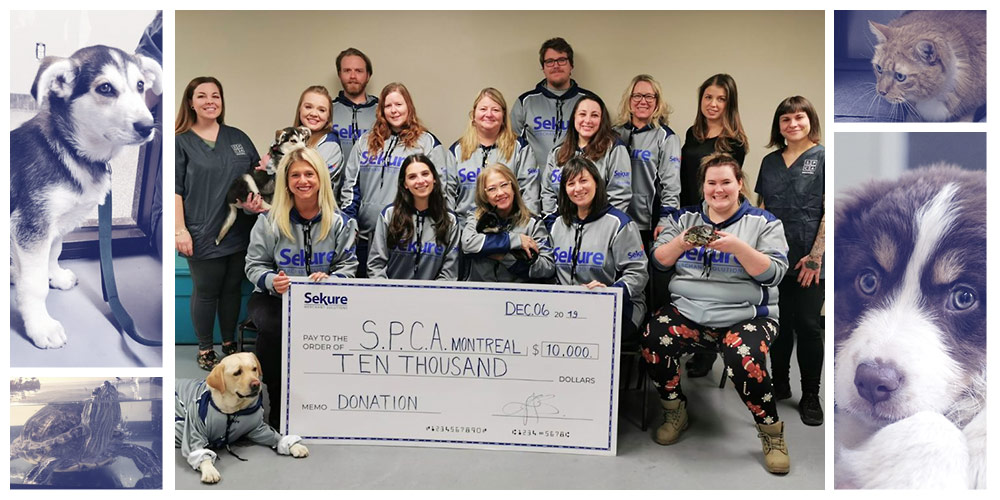 Sekure Payment Experts employees are working together to support charities that are meaningful to them. In December, the Great Place to Work committee—made up of a handful of dedicated employees—raised $10,000 for the Montreal SPCA, which helps provide a safe haven for stray animals until they are adopted.
"The objective of the Great Place to Work program is to encourage and inspire an environment that demonstrates that Sekure cares," says Donna Brooks, Sekure's director of Operational Excellence. "Sekure wants to make a difference for their employees and also for those in need."
The company's Great Place to Work committee was created in 2018 as a way for Sekure to support the community and engage employees. The program is administered by a committee of 13 Sekure employees who are responsible for everything from outreach communications to budget management. The committee consists entirely of employees who dedicate their time to such fundraising efforts.
Funds are raised in a variety of ways, including bake sales, potlucks, candy carts and special events. The committee selects the charities after collecting ideas and surveying employees.
The Montreal SPCA is the largest animal-protection organization in Quebec. Other organizations Sekure has supported over the past two years—through fundraising, food drives, winter clothing drives, and book drives—include Because I am a Girl, the Old Brewery Mission, Chez Doris Women's Shelter, Women's Center of Montreal, the West Island Association for the Intellectually Handicapped and the On Rock Community Food Bank.
Sekure's Great Place to Work committee continues to brainstorm new ways to bring employees together. The company prides itself on providing an inclusive work environment where employees can feel engaged and empowered. From Charity Month to extracurricular activities, there are countless ways for employees to get involved.
"These initiatives prove to our employees that we care about them and that we want to extend our love outside the company's walls to help others in need," Brooks says. "We want to make a difference."