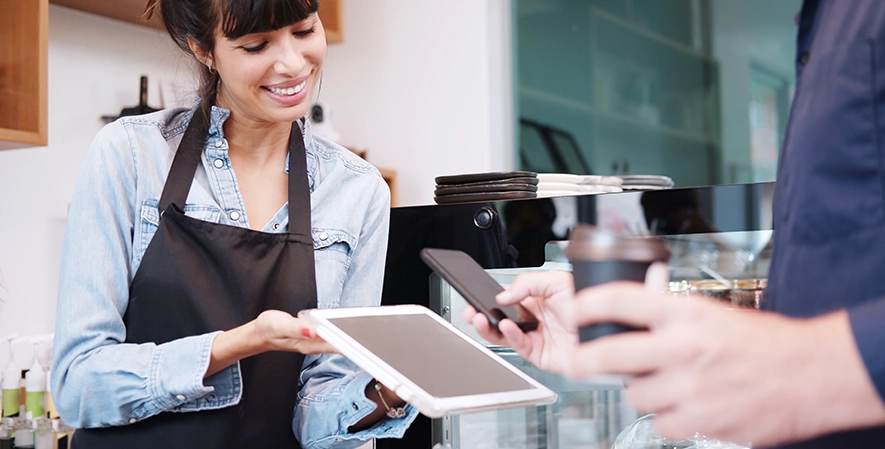 Interested in better customer service, increased sales, and multiple opportunities for engagement?
A tablet point-of-sale (POS) system can offer just that for your credit card processing needs. In fact, many retailers are ditching traditional cash registers for cloud-based tablet POS systems because of mobility, quick processing, plus a streamlined platform for sales and inventory management.
Robust reporting and analytics available on tablet POS systems can also help merchants track refunds, orders, and sales and effectively market their business. Tablet POS systems are user-friendly and reliable and offer options for credit card transactions, digital payments, gift cards, and cash. Even better, tablets are made for on-the-go sales, bringing the point-of-sale to the customer at restaurants, pop-up events, and even in long check-out lines during peak sale hours.
Using a tablet POS system can translate into higher potential sales, more accurate data, and new opportunities for customer engagement.
Benefits of a tablet POS system and credit card processing
Detailed tracking reports
Cloud-based, mobile
Inventory management and control
Customer relationship management (CRM)
Marketing tools
Improve accuracy
Accept credit, digital, cash, and EMV chip cards
With so many benefits, it's easy to see why more merchants are moving away from the traditional cash register. In fact, mobile POS systems, including tablets, are expected to become increasingly popular in the retail marketplace over the next few years. According to a 2018 report by Juniper Research, the adoption of mobile POS devices connecting wirelessly or from mobile devices will drive annual mobile transactions to more than 87 billion by 2023.
5 Top Tablet POS Systems
Retailers can choose from a variety of different tablet POS systems. To help you find the right option for your business, here are five tablet solutions for POS systems and credit card processing.
Clover Mini
With a user-friendly interface, fast processing speed, and access from anywhere, the Clover Mini offers inventory at your fingertips and helpful sales tracking reports to help you stay on top of refunds, bestsellers, and hourly transactions. Accept all the ways your customers prefer to pay — from cash to Apple Pay — and get the funds into your bank account as quickly as the next business day.
Cost: Starts at $599
The Poynt Smart Terminal
Poynt offers a built-in EMV, extended battery life, a pay-at-table ready feature, options to connect with 3G, Wi-Fi or both, and a receipt printer. The Poynt system features two screens and also includes a merchant facing camera, microphone, speaker, charging pins, micro USB port, and eight-hour battery to keep business humming.
Cost: Not publicly displayed.
Square
When using Square, just connect a tablet and download the Square Point-of-Sale app to accept payments, track inventory, and send invoices. Customers can pay with EMV chip cards, Apple Pay, Google Pay, Samsung Pay, and magstripe cards. With Square, you'll also receive a Square Stand, Square Reader for contactless and chip, and dock for Square Reader to get you set up no time.
Cost: $199
Shopkeep
Keeping small businesses in mind, ShopKeep's iPad POS system can be integrated with popular apps such as BigCommerce, MailChimp, and QuickBooks. Its report and analytics feature helps you better determine what's selling and what isn't. And ShopKeep's employee time tracking and shift reporting features will keep day-to-day operations running smoothly and efficiently.
Cost: Not publicly displayed.
Vend
Vend is a subscription SaaS that allows you to track sales, customize receipts with your logo and website, and choose email or print receipts after a sale. Intuitive and easy to use, Vend offers individual staff accounts and an option to customize permissions to restrict what users can see and do. Look up customer balances, add discounts and notes, and track all cash movements from open to close.
Cost: Established single or multi-store retailers pay $129 USD paid annually or $159 billed per month.
A fast and flexible payment solution just for you.
Accept payments easily over the phone or online with our Payanywhere Virtual Terminal.