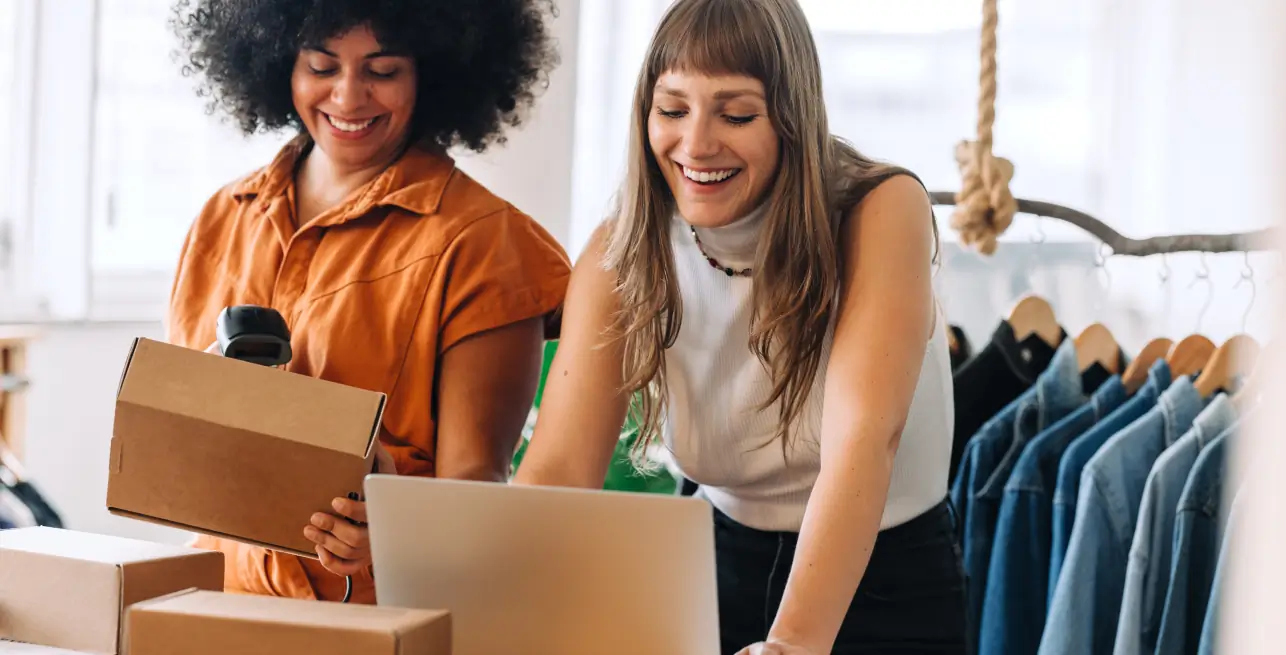 The world of eCommerce keeps getting bigger and bigger everyday. Making purchases by phone on the go is a common everyday occurrence for shoppers around the world. Mobile eCommerce sales now make up 60% of all sales and are estimated to reach $2.2 trillion now in 2023. This change in habits towards online ordering has made stores move towards improving their online experiences. A big part of that is choosing the right eCommerce payment processing solution.
In the past, most eCommerce businesses only accepted credit card payments. While the majority of online stores do still accept credit or debit cards as a method of payment, more and more stores are starting to accept a variety of payment types that range from digital wallets to cryptocurrencies and everything in between.
Competition is fierce in the eCommerce world and providing a seamless and secure payment experience for your customers is essential for building trust, driving sales and creating loyal customers. Customer habits are changing. Payment processing itself is changing. While change can indeed be scary, it can also mean new opportunities and reaching more customers than ever before. By understanding the different payment types, their advantages and disadvantages and considerations to take before choosing which ones to offer, you'll be better equipped to adopt new payment options and provide a better experience for customers.
Let's jump right in and take a look at the growing world of eCommerce payment processing.
What is eCommerce payment processing?
eCommerce payment processing is the flow of financial transactions from one party to another. In this case, the process of actually accepting payments from a customer, validating the payment and receiving the funds in your merchant bank account. The act of processing payments takes place in multiple steps and involves many different players.
How does eCommerce payment processing work?
While inputting credit card information or paying with a digital wallet seems simple enough, there are actually many steps that need to happen for any transaction to take place and for merchants to get money into their accounts.
1. Customer information and payment method selection
It all starts with the customer. Once the customer decides to put items in their cart and check out, they'll be prompted to enter their necessary shipping and billing information. Billing information will consist of their full name and address associated with the payment type they choose. Now customers need to select a payment method. Some stores offer multiple options while others might just offer the option to pay by card. eCommerce stores will likely have more payment options than actual physical stores. These options can be anything from the usual credit and debit cards to digital wallets and cryptocurrency, but more on that later.
2. Payment information is validated
Once the customer submits their payment information, the transaction details are sent to a payment gateway. A payment gateway is a crucial component and essentially acts as a bridge that connects an eCommerce store with the financial institutions and payment processors that handle payments. Examples of payment gateways include Authorize.net, PayTrace, PayPal, etc.
3. Payment verification
Once the transaction information is sent via a payment gateway to the payment processor, the payment processor verifies the payment legitimacy with the customer's card network and bank, and also checks if the customer has the necessary funds or card limit to complete the transaction.
4. Transaction approval
Now that the transaction has been approved, the funds are reserved on the customer's account or credit card and at this point the payment processor is responsible for transmitting the data between your customer's bank and your bank as a merchant.
5. Merchant bank
The merchant's bank, also known as the acquiring bank, manages your online store's account. Once the transaction has been approved, your bank will receive the funds and transfer it to your account. At this time the bank also deducts any transaction fees.
While all of this seems to happen fast with just a click of a button, these are important steps that ensure the safe flow of information and money.
What are eCommerce payment methods?
Of course when it comes to payment methods, there are many options to choose from. While some eCommerce stores only accept credit card payments from major credit card providers (think Visa, Mastercard), more and more stores are adopting other types of payment methods due to changing customer habits and also differences in merchant processing rates. While in many cases the general process of a transaction is the same, there are some unique differences as well as advantages and disadvantages of each individual payment type.
Types of eCommerce payment methods
Credit and debit cards
Long known as the bread and butter of payment processing, credit cards are the most commonly used and offered payment type when it comes to eCommerce stores. Debit cards are also a widely used option.
Advantages
Convenience: Most will at least accept credit cards as a payment type.
Quick transactions: As this is a tried and true system, credit card transactions are quick to process.
Increase in sales: By accepting credit cards or debit cards, you'll be able to sell more given that this is the most widely used option.
Disadvantages
Expensive transaction fees: Card networks often hold the power when it comes to fees, increasing the cost to accept credit card payments. While expensive fees are something to consider, companies like Sekure Payment Experts help merchants get the absolute best processing rate for their business.
Chargebacks: This happens when a transaction is disputed. Unfortunately this means that it could take a longer time for a merchant to receive the payment, if at all.
Card type: While there are major players in the card industry, not every customer uses commonly accepted cards like Visa or Mastercard.
Digital wallets
Also known as an e-wallet or mobile wallet, digital wallets are a software-based application or service that allows customers to securely store, manage, and use various forms of digital currency, payment cards, and other financial assets for online and mobile transactions. Digital wallets use the process of tokenization to encrypt a user's credit card or bank information. This way the customer's information remains private throughout the transaction, protecting them against potential card theft.
Advantages
Convenience: Digital wallets like Apple Pay, Google Wallet, and Samsung Pay allow customers to make payments with their mobile devices.
Ease of use and speed: These transactions can sometimes be faster than regular credit card payments.
Increasing popularity: Growing shift towards cashless and contactless payment methods.
Disadvantages
Limited adoption: Not all customers use digital wallets, so you may exclude some potential buyers if you only offer this as an option.
Transaction fees: Similar to credit cards, digital wallets may have transaction fees for merchants.
Dependence on mobile devices: Requires customers to have compatible smartphones or devices.
Bank transfers
Bank transfers are probably the most traditional method of payment in eCommerce. This payment method involves transferring funds directly from the customer's bank account to the merchant's account. While bank transfers have been around for a long time, they still play a significant role in online transactions in some industries.
Advantages
Security: As transfers are made directly from bank to bank, there's no risk of working with intermediaries.
Reduced chargebacks: Bank transfers are done directly by the customer at the bank, meaning that bank transfers are generally irreversible. Once the funds are transferred, there is a lower risk of chargebacks, which can be a significant concern for merchants.
Lower fees: Bank transfers typically involve lower transaction fees compared to credit cards and some other payment methods.
Disadvantages
Complexity: Transfers can be time consuming and require customers to input detailed banking information which can lead to errors.
Reduced purchases: This payment method can be inconvenient and discourage spontaneous purchasing, increasing cart abandonment.
Slow: Bank transfers take time and depending on the bank and location it can take days for a payment to clear and a merchant to receive funds.
Cryptocurrency
Cryptocurrency is a more recent type of payment method. Throughout the years it's gained popularity for online purchases as it offers a decentralized and secure payment option. Some major eCommerce service providers already accept cryptocurrency payments through digital wallets. Given that these don't work within the traditional banking system, cryptocurrencies (in some cases) are often associated with having lower transaction fees.
Advantages
Global reach: You could accept payments from customers around the globe that use cryptocurrencies.
Lower fees: Cryptocurrencies don't use payment processors or banks to handle transactions, meaning that there should be less fees involved.
Get rid of chargebacks: Chargebacks aren't possible within the cryptocurrency framework, meaning that you won't have to worry about contested purchases.
Disadvantages
Limited acceptance: While more and more stores are using this payment type, it's still a minority when it comes to payment types.
Changing value: Cryptocurrencies are unpredictable and their value is volatile.
Learning curve: Choosing to offer cryptocurrency payment options means learning more about the industry and how it works, which is still in its infancy.
Buy now, pay later (BNPL)
Buy now, pay later is essentially a type of financing that gives customers the option to make a purchase and pay for it over time, within a given payment schedule. Retailers that offer this, usually partner with a BNPL provider. Customers that wish to use this option select the option on checkout and typically make a small down payment and pay the rest in installments. Installment payments are often taken automatically from your credit or debit card. With BNPL you know your payment schedule and interests aren't usually charged.
In the US there are currently 79 million BNPL users and almost half of Gen-Z users are expected to use BNPL by 2025. This method has been growing in popularity over the last few years, with more and more retailers partnering up with BNPL companies to offer more flexibility for customers, especially when it comes to big ticket items like laptops, phones, etc.
Advantages
Increased flexibility and conversion rate: Customers have more time to pay, giving them more motivation to make the initial purchase.
Convenience: As payments are often taken automatically, this means once you input your information, there's no need to worry about future payments.
Competitive advantage: eCommerce businesses that offer BNPL can gain a competitive edge by catering to a broader range of customers.
Disadvantages
Transaction fees: BNPL providers often charge fees that end up in your profit margins.
Integration and management: Implementing BNPL services requires integration with third-party providers or platforms, which can be complex and time-consuming.
Debt: Customers might end up accruing debt as a result of choosing BNPL.
Mobile payments
With phones becoming such a key part of everyday life, it's only natural that they're breaking into the payments scene. High speed internet and the widespread use of smartphones have pushed the adoption of mobile payments, and it only keeps growing. In 2022, the global mobile payment market size was valued at $2.32 trillion with projections to grow to 18.84 by 2030. This type growth is impossible to ignore, making this an important payment method to consider for your eCommerce business.
Advantages
Convenience: Mobile payments are easy to use and convenient since customers are all regularly using their devices.
Increase in sales: Given that this is such an easy payment method for customers, it can lead to increased sales. Accepting mobile payments can open up new opportunities, such as impulse buying, as customers can make quick purchases on the go.
Security: Many mobile payment solutions offer robust security features, including tokenization and biometric authentication, which can help protect both customers and merchants from fraud.
Disadvantages
Fees: Mobile payment providers often charge transaction fees which could eat into your margins.
Security and technical issues: Mobile payment systems can sometimes experience technical glitches or outages, leading to potential disruptions in the payment process. While they do have safety measures in place, they are not immune to cyberthreats.
Adoption: Not all customers have adopted mobile payment methods, and some may prefer traditional payment options.
Cash on delivery (COD)
This payment type is often used in eCommerce, allowing the customer the option to pay in cash at the time of delivery. The customer places the order on the website and once the product arrives, the customer then pays the delivery person in cash.
Advantages
No online payment risk: Customers who are concerned about online security or fraud can opt for COD with confidence, as they only pay upon receiving the product.
Accessible payment option: This is a great option for businesses with customers that might not have access to a bank account or other payment options like credit cards or digital wallets.
No transaction fees: As customers pay directly in cash, this eliminates fees.
Disadvantages
Risk of nonpayment: There is a chance that the customer is unable to pay once the item is delivered, resulting in losses for the merchant, due to time spent delivering the product.
Delayed payment: Merchants will only receive payment once the order is received.
Limited geographic coverage: COD may not be possible in certain regions or countries with unreliable courier services.
E-checks
Remember checks? E-checks are essentially digital versions of paper checks and are used in online payments. E-checks let customers make payments online by providing bank account details, routing number and account number to initiate the transfer of funds.
Advantages
Cost-Effective: Lower fees compared to credit cards and some other payment methods.
Security: E-checks involve direct bank-to-bank transfers and encryption of sensitive information, helping reduce the risk of fraud and chargebacks.
Disadvantages
Delayed payment processing: E-checks aren't the fastest payment type around. Often payments take a few days to go through.
Complex: E-checks are also harder to use given the amount of banking information required to input. This can lead to cart abandonment and reduced spontaneous purchases.
Choosing which eCommerce payment methods to offer
The types of payments you choose will have a direct impact on the customer experiences and how easy it is for customers to transact with you. By understanding your customer base, their unique habits and preferences, as well as the market you're operating in, you'll be able to choose the payment methods that work for your particular business and find the best eCommerce solution for you.
Customer preferences
First thing's first. Know your customers. If your customers are predominantly using digital wallets, you'll lose sales if you only accept credit or debit cards. On the flip side, if your customers prefer familiar payment methods, credit/debit cards might be ideal. For a more tech-savvy demographic, cryptocurrencies could be an option. Understand your industry by researching the types of payment options customers prefer. If your business is highly specific and your customers have their own unique behaviors that are harder to track through secondary research, ask them. Email past customers a quick survey asking them about the types of payment methods they use on a regular basis and which ones they'd like to see in your business.
Checkout experience
As an eCommerce store, your checkout experience needs to be seamless. With no staff to help customers, if your checkout is too lengthy or complicated, you'll likely end up losing a sale. By supporting multiple payment methods, or at least the most popular method, you can help reduce your shopping cart abandonment rate.
Transaction fees
Different payment methods will have different costs to your business or even to your customers. Assess the transaction fees associated with each payment method and consider their impact on your profit margins. Credit cards usually have higher transaction fees than debit cards, but credit cards offer convenience and more. Keep in mind setup fees, chargeback fees and any other hidden costs.
Safety and compliance
Payment processing involves many moving pieces handling very sensitive customer information. Make sure the payment methods you use all follow strict compliance measures to ensure the safety of customer information. Stolen card information or other personal information could result in a loss of a sale and customer.
Payment trends
From digital wallets to mobile payments and cryptocurrencies, there's always something new popping up in the world of payments. If you're an eCommerce business, it's key to stay on top of the new trends and payment types coming up. You never know when a particular payment type will end up taking over your industry.
Global reach
Are you a small business transacting locally? Or are you also selling and accepting payments from international customers? If you plan to sell internationally, prioritize payment methods with broad global acceptance, such as credit cards or digital wallets.
Test multiple payment options
Not sure which method to go with? Consider offering multiple payment methods to accommodate a broader range of customers. While this can be a costly discovery process, A/B testing can help you determine which methods perform best for your specific audience.
Lower your payment processing fees with Sekure
Dabbling in payment methods and managing different payment processing fees is a fact of life for business owners. While all of these different methods can seem daunting at first, it doesn't need to be with the right guidance. At Sekure, we help make payment processing simple. Our team of Payment Experts will help ensure that you get the best possible rate for your credit card processing fees.
How does it work? We'll analyze your statement to determine what you need and what you don't. Next, we'll do all of the negotiating on your behalf. Through our partnerships, we're in a unique position to offer exclusive rates and benefits with payment processing companies and eCommerce POS systems partners. With our Rate Sekurity Guarantee™ we pledge that you're always getting the best possible deal.
Ready to start your payment processing transformation? Schedule a demo today.