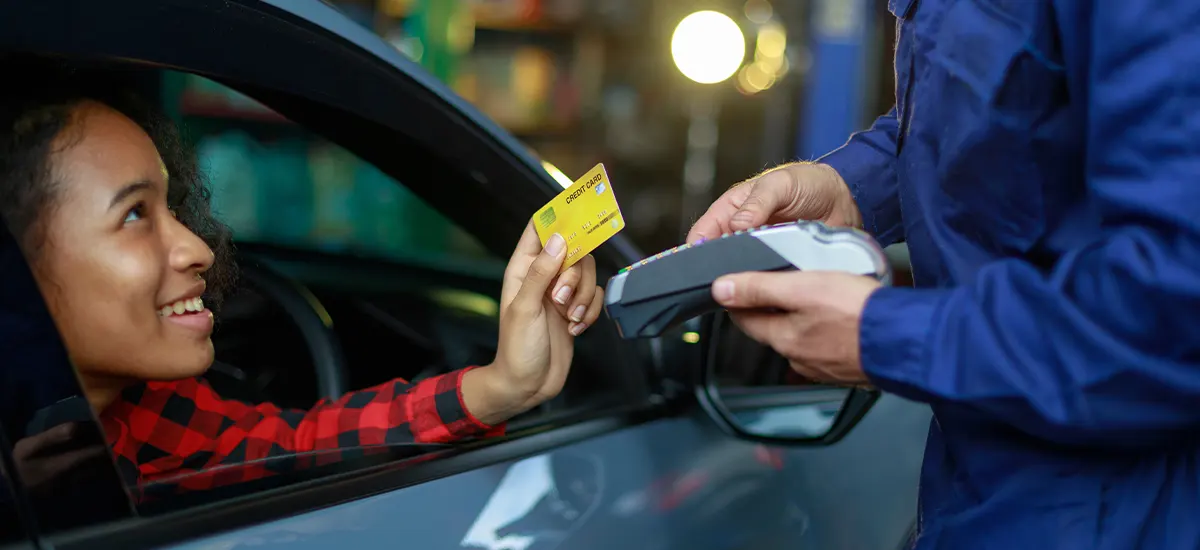 Sekure is fortunate to be providing payment processing software to thousands of mechanics and repair shops across the nation. Among these merchants, the most popular credit card terminal is the Verifone Vx520. While this is an excellent machine and has served the purposes of these merchants well, it has just been announced that it has been discontinued. This means that, while you'll still be able to use it, you won't be able to get assistance if you run into any problems.
We feel that this is a perfect opportunity to trade in your old equipment in exchange for a unified POS system that can help you provide better service to your customers. Whether you own a repair shop, body, car wash or dealership, a POS system will help you manage all aspects of your business from staffing and scheduling to inventory and invoicing to customer loyalty and business insights.
Manage Walk-Ins & Appointments
With a POS system, you'll be equipped to give your walk-in customers accurate wait times thanks to the system's traffic trends. In turn, you'll be able to ensure you always have the right staff on-hand to handle both your scheduled traffic and the customers that drive in on flat tires or with mufflers dangling dangerously low.
The Customer Relationship Management tool (CRM) build into your POS system makes it easy to remind your customers that their vehicle is due for routine maintenance and even offer booking online. Keeping their cars fine-tuned helps them avoid the more expensive repairs that come with neglecting routine maintenance and keeps your shop and employees busy.
Having a CRM is useful as it can help you build a loyal client base by offering your customers much-needed services. The CRM has built-in loyalty programs, which allow you to offer members-only special discounts and appointments times, and more. The sky's the limit!
Easy Payment & Invoicing Options
Providing flexible and easy payment options for your customers can go a long way – it increases customers satisfaction and allows you to get paid quicker.
With an upgraded POS system, your customers have multiple ways they can pay – over the phone or in-person by swiping, tapping, or inserting their debit or credit cards. If you have customers who prefer paying with their smartphones or tablets, there's a contactless option with ApplePay or GooglePay. Or perhaps, your customers prefer to pay at home on their laptop or desktop computer by logging into their customer account.
If you prefer a payment option for those on the go, consider a mobile payment as it lets customers pay from their car while they wait for an oil change. It gives you the same benefits as a regular POS system, except your customers don't have to come inside your business to pay. You can bring the mPOS outside or anywhere your customers are.
Billing customers individually after every appointment by creating invoices manually is time-consuming. With a POS system, you can automate invoices – print them out or email them to your customers after their appointment. For costly repairs, you can set up payment plans with an auto-pay option so you recover your costs in a timely manner. Manage customer expectations about the real cost of the work they need to be done. Nobody likes surprises, and customers always seem surprised when they find out how much their repairs are going to cost.
Inventory Management
A lot of customers seem to forget that auto repair shops only have so much room to store inventory and that a lot of the parts needed to keep their cars running take up a lot of space! There is often a lot of frustration when auto shops don't have a specific part in stock at the exact moment when it is needed.
A good inventory management system can help auto shop owners and their employees avoid at least some of the headaches that come with the territory. Moreover, by reviewing historic inventory reports, you can project your needs for the next quarter or even year and ensure that you have the stock to get the job done and get customers back on the road fast.
In addition, the inventory management system will send you notifications when your stock is low. It also gives you the option of automatic re-ordering, so you won't run out of stock or carry more than you need– important when real estate is at a premium like it is for so many auto repair shops.
Employee Management
If you have a team of employees, the employee management software allows you to manage the scheduling, pay, and performance of your team. You can assign your employees' tasks, give them varying levels of access and see how they are performing. It's especially useful in creating and modifying employee schedules – so you can keep your bays staffed so your customers aren't waiting. Your employees can receive schedule changes by email, download the app on their phone to get notifications, and view their electronic (paperless) paystubs.
| | | |
| --- | --- | --- |
| | Verifone vx520 | Payanywhere Smart Terminal |
| Accept payments by magstripe and EMV chip card | | |
| Complete NFC contactless and RFID transactions | | |
| Scan item barcodes and track inventory | | |
| Take payments anywhere in your business, at any time | | |
| See real time transactional data and reports | | |
| Send invoices and set up recurring payments | | |
| Update and customize settings quickly and easily | | |
| Track and unify online and offline customer experiences | | |
| Text, email and print receipts | | |
Ready to Upgrade Your Verifone Vx520?
Switching from your Verifone Vx520 to a more robust POS system might seem like a hassle that isn't worth it. But like upgrading your tires or the oil you put in your car, updating your payment processing to a POS system has benefits that reap dividends long after the switch has happened.
What advice do you give to customers who are considering putting off necessary repairs or upgrades because it's too difficult or not the right time? Chances are, we will give you the same sage advice on why it's important to upgrade to a system and support that will benefit your business in the long term.
If you are still scratching your head and have a million questions about what a new POS system would mean for your business, our team at Sekure is always available to walk you through the process. By providing you with the right information about POS systems and accompanying you in the transition process from start to finish, your transition will be painless and you will become an expert on your new POS system in no time.