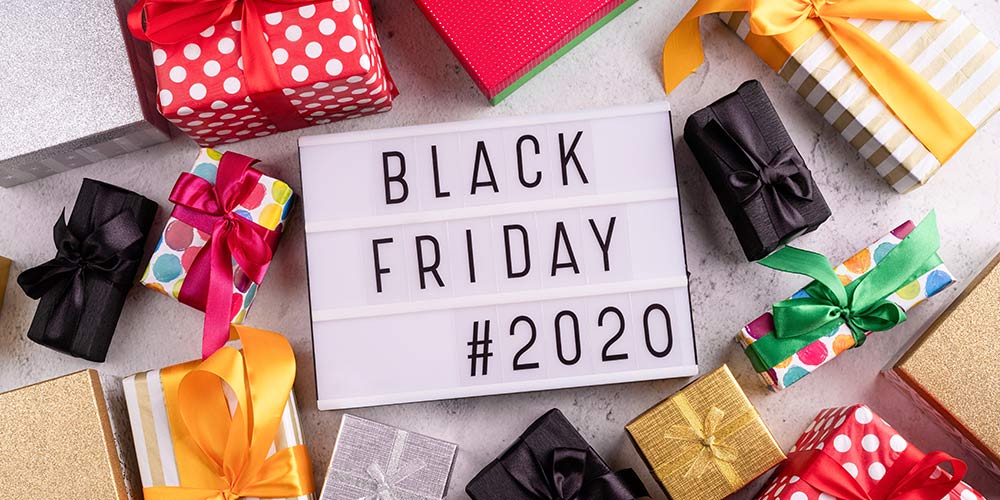 Now that Amazon Prime Day has come and gone and you've had a chance to catch your breath, it's time to look ahead to the year's other consumer extravaganza: Black Friday Cyber Monday (BFCM). Spoiler alert: this year is going to be different than years past. Black Friday's stampeding big-box shoppers and parking-lot paralysis will be rare sightings this year, while the usual Thanksgiving Black Friday kick-off is also endangered. Indeed, several stores, including Walmart, said they would be
closing their brick-and-mortar
outlets on the holiday to let employees rest and spend time with their families. Probably a smart move, given that 76% of U.S. consumers think
retailers should close on Thanksgiving Day
, and for the same reasons. By all indications, this year's BFCM event will see in-store shopping cede even more ground to ecommerce. The trend towards online shopping was already strong coming into 2020, and the pandemic has only accelerated it. Consequently, retailers will have to toss out their traditional playbooks for 2020 and rely on some new tactics to maximize Black Friday Cyber Monday sales and make sure they ready to go.
Boost Online Activities
According to a recent Shopkick survey of nearly 17,000 American consumers, the majority of respondents (67%) said they would
make their holiday purchases online
, a 17% increase over 2019. This uptick is far from surprising, given people's health concerns vis-Ã -vis in-store shopping and the ease of buying online. Even former holdouts (mainly older consumers) have embraced ecommerce since the pandemic, thus adding to the importance of a robust online presence. Here are a couple of ways to bolster your online strategy:
Paid search and local SEO.
Driving business through Google advertising and leveraging organic search traffic will be particularly important for getting your slice of this
Cyber Monday's estimated $10 billion of ecommerce sales
. Case in point: In 2019, paid searches accounted for 24.4% of all online sales, ahead of direct traffic, natural search, email and social media. If you've been thinking about implementing paid searches, now's the time.
Buy online, pick up in store (BOPIS).
The benefits of BOPIS are huge. First, BOPIS is a safer option because it limits contact between merchants and consumers. Second, shoppers are 20% more likely to make purchases with
retailers that offer BOPIS
. In 2019, Cyber Monday conversion rates were 45% higher for merchants with BOPIS, and one can safely assume that this figure will be even higher this year. Lastly, more BOPIS equals fewer shipments, ultimately saving you time and money.
Start Your Sales Early
One way to avoid bottlenecks and potential logistical hiccups is to start your discounts and promotions well ahead of BFCM. In so doing, you'll align yourself well with the intentions of most shoppers, the aforementioned Shopkick survey also found that 34% of people plan to finish most of their shopping before Thanksgiving; in comparison, 27% expect to make their purchases between Black Friday and Cyber Monday. If you wait until November 26 to mark down your inventory, you risk missing out on a lot of the action. Another pitfall of waiting until the actual holiday to offer deals: supply-chain issues and shipping headaches, as well as shipping surcharges. Indeed, shipping demand is so high in the lead-up to Thanksgiving and Christmas that the
USPS recently announced its first holiday surcharge
, joining the likes of UPS and FedEx. Try and spread your promotions over weeks, not days. That way, you'll avoid additional shipping costs and inventory inconveniences.
Highlight Local
One consequence of the pandemic has been a marked shift in consumer patterns, with local and sustainable products proving more popular than ever. It makes sense: people want to support their communities and the small guy, given that they have been disproportionately affected by the pandemic. Building on this theme, consider showcasing and providing discounts on local and artisanal products. For example, you could discount them heavily to drive traffic to your brick-and-mortar and online stores.
Stay Health-Focused
How could we forget this one? No need to remind you that shoppers expect businesses to leave no surface unwiped and no cashier unpartitioned and provide contactless payment solutions. As a matter of fact, consumers are willing to switch store allegiances for merchants that offer contactless solutions. And if cash does represent a large percentage of your transactions, put some money back in your pocket (up to 100% of your credit card processing costs, to be exact) with Sekure's new
Edge program
. Finally, consider updating your holiday hours to accommodate more customers and prevent in-store overcrowding.
To Conclude
During this time of uncertainty, one thing is for sure: competition for BFCM shoppers will be fierce across all channels. Sure, BFCM may not have the same clout as it once did. But it's still the year's most important shopping event for the retail industry, not to mention a familiar tradition. This year, however, shoppers are likely going to spend less. And they will start shopping earlier and shop primarily online. Now's the time to get your game face on and leave 2020 on a high note. Sekure can help you find a payment solution that's right for your business and take advantage of exclusive rates by leveraging our extensive network of partnerships.
Get in touch with us today
and see why over 25,000 businesses trust Sekure for our industry-leading expertise and unrivalled service.