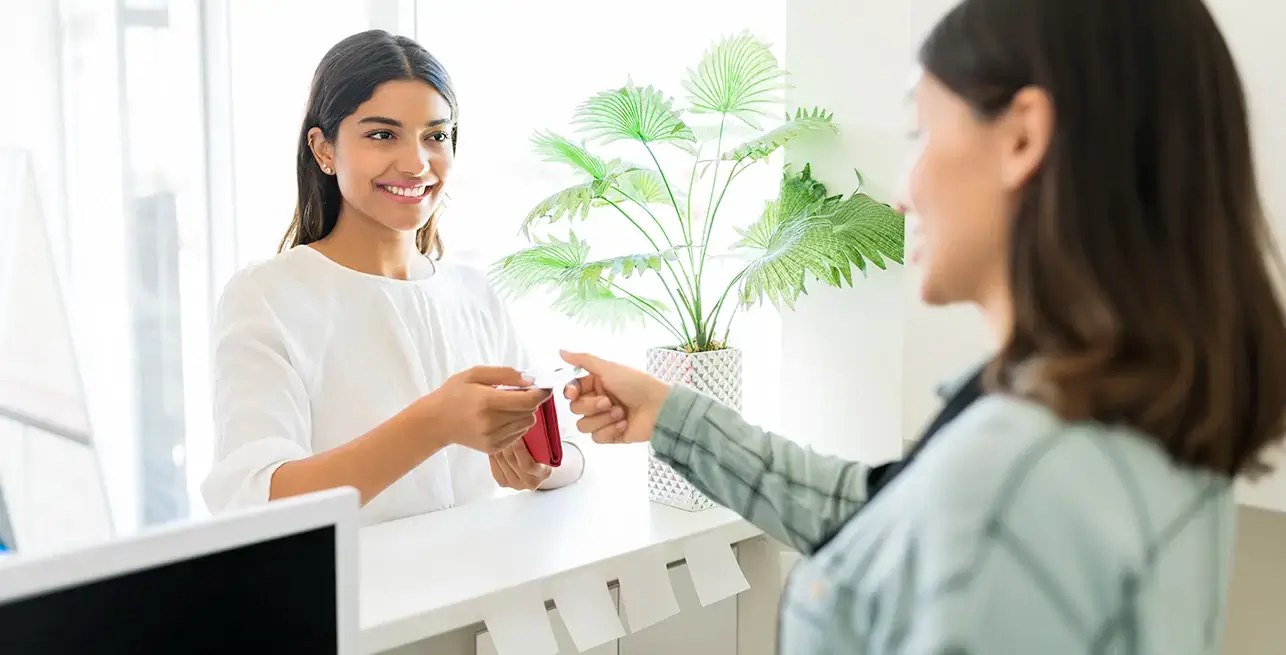 The average profit margin for a beauty salon is about 8%, but that can vary widely depending on the type of business you run. Hair salons are typically in that range, but high-end salons or luxury spas often see margins exceeding 25%. Medical and day spas typically see profitability in the 10% to 15% range.
The more efficiently you can run your business, the more likely you are to increase those margins. So, the right POS system for your salon or spa can make a big difference by streamlining your processes and providing the data you need to make better business decisions to boost margins.
What are salon and spa POS systems?
Spa POS software, salon POS software, and gym POS systems help professionals run and manage their businesses. The best POS systems handle everything from appointments to payments to inventory.
Characteristics that spa POS systems should have
The best spa and salon POS software will have all of the features you need to manage your business, including:
Payments and point of sale
Your POS should handle every aspect of your point of sale and payment processing.
Accepting various forms of payment
Modern POS systems will accept online payments and provide contactless payment solutions for the many ways customers want to pay, such as:
Credit cards: chip cards, tap payments, and digital wallets like Apple Pay
Debit cards: signature and PIN debit transactions
Gift cards: both redeeming and selling gift cards
Salon credit: charging to client accounts
Hardware and cash register functions
Spa POS software can be paired with touchscreen registers, barcode scanners, receipt printers, cash drawers, and other hardware for a complete POS solution to streamline the checkout experience.
Self check-in kiosks
Another option that is growing in popularity is self-check-in kiosks, enabling clients to check in for appointments without needing staff help.
Client invoicing
A POS should also allow you to create and send professional invoices to clients with itemized treatment and retail details.
Appointment bookings
You can also streamline your appointment bookings, tracking, and reminders.
Online booking
Allow clients to conveniently book appointments 24/7 through your website or mobile app. Your POS system should sync seamlessly with your calendar.
Appointment tracking
With your appointment book, you can track bookings and schedules for the spa. This enables team members to check availability at a glance and who is scheduled. Many systems will store appointment details by clients, so you can quickly recall past treatment regimens.
Calendar management
Salon staff should also be able to add, edit, reschedule, or cancel appointments easily.
Appointment reminders
The best POS systems can automatically send text message (SMS) appointment reminders and notifications. Appointment reminders have been shown effective to reduce no-shows.
Cancellation policies
You may also want the ability to set customizable cancellation policies such as requiring 24-hour notice, taking a deposit/fee for late cancellations, or charging a fee for no-shows.
Waitlist management
For popular services, some POS systems can also manage a waitlist. If appointments open up, waitlisted clients can be notified.
Staff scheduling and payroll
Robust scheduling and payroll tools save spa owners time while helping optimize staffing costs. The POS system provides the data needed to make smarter staffing decisions.
Shift management
A POS allows managers to build work schedules for staff and assign hours, days, and services to ensure adequate coverage for booked appointments.
Clock in/out
Employees can clock in and out directly through the POS system and tracking hours. POS systems can sync with payroll systems to automate payroll processing.
Payroll reporting
The best POS solutions will include robust reporting to track labor costs, productivity, commissions, and sales performance.
Inventory management
Accurate inventory management is essential to ensure you have the products you need to take care of your clients. A POS system helps spas and salons better manage their inventory.
Centralized tracking
Whether you have a single location or multiple locations, you get real-time visibility and central control over all of your inventory. This eliminates the need to manually count inventory at locations. The best systems allow you to easily see your inventory levels and get alerts when supplies are running low for reordering.
Product movement
You also want to keep a close eye on which products are most popular. By identifying fast-moving products, you can adjust your ordering to make sure you don't run out. At the same time, you can also see which products are not selling well to optimize future orders.
Reducing shrinkage
According to the National Retail Federation (NRF), inventory shrinkage remains a serious problem. Spas, salons, and other retailers have seen increases in shrinkage over the past few years, which results in a higher cost of doing business. With accurate tracking, there is greater accountability to help control waste and theft.
Modern marketing tools
POS systems can also equip spas and salons with data-driven marketing tools to boost business and enhance client loyalty.
Client loyalty programs
The right POS system can manage your client loyalty program to incentivize repeat business. Some systems allow clients to earn points for appointments or services which can be applied toward future visits or services.
Rewards and referrals
Word-of-mouth referrals are a powerful way to grow your business. You can provide incentives for your clients to refer their friends or colleagues and reward them.
Automated text messaging (SMS) marketing
SMS marketing tools for appointment reminders are essential. You should also be able to send group texts to clients about promotions and other messages to keep your salon or spa top of mind.
Reporting and analytics
With the right reporting, you can analyze client patterns and trends. This helps to see when behaviors shift and how effective your loyalty programs, referrals, and marketing messages are in driving traffic to your location.
Branded mobile app
Some POS systems enable branded mobile apps, allowing customers to schedule appointments, select services, access loyalty programs, and pay bills online.
Best spa and salon POS management software
Trends in the spa and salon business are constantly shifting and there have been significant changes in the past few years. The most recent American Salon Business Sentiment Survey revealed that many salons have shorter hours of operation due to staffing shortages and other factors. Increasing prices have helped offset these hours in some cases, but inflation has also led to client turnover.
Many salons and spas have streamlined their service offerings to eliminate less profitable services while adding new services with a variety of price points. Others have added eCommerce options to improve customer experiences and sell products directly to clients.
What do these trends have to do with spa and salon POS management software? The best point-of-sale solutions will provide you with the data you need to see these trends develop. With better information about changes in client behavior, you can make better decisions about your business. For instance, when you see that certain products are suddenly selling at a higher pace, you can adjust your ordering appropriately. You can also track sales versus price points more easily to ensure you have optimal pricing to drive revenue.
The ability to identify and adapt to industry changes and client behavior is crucial for spa and salon success. A modern POS system with robust analytics can provide greater insight to uncover evolving trends to meet client needs and stay current. This data can provide a substantial competitive advantage in an extremely competitive industry.
How can I choose good spa POS software?
The best salon POS system will have the features you need to run your business efficiently and optimize your profit margin. Review the list of features above and make sure any system you consider has the functionality you need to make sure they align with how you want to do business.
You will also want to make sure a POS system is intuitive and easy to use. Since the spa industry has a high employee turnover rate, you need a system that doesn't take significant training to use. At the same time, you also want a system that allows you to customize settings and preferences to align with your workflow.
If you already have legacy systems in place, such as accounting, CRM, or existing payment gateways, you need to make sure you can integrate seamlessly. Another key thing to look for is scalability. You want to be able to expand capacity as your business grows.
Best spa POS software
Sekure Payment Experts POS system is designed for salons and spas to streamline bookings, payments, staff, inventory, and business operations from a centralized platform. Not only do you get a comprehensive point-of-sale solution, but you also get live chat and phone support to help with all of your POS business needs.
Whether you need POS hardware and software, handheld terminals, tablets, virtual terminals, or eCommerce solutions, Sekure can do it all. Schedule a demo today.