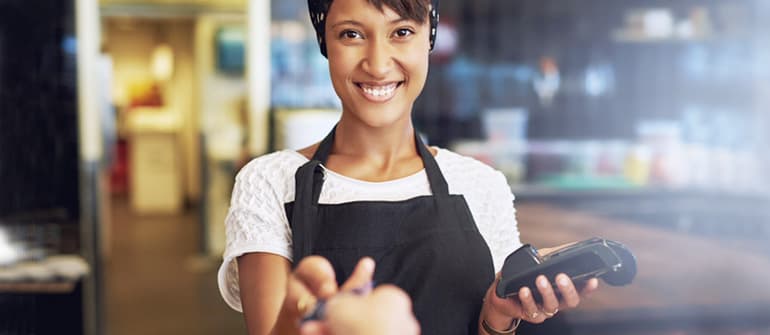 Your business can suffer if you don't accept all credit card brands or your outdated terminal is routinely slow and troubled with connectivity issues. That's why choosing the right credit card machines for small business merchants is an important decision.
Customers want a hassle-free payment experience when making a purchase.
After all, customers expect nothing less than a quick and easy process when they're buying in person or online. Whether you're a brick-and-mortar shop or e-commerce merchant, how you accept credit card payments is essential to making your business a success.
With a range of mobile, portable and contactless card machines to choose from, you can select the card payment terminal that best suits the needs of your business.
So, how do you identify the right terminal for your business? Here's a look at different options to choose from.
Verifone Vx520
The Verifone VX 520 comes with the option of dial-up or Ethernet connectivity, as well as an optional battery, powerful processor, expandable memory and thermal printer. Integrated near-field (NFC) communication and contactless (CTLS) capabilities support alternative payments, including apps for loyalty programs and gift cards.
Ingenico iCT250
Offering EMV chip and PIN, magstripe, NFC/CTLS payments, the Ingenico iCT250 also enables new NFC couponing and wallet applications. The terminal features a backlit keypad that makes PIN entry and menu navigation quick and easy to use, and large keys on the terminal reduce PIN entry errors.
First Data FD130
The First Data FD130 terminal allows businesses to accept all major credit cards, contactless payments and gift cards. As an option, the FD130 also offers Dynamic Currency Conversion (DCC) service, making it possible for international customers to pay in their own currency.
Verifone VX680 Wireless
Delivering wireless connection through GPRS, WiFi/Bluetooth combo or 3G, the Verifone VX680 is a fully functional, portable device that supports value-added apps. Optional base stations provide additional connectivity options for greater flexibility.
PAX s80
The Pax s80 is equipped with various communication technologies for connectivity, such as GPRS/3G Ethernet and PSTN. An ATM-style interface and ergonomic keypad make transactions intuitive for customers at checkout. The S80 also supports multiple payment and value-added applications.
Upgrade Your Terminal with a Pax A920 and PayAnywhere Software!
Now for a limited time, Sekure Payment Experts is providing a free Pax A920 with PayAnywhere Software. The touch screen is as easy to use as a modern phone or tablet, and the A920 is EMV and PCI compliant.
Both of these modern, state-of-the art tools can help you grow and manage your business, and keep customers happy when purchasing your product.
PayAnywhere Features:
Manage employees, customers and inventory
Accept online payments and send invoices
Your sales and data on any device
See real-time activity, check deposits and export detailed reports
Time clock and scheduling
PAX A920 Features:
Multiple connectivity: 4G / 3G / WiFi / Bluetooth
High capacity Li-ion battery
5 Megapixel Auto Zoom Camera, 1D and 2D Scanner
Memory = 1GB DDR3 SDRAM, 8GB EMMC [Expandable to 41GB via Micro SD Slot]
Certified: PCI PTS 5.x, EMV L1 and L2, MasterCard Contactless, Visa payWave, Amex Expresspay, Discover D-PAS, MasterCard TQM and NSICC
Speaker Functionality Microphone and Sound Wave Payment Supported