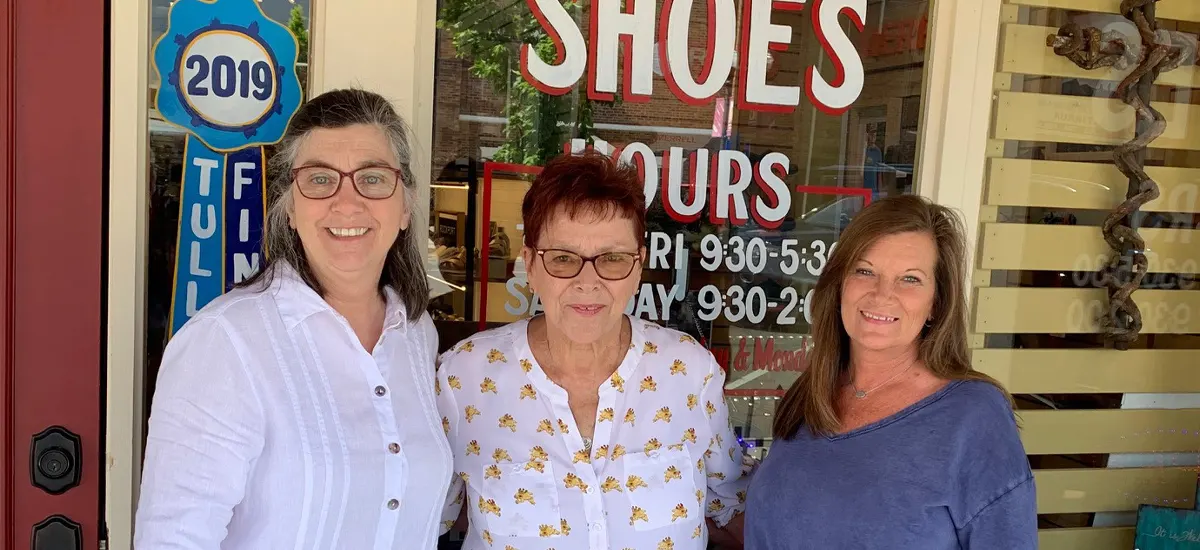 Every day, Sekure Payment Experts' team speaks to thousands of American small business owners, and each day, our team shares sometimes touching, sometimes witty, and often memorable anecdotes and experiences they have had with the men and women we at Sekure are proud to support.
As a storyteller, I want to write about every merchant experience the Sekure team shares with me, but time– much to my chagrin– doesn't allow me to do that. That equation changed, however, when Sekure Account Executive, Mike Jaz, approached us with the story of Clayton's Shoe Store, how he was able to help business owner Florence Hull, and the personal connections that were made along the way. Mike's warmth and ability to create instant connections with everyone he speaks to helped to turn a routine business interaction into a meaningful relationship with not only Florence but other business owners in Tullahoma, Tennessee.
On August 26th, Mike celebrated his two-year work anniversary at Sekure. He began his career as a lead generator and quickly distinguished himself as a dedicated and genuinely caring employee. These qualities were recognized by the business owners he spoke to, and by Sekure leadership who rewarded his dedication by promoting him twice in that time. He credits his success here with the faith and support he had been shown from leadership within Sekure, and continues to look up to people like Jeff London, VP of Client Acquisition, who helped Mike to find his feet in those early days and continue to mentor him in his career at Sekure.
The local connection
I had the privilege of working with Mike to bring the story of Clayton's Shoe Store to life for Sekure Insiders and have come to consider Mike a friend as well as a respected colleague. Like him, I was also born in Canada and raised in the southern United States (Vero Beach, Florida to be specific). We also share a deep respect for small- and medium-sized business owners and are proud to work for a company where we are able to help these men and women succeed in reaching their goals.
Mike believes that what makes him unique at Sekure is his ability to "touch base with people on a local level from areas I've traveled to and lived in across the South East, West, and West Coast of the US." His recounting of his travels brings to mind a line from a song written by the great Willie Nelson insofar as he "received his education in the cities of the nation" like "Me and Paul".
Mike was born in Montreal, Canada, but when he was 8 years old, his father's work with Northern Telecom (Nortel) brought his family to Nashville, Tennessee. From there, Mike's family moved as his father rose through the ranks at Nortel to California, Texas, and other states. So for Mike, his work at Sekure allows him to speak with merchants who live and work in those places that made an impact on him growing up. His lived experience lets him "speak with merchants and connect on a level you can't Google."
Even though he has lived in many places, "Tennessee will always be home to me," Mike said, noting that his mother lives there and that it was the place where he eventually put down roots himself. This played a large role in the instantaneous connection Mike was able to create with Florence, owner of Clayton's Shoe Store. Particularly when you are in a stressful situation like Florence was when her credit card terminal stopped working, getting support from someone who understands the regional nuances goes miles in diffusing wrought situations and building trust.
Whether it was the connection to Tennessee, Florence's warmth and genuine love for her customers and community, or a mix of both, this merchant encounter made an impact on Mike. So much so, he relayed the story, the local connection, and his admiration and respect for Florence to his mother, Carmelle. You can read about her story in an article we wrote for Mother's Day, 2021. Carmelle and her husband made their way from their home near Nashville to Tullahoma where they stopped in to meet Florence and take in the sights of beautiful Tullahoma on their way to the famous Beechcraft Aviation Museum located nearby.
The merchants make it meaningful
If you have ever traveled through the southern United States, you know that the region is known for its hospitality and the unique ability people in that area have to make newcomers feel welcome, at ease, and like part of the family. And more than that, they love to tell stories, spin yarns and can bring old memories to life. Mike has this gift and, in speaking with him, I was certain that Florence was not the only business owner he had helped who would have the same level of trust and respect for him.
Mike told me about some of his favorite merchants like Dennis, the owner of Primm's Real Estate in Akron, Ohio, and perhaps also the state's biggest Pittsburgh Steelers fan. "Dennis is a massive Steelers fan." Mike went on to explain to me when I laughed about this," What you need to understand about the Steelers Nation"– the unofficial term for Steelers fans–," is that we are passionate about our team and love to talk football with other Steelers fans whenever we get the chance."
With Mike, Primm's Real Estate found the right payment processing solutions, and business owner Dennis found Mike, who shares his love of the NFL's best team. "Dennis sometimes calls me just to talk Steelers," he chuckled.
Another merchant Mike remembers fondly is Tonia Oliver of Happy Hippopotamus Daycare in Longview, Texas. Of course, you can't help but smile and think fondly about a business with a name as joyful and fun as that. Mike said that Ms. Oliver insisted his call came at so perfect a time that she referred to it as "a prayer answered by God". The answers and kindness he provided for her let her turn her mind and attention back towards the part of her job that brings her the most joy– the children who spend their days at the Happy Hippo Daycare.
The future is Sekure
Mike has moved back to the city of his birth and found his place here at Sekure. "I hope to work for Sekure until I retire," he said. He loves that Sekure's office is located in the heart of downtown Montreal close to public transportation, great shopping, dining, and cultural activities. More than that, his work at Sekure allows him to stay linked to the many places in the US he thinks of as home.
At Sekure, Mike is able to work with US-based customers and keep his connection to the places he's lived and loved even now that he has moved back to Montreal. Mike is eager to continue to develop his skills and hone his abilities and be the trusted, friendly voice on the other end of the phone for business owners across America.