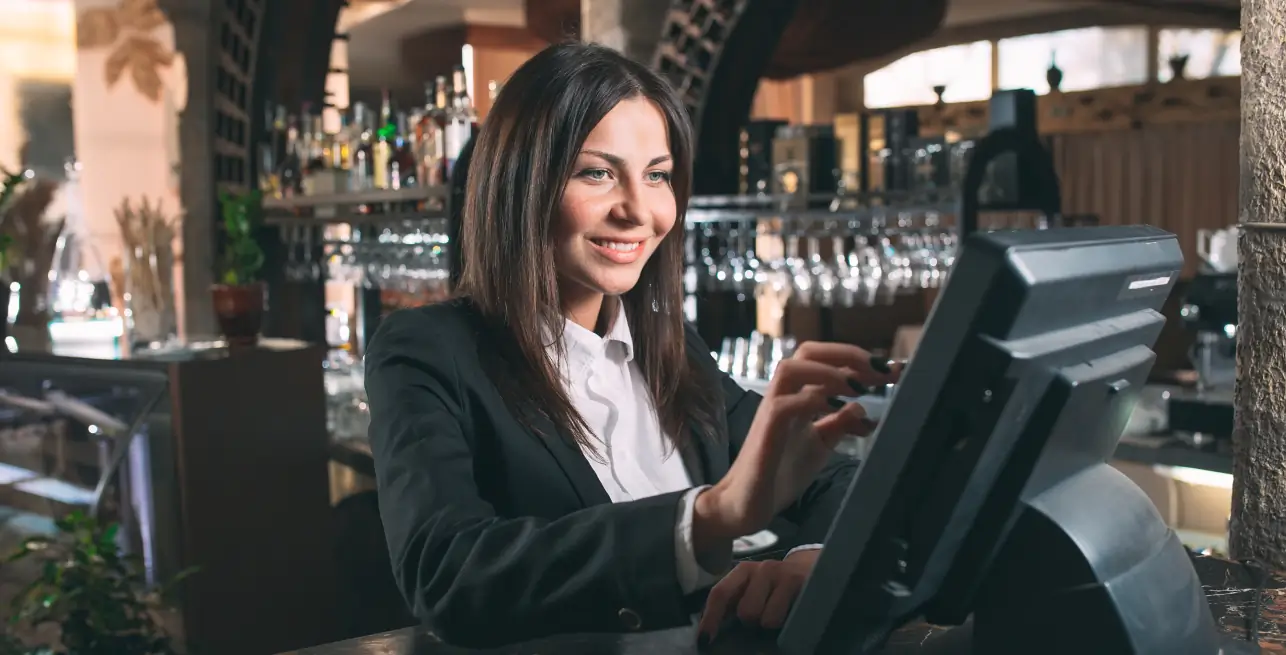 Managing restaurants is more challenging than ever. Customers are frustrated with rising prices, yet the higher costs of ingredients and wages are shrinking already tight margins. Consumers are dining out less than they were in 2019. Although average ticket prices are up, it's not always keeping pace with costs.
Restaurant owners and managers need all the support they can get to work efficiently and lower operating costs. The best restaurant POS can help you streamline operations to maximize profits and provide a stellar customer experience that keeps guests coming back for more.
Why should I use a POS system in a restaurant?
A point-of-sale (POS) system streamlines operations by providing end-to-end management solutions. Today's POS systems handle front-end and back-end operations and provide significant benefits.
Improved order accuracy
Servers can directly enter orders into the POS system, so orders go straight from the order point to the kitchen without any delays or potential errors that can occur with handwritten checks. The digital order trail improves communication between the front-of-house and the kitchen staff.
Faster table turnover
By streamlining ordering, payment processing, and table management, POS systems enable faster table turns. Tablet POS systems can take orders tableside. Customers can pay at the table and get digital receipts promptly.
With table status tracking, servers know which tables are ready to be seated, need ordering, or are awaiting checks. More organized workflows lead to shorter customer wait times and ultimately greater revenues when you can serve more guests.
Enhanced customer experience
Improving the customer experience is one of the most important things you can do to increase business and profitability. A PwC study shows when customers feel appreciated, not only does it increase loyalty, but it also creates up to a 16% price premium. That's real dollars to your bottom line.
With an integrated customer database, servers have instant access to customer order history, special occasions, preferences, and other details to provide more personalized service.
Reduced theft and errors
The National Restaurant Association estimates that between 3% and 4% of revenue is lost each due to theft and three-quarters of it comes from employees. With detailed sales reports and digital payment processing through a POS system, there is far less room for accounting errors, mischarges, or theft compared to manual processes. POS data can be audited and tracked.
How modern POS software can help your restaurant thrive
While traditional cash registers only handle payments, modern POS software is a complete restaurant management hub. Not only do you experience the benefits of streamlined operations, but you also have access to deep data insights to make smarter decisions about running your business and improving performance.
Using sales and operations data, managers can look for trends and evaluate servers, time periods, and menu items in multiple ways. For example, you can see:
Which items are selling best or moving slowly
Ingredient costs and profit margins
Real-time inventory levels to avoid running out of ingredients
Traffic patterns to optimize staff schedules and promotions
With real-time POS analytics, restaurants can create data-driven strategies to boost profitability. You can also reduce labor costs.
Reduced labor costs
By automating many manual processes, POS systems allow staff to spend more time attending to customer service rather than getting bogged down with paper checks and transactions. The POS handles much of the busy work.
Intelligent labor management tools also help align staffing to sales trends. Some POS solutions allow you to create, track, and schedule workers more efficiently.
What are the best features of top restaurant POS systems?
The best restaurant POS systems offer a long list of features to run your business efficiently. Here are just a sampling of some of the best features available in top restaurant POS systems.
Order management
Streamline and customize ordering across all channels.
Custom floor plan: Map out tables, counters, or bar seats for easy status tracking and management.
Flexible order taking: Take orders at the table, bar, curbside, or online via integrated ordering platforms.
Modifier and condiment options: Easily capture customized orders.
Allergy and dietary options: Flag food restrictions and allergies.
Courses: Track and time courses for multi-course meals.
Tableside ordering: Server staff take and send orders directly from the floor on mobile devices.
Payments
Facilitate secure and convenient payment processing.
Bill splitting: Split bills evenly by person or by individual orders.
Payment processing: Accept credit cards, debit cards, mobile payments, and gift cards.
Payment options: Accept contactless payment solutions.
Tipping: Custom tipping options by dollar or percentage amounts.
Receipt options: Print, email, or text receipts to customers.
Front of house management
Optimize dining room operations and customer service.
Table management: Interactive floor plans, status tracking, reservations, waitlist, and table assignment capabilities.
CRM features: Guest profiles, visit history, order histories, special occasions, preferences.
Marketing and loyalty programs: Targeted promotions, customizable loyalty programs, and gift cards.
Online ordering integration: Sync online and phone orders with the POS for seamless fulfillment.
Self-service kiosks: Streamline ordering and payments, especially for quick service (QSR) and fast-casual restaurants (FSRs).
Back of house and analytics
Leverage data insights to improve business performance.
Inventory tracking: Real-time inventory management to track items, ingredients, and waste.
Order management: Organize kitchen workflow with timed courses, modifications, and preparation instructions.
Internal messaging: Fast communication between the front of the house and kitchen teams.
Analytics and reporting: Customizable reporting with data-driven insights on operations.
Labor management: Track hours, sales performance, and scheduling to optimize labor.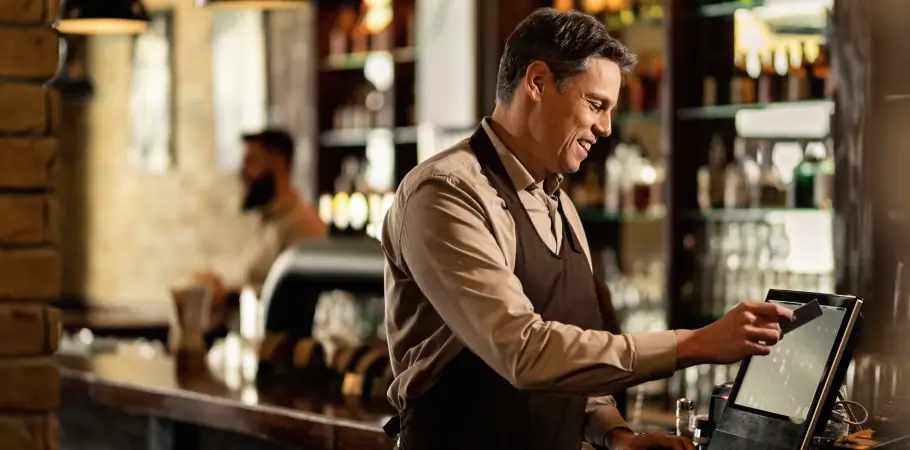 How do I use a POS system in a restaurant?
Transitioning to a POS system or changing systems can seem daunting at first blush. However, following a few best practices to make the process go smoothly.
The first step is choosing the right POS system for your restaurant. You will want to compare different vendors and make sure the POS has the features you need to meet your business goals. If you're thinking about adding or changing your POS system you may be considering several different options. These guides make it easy to compare SpotOn restaurant POS system to Sekure Payment Experts or compare Toast POS to Sekure to show you how you can simplify and save money with Sekure.
Once you have selected a POS solution, you will want to work closely with your vendor to adapt the configuration to fit your workflow. You will need to migrate your key data from any legacy systems to maintain continuity. This can include menu and ingredient options, sales records, and customer information.
You will also need to train your staff to learn the POS system so that they can use it comfortably and efficiently.
It's also a good idea to do a soft launch to uncover any missing items. You might want to kick off your use during a low-volume period to make sure you've accounted for everything in your POS transition before it gets busy. This gives you time to identify anything you've missed and correct it before you're working at peak capacity.
Once you're up and running, you will also want to regularly review data to optimize operations and make any necessary adjustments to improve workflow and performance.
Restaurant POS systems for online and in-house orders
The food service industry is forecast to grow in 2023, although much of the growth is driven by higher menu prices. According to the National Restaurant Association, sales are forecast to reach $997 billion. At the same time, however, rising costs are a significant issue. An Association study reports that 92% of operators say food costs are hurting their bottom line.
You need the best restaurant POS system for 2023 that will seamlessly handle online and in-house orders in a single platform. That's crucial since as much as 40% of restaurant sales are now attributed to online ordering and food delivery services.
Whether guests order online or in your restaurant, you want a consolidated system that acts as a central hub for your entire operation. An omnichannel POS provides a consistent experience for customers — regardless of how they interact with your restaurant.
For example, tablet POS software allows you to handle orders and payments efficiently for curbside pickup with smart terminals. Integration with third-party delivery services such as Uber Eats, DoorDash, and others creates a seamless workflow. CRM tools can capture customer data across channels to help you manage loyalty programs and create.
Streamline operations and elevate the customer experience
Sekure is more than just a credit card and payment processor. It is a comprehensive solution for small and medium-sized businesses with customized solutions tailored to your unique needs. We find the best deal for your merchant business and our Payment Experts develop customized plans to meet your requirements.
Schedule a demo today and see how Sekure can streamline your restaurant operations and elevate the customer experience with an all-in-one restaurant POS solution.