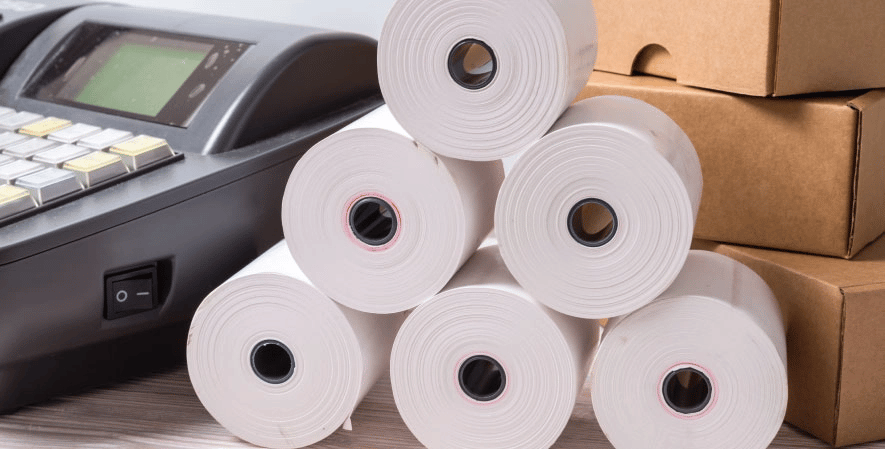 Understanding how a thermal printer works is important when learning how to properly maintain the device. We answer some common questions and explain how to clean your thermal printer in this article. Thermal printers, made by brands such as Toshiba, TSC, DMYO, and Zebra, are used to print barcode tags and labels.
Types of thermal printers
Thermal printers are popular with merchants because they do not require costly ink to print labels, receipts, and a host of other transactions that may be required for their business operations. There are two different types of thermal printers commonly in use today. The method used to clean your device will change depending on the type of thermal printers you have because they produce images in two unique ways.
In direct thermal printing, the image is produced when heat is selectively applied to thermal paper as it passes over the thermal print head. Thermal paper is coated with a special coating which turns black when heated.
Thermal transfer printing uses a heat-sensitive ribbon rather than thermal paper to produce images. This digital printing method melts a coating of ribbon to the material being printed. The melted ribbon coating acts like a glue, so the image adheres securely to whatever material has been printed. This makes the printing more heat sensitive and durable and thus a popular for printing labels and barcodes.
Can Thermal Printers Print in Color?
Direct thermal printers are available in one-and two-color options. The two-color printers produce images in black and most often red by applying different levels of heat to the paper.
Thermal transfer printers use wax ribbon which makes it easier to print in black and white or color. They come in monochrome, three, and four color options.
Advantages of thermal printers
Thermal printers have many advantages over other styles of printers for professionals. In addition to retail use, their portability makes thermal printers ideal for use in a wide array of commercial and professional settings. You will find them used by pay-at-the-pump gas retailers and in medical diagnostic equipment like the cardiotocographs which measure fetal heartbeat and contractions during labor.
Low-Cost: There are no ink ribbons, cartridges,

or other costly supplies that need to be replaced frequently. As long as you have paper, y

ou're in business.

Compact: These printers are small and lightweight making them ideal for wireless POS

which have uses in just about every scenario imaginable.

Speed and quality: With thermal printers, you don't have to sacrifice quality. They consistently deliver

crisp, clear, and no-smudge printing on demand.

Quiet: Your co-workers and customers will never be distracted by the sound of your thermal printer because they are whisper quiet.
How long do thermal printers last?
Thermal printers are durable and, provided they are properly maintained, should last around ten years before you will need to buy a new print head. In order to ensure the lifespan of your thermal printer is as long as possible, it's important to clean the printer head regularly and correctly.
How to clean a thermal printer
Because both styles of thermal printer operate using primarily the same style of machine, the cleaning process is similar. Be sure to check the user's manual for any special instructions unique to your machine.
There are 3 common ways to clean a thermal printer.
Isopropyl alcohol

is commonly accepted as the safest cleaning method and the one that should be used regularly to keep your printer running smoothly.

Cleaning cards

are used to clean the print head and remove build-up on the

rollers but

can damage the print head and rollers so should be used periodically, but not for routine cleaning purpo

ses.

Print head cleaning pens

are convenient and effective for quick clean-ups and last for roughly ten uses before they need to be replaced.
For our purposes, we will outline the steps in cleaning a thermal printer head with isopropyl alcohol.
What you will need:
Isopropyl alcohol

Lint free cloth –

or-

Isopropyl alcohol swabs
Before you begin:
Remove any watches or jewelry that could scratch the delicate hardware inside your thermal printer head.
Step 1. Turn your printer off.
Step 2. Open the thermal printer by lifting the print head access door.
Step 3. Gently blow any loose dust away from the print mechanism.
Step 4. Using gentle but firm pressure, run your swab or isopropyl alcohol dipped lint-free cloth over the printer head several times.
Step 5. Allow printer-head to fully dry.
Step 6. Resume printing as usual.
Thermal Ribbons with Built-in Cleaners
For those using thermal transfer printers, you can buy replacement thermal transfer ribbons that have a cleaner built-into them. When you install a new roll and pull it through, the attached cleaner strip will remove build-up and residue from the print-head.
How often should I clean my thermal printer?
A good rule of thumb is to clean your print-head every time you change the label roll or ribbon. This ensures that you will maintain high quality results and ensure that your printer is functioning properly for years to come by minimizing damage caused by excess print-head buildup.
Sekure supplies a wide array of printers and terminals for merchants, including thermal printers. To upgrade your terminal or find out more about how Sekure can improve your business, contact us today.