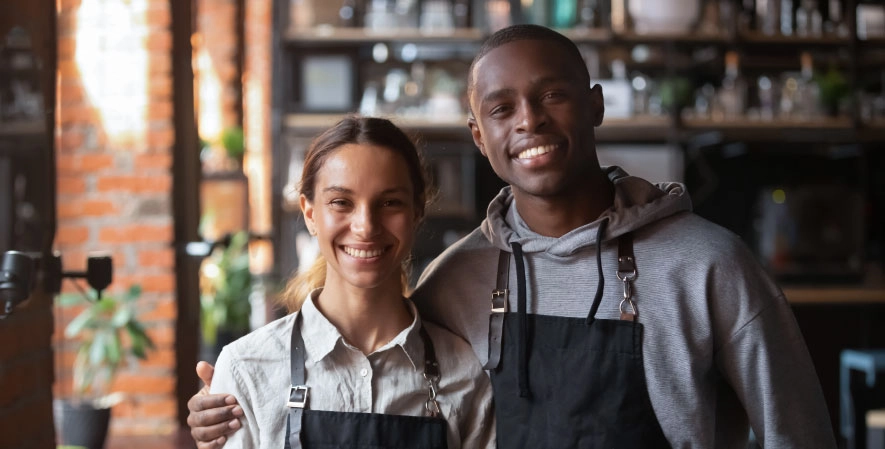 PCI compliance is necessary, but it can be burdensome, expensive, and most importantly- challenging to understand. With PCI Plus from Sekure, business owners will save time and money and have more peace of mind knowing they have liability protection and painless PCI compliance.
What Is PCI compliance?
PCI stands for Payment Card Industry and is the global industry standards body that provides oversight on the ongoing development, enhancement, and implementation of the Payment Card Industry Data Security Standards (PCI DSS). PCI compliance refers to being in line with rules and regulations set by the PCI DSS Council.
The purpose of these rules and regulations is to protect your business, but more importantly, your customers' data when they pay with a credit or debit card. The last thing you want is to have a security breach that could have severe consequences for your business.
PCI compliance is mandatory and applicable to all merchants, no matter their size or the volume of transactions they process.
PCI DSS requires an annual assessment; either a Self-Assessment Questionnaire (SAQ) or one done by a consulting Qualified Security Assessor (QSA).
Quarterly network scans are also required by an Approved Scan Vendor (ASV).
What are the consequences of non-compliance?
An important misconception is that e-commerce businesses are more at risk of security breaches than retail stores that mostly sell at one physical location. The truth is any business that processes payment cards can be a victim of cyberattacks. The easiest entry point is through system vulnerabilities, which is why staying abreast of PCI compliance is so important.
Consequences of Non-Compliance Include:
Account Data Breaches
Damage to your brand or reputation
Fines
Account closures
Losing the ability to accept credit card payments
How do business owners stay PCI-compliant?
Some of the PCI DSS requirements business owners need to worry about include:
Installing and maintaining a firewall to protect cardholder data
Changing all vendor-supplied defaults for system passwords
Restricting access to cardholder data
Identifying and authenticating access to system components
Restricting physical access to cardholder data
Encrypting transmission of cardholder data across public networks
Develop and maintain secure systems and applications
Routinely test security systems and processes.
Track and monitor all access to network resources and cardholder data
Develop and maintain a comprehensive information security protocol for all employees and personnel.
Does your merchant processing company have you covered?
It's important that business owners verify what type of PCI Compliance protection their merchant processing services provider offers because it may not always be covered. Sometimes payment processors charge fees alluding to coverage without offering it.
Other times, PCI non-compliance fees are charged when you do have coverage. In other words, it can be confusing to know whether you are adequately covered or not, therefore it's key to always check.
Oftentimes, even with a payment provider, businesses are charged monthly fees and required to fill out a self-assessment questionnaire (SAQ). If you fail to fill this out, you can be charged non-compliance fees until you prove your compliance.
Sekure's PCI Plus protects business owners
With all the challenges that come with being a business owner, things like PCI compliance can be forgotten or simply neglected – the stats prove it. As of 2020, only 27.9 % of businesses are PCI-compliant according to Verizon's latest Payment Security Report. This is astonishingly low considering the huge risk and costs of having an unsecured system.
The advantage with Sekure's PCI Plus is that it is truly hassle-free, meaning that your PCI Compliance becomes our responsibility, not yours.
PCI Plus is part of our commitment to making PCI Compliance a simple, worry-free process for business owners.
It is the most cost-effective option on the market for business owners.
A frictionless PCI compliance experience.
No SAQs or scans
No program or non-compliance fees
Breach forgiveness is available for PCI Level 3 and Level 4 merchants who have suffered a data breach through PCI Plus.
PCI Plus protects your customers
PCI Plus makes it easy for you to provide a worry-free shopping experience for your valued customers. As a business owner, you devote all of your time and energy to ensuring that your customers enjoy shopping with you and you take care to provide them with the experience you hope they will value as much as you do. You are an expert in your business; Sekure is an industry leader in ours.
With PCI Plus, business owners can focus on what they do best with peace of mind that their customers and their invaluable data are safely protected from fraud and cybercrime by industry-leading PCI Compliance experts.
Are you ready for worry-free PCI compliance?
Cybersecurity is one of the biggest threats to businesses and this will remain the case as we steadily advance into a tech-heavy world. Your best bet is to be proactive in preventing system hacks, as opposed to reacting to when it happens. It will save you money, time, and headaches.
Prioritize your system's security today by getting PCI Plus. Learn more about how Sekure makes total PCI Compliance easy.