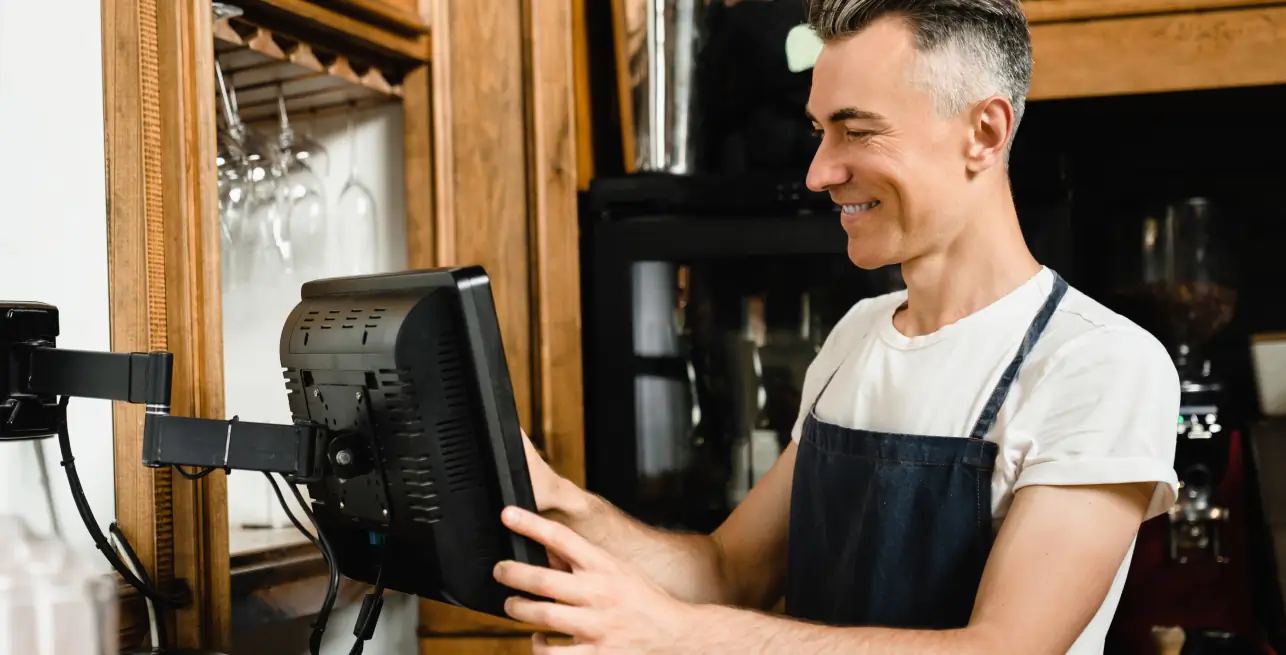 The right point-of-sale (POS) can make your restaurant run more efficiently. It will streamline operations and automate many of the time-consuming management details so you can spend more time focusing on the customer experience rather than crunching numbers or managing tasks.
With the average margin for restaurants falling in the 3% to 5% range, you need every efficiency you can get to drive profitability. Amid today's continuing labor shortages and rising costs, efficiency will be key to success and a strong POS system can help you streamline operations.
Still, evaluating different POS systems to find the perfect fit will require a bit of due diligence on your part. This checklist for choosing POS systems for restaurants can help you make the best decision for your business. In this article, we'll provide a checklist of the key features you want in a POS system as well as specific items you need for different types of restaurants.-
What is a POS system for a restaurant?
A restaurant POS system includes the hardware and software needed to manage both front-of-the-house and back-of-the-house operations. For example, the best restaurant POS system will not only provide robust payment processing solutions and credit card machines, but also help you manage staff and scheduling to reduce your labor costs.
The frontend software enables cashiers or servers to manage orders and transactions, split checks, apply discounts, and process payments. Orders are sent to the kitchen seamlessly, allowing for faster meal prep and eliminating written tickets. The backend management system stores menus, recipes, and inventory levels.
A POS system should also integrate with cash drawers, receipt printers, bar code scanners, and display devices like touchscreens and tablets. With everything tied together in one comprehensive platform, you get deep operational data to track operations, sales, and ROI.
Best features of restaurant POS software
The best restaurant POS systems will include a wide variety of features to help you manage your entire restaurant operations. While your operation may operate slightly differently, here is a checklist of some of the key features you want to consider when evaluating POS systems:
Table management: Organizing floor plans and table layouts, tracking table availability, assigning servers, and optimizing table turnover.
Menu management: Building digital menus that can be updated in real-time, including photos, descriptions, and pricing.
Order taking: Enabling servers to input orders on tablets or at terminals quickly for kitchen preparation.
Kitchen printers/screens: Streamlining the process for kitchen staff to process and prepare orders.
Payments: Processing credit cards, debit cards, gift cards, and mobile payments in the POS or tableside.
Inventory management: Tracking stock levels in real time, setting par levels, and alerting when shortages are looming. Some systems allow for automatic order replenishments.
Staff management: Building employee schedules and assigning roles as well as tracking hours, tips, and sales performance.
Reporting and analytics: Providing insights into your top-selling items, profit margins on individual items, labor costs, inventory needs, and other KPIs.
Customer management: Tracking order history and customer details, which can be implemented into marketing personalization and loyalty programs.
Integrations: Connecting with accounting software, online ordering platforms, reservation systems, texting and marketing systems, and more.
Choosing a POS for a quick-service restaurant
In a quick-service restaurant (QSR), speed of service is crucial. From the time it takes to order to serve customers, the length of time to order, process, and deliver is a key consideration for customers. QSR Magazine's 2022 Speed of Service (SoS) report put the average service times between 221 seconds (3.6 minutes) and 325 seconds (5.4 minutes). Failing to deliver on this quick turnaround can cost you customers. Slow service impacts the overall experience.
In addition to the key features we've outlined, here are specific considerations to add to your restaurant POS checklist for QSRs:
Ability to handle a high volume of transactions quickly
Integrated online/mobile ordering capabilities
Customizable menu and pricing options
Robust reporting on sales, inventory, and labor costs
Ability to split checks and handle multiple payment types
Tablet/kiosk ordering capabilities for customers
Many QSRs include drive-throughs, so you need an easy way to manage both in-restaurant and vehicle orders within a system. You may want to consider a system that allows you to input customer names for car service, provide additional kitchen notes, and deliver quick service including custom orders.
Choosing a POS for a full service restaurant
While all restaurants have things in common, full-service restaurants have different needs than QSRs. Menu offerings are typically more detailed and change more frequently. Table management and server assignments are crucial to balance customer flow.
Since customers spend more time in the restaurant, there's also great value in collecting data about visits, purchases, and preferences to encourage repeat visits.
Here are the additional checklist items for choosing a POS system for a full-service restaurant.
Table management and floor plan capabilities
CRM features for tracking customer visits and order histories
Integration with reservation systems
Customizable menu and recipe management
Robust reporting on sales, menu performance, and labor costs
Inventory management and waste tracking
Ability to split checks and process multiple payment types
Tablet POS systems are quickly becoming the industry standard, allowing servers to input orders and collect payments tableside to accelerate order processing and table turnover.
Choosing a POS for a bar or nightclub
Bars and nightclubs have much higher margins than most restaurants, but also require exceptionally tight control of liquor inventory and cost-per-pour. Not having the right liquor on hand is a serious problem as most customers have specific preferences, so if you can't provide what they want, it can cost you sales fast.
As liquor costs continue to rise — and can change with every order — you also need a simple way to adjust menu item costs in real time and track ROI on orders to keep margins in line.
Here are some of the key checklist items for bar or nightclub POS systems:
Bar tab management and tracking capabilities
Liquor inventory management and pour cost tracking
Tablet/mobile capabilities for taking orders
CRM features to track customer visits and preferences
Robust reporting on liquor sales and revenue
Ability to create/manage customer loyalty programs
Acceptance of chip/contactless payments
Choosing a POS for a cafe or bakery
Cafes and bakeries have much the same needs as other restaurants, but there are some unique features that can streamline operations. The checklist for café or bakery POS systems should include:
Inventory management for baked goods and ingredients
Integrated payment processing for counters/registers
Staff management capabilities for scheduling
Recipe management features
Robust reporting on sales and inventory waste
Flexible menu management and pricing options
Loyalty program and CRM capabilities
Questions to ask POS providers when comparing platforms
Choosing a restaurant POS system is an important decision. The right system can streamline your operations and help you deliver the exceptional customer experience that brings people back to your restaurant time and time again.
When you are evaluating different POS systems, you will want to ask some key questions to make sure they can deliver a system that fits your restaurant's needs. Here are some of the things you need to ask.
What types of restaurants do you have experience with?
What payment types and processors do you integrate with?
What setup, training, and support are included with your system?
How often is the software updated?
What new features are coming?
Can you provide references from current restaurant clients in my niche?
Can I get a demo or trial version to test?
Will your POS system work with my existing tech?
Of course, you will also want to know the bottom-line costs associated with implementing your POS system. Ask these questions to make sure you know the total cost of operation including both initial deployment and ongoing operations.
What are the upfront costs for hardware and software?
Are the fees per transaction beyond what payment processors charge?
Are there fees for add-ons, such as online ordering, extra terminals, or custom integration?
Is training included or do I have to pay extra for it?
Are maintenance, support, and upgrades included in my monthly subscription fee?
Do you offer discounts for multi-year commitments or for multiple locations?
Make your restaurant more efficient and profitable
The POS system you choose for your restaurant can go a long way in making your business more efficient and profitable. The best system can help you better manage your front-of-the-house and back-of-the-house operations as well as staff and customers. At the same time, it must deliver the tracking and metrics you need to make informed decisions about inventory, pricing, and margins.
Sekure Payment Experts can streamline your restaurant operations and evaluate the customer experience. With an all-in-one restaurant POS system like Sekure, you get all the features you need to run an efficient and profitable business.
Sekure provide free POS equipment, advanced POS software designed for restaurants, same-day deposits, and more than 100 features and integrations. Schedule your demo today.