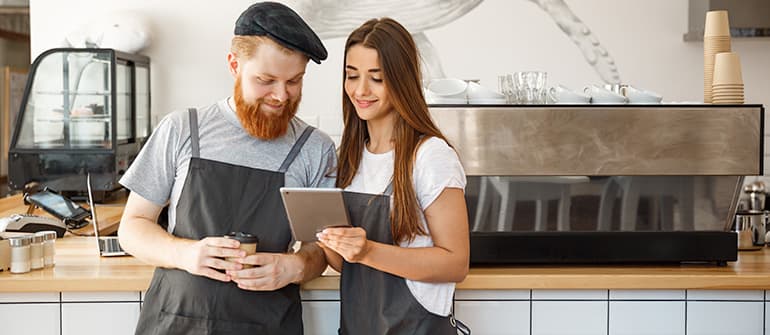 What is a virtual terminal? A virtual terminal—as opposed to a physical POS terminal—is a software application that allows merchants to accept payments in the absence of the actual card. These transactions are commonly referred to as "card-not-present" (CNP) transactions. Virtual terminals transform computers, smartphones, and tablets into a POS and enable brick-and-mortar and ecommerce businesses to accept credit card payments over the phone, through the mail, or online. All you need is an internet and data connection, and you're good to go—no POS hardware required.
How do virtual terminals work?
Physical POS terminals, which accept transactions via magnetic stripe, chip or contactless payment, require interaction between the customer and the merchant. Virtual terminals, on the other hand, require no such exchange.
They are powered by a payment gateway (Payanywhere's is called the Payments Hub), which provides payment processing and authorization through an online platform. The merchant simply goes to the Payments Hub landing page, keys in the customer's info (card number, expiry date, security code and address), and completes the payment. The merchant then sends an electronic receipt to the buyer, and the transaction is finalized. Payment is usually received the same day or the following day. It's that easy.
Key features and add-ons
Virtual terminals have a number of features and add-ons that make them particularly versatile:
Create recurring payments. Virtual terminals allow you to enable ongoing payments (also known as subscription payments, automatic payments, or recurring billing) through autopay. Recurring payments has several benefits: for example, they help you expedite transactions, save time, and improve budgeting, since you will have regular, scheduled cash flow each month.
Connect a card reader. If you ever need to add some flexibility to a virtual terminal by accepting card payments in person (card-present transactions), there's an easy way to do that: peripherals. Payanywhere's 2-in-1 and 3-in-1 chip readers enable you to accept EMV chip cards, traditional magstripe cards, and, in the case of the 3-in-1 chip reader, contactless payments.
Assign or create customers. When a customer makes a purchase, you can either select their name from your existing directory or create a new profile instantly.
Send digital receipts. Virtual terminals make it easy to send invoices and receipts electronically as well as generate recurring invoices, saving merchants time and hassle.
Does my business need one?
As is the case with any merchant solution, it ultimately depends on your business needs. If you are just starting up your business and need to accept payments immediately, a virtual terminal is handy because it doesn't require any hardware and you can start processing transactions immediately. Likewise, if you don't need a physical POS terminal, or if telephone or mail orders comprise the bulk of your business and you aren't looking to set up an ecommerce site, a virtual terminal is a good choice.
Finally, many consumers aren't comfortable submitting payment information online and prefer handing over their credit card information to a real person. Consequently, a virtual terminal helps limit missed sales and provides yet another payment avenue.
Conclusion
Virtual terminals are a useful payment tool and merit consideration. And given today's retail climate, where ecommerce is flourishing—and telephone orders and curbside pickup are more popular than ever—a virtual terminal could make a great addition to your business by facilitating contactless shopping. Get in touch with Sekure Payment Experts today, and we'll help you find the optimal payment solution for your business.