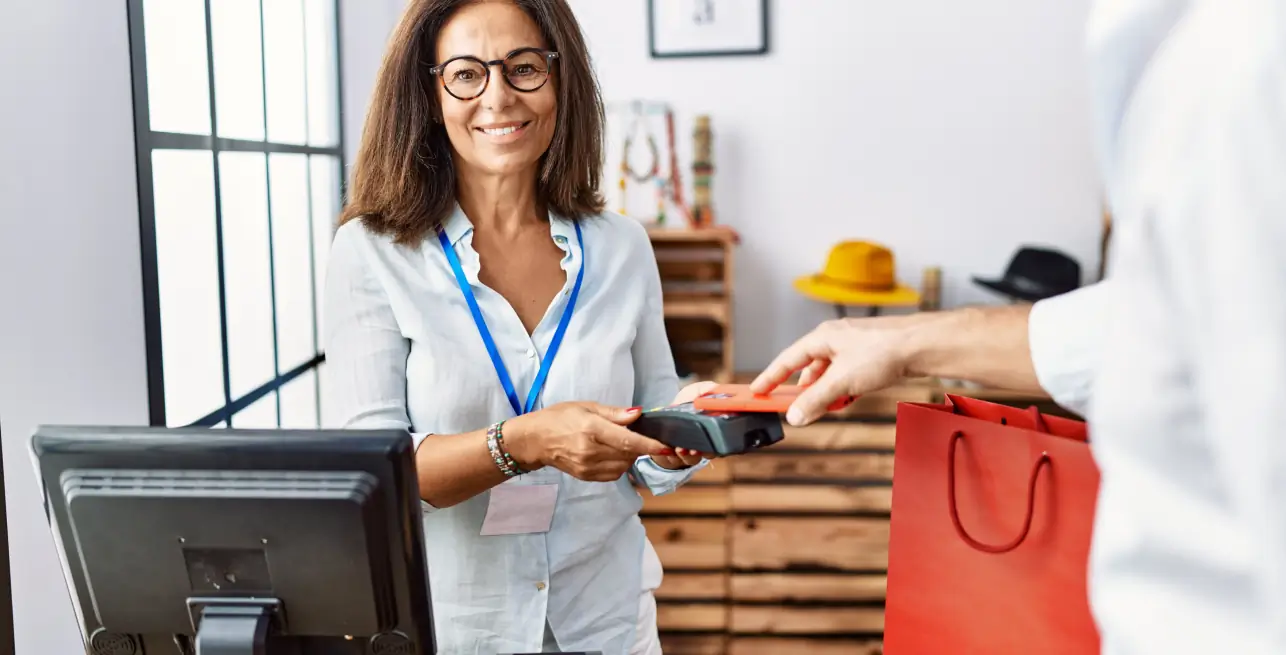 Omnichannel retail brings together all of your sales channels into a consolidated solution to create consistency and accurate inventory counts. Unified commerce builds on the premise of omnichannel to create an even more seamless experience.
Today, 86% of software spending in retail has shifted from strictly an omnichannel approach to unified commerce.
What is unified commerce?
Unified commerce merges in-store and digital operations into one comprehensive system that delivers a consistent customer experience (CX) across sales channels. This creates a more integrated and seamless experience for buyers and more actionable insights for retailers.
With unified commerce, retailers can connect data and processes from physical stores, eCommerce sites, mobile apps, call centers, and other customer touchpoints — creating a single view of inventory, customers, and orders. Customers can move effortlessly between channels with a consistent experience while retailers can track it all. That's crucial since nearly three-quarters of buyers use multiple channels during their shopping journey.
Omnichannel vs. unified commerce
If you're thinking unified commerce sounds a lot like omnichannel retail, you're not alone. At their foundation, they both bring a consistency across sales channels.
Unified commerce, however, goes beyond omnichannel retail, bringing together the entire sales process including products, payment systems, production, and customer interactions as part of a seamless solution. For example, aggregating data from your retail POS systems to track in-store sales and your eCommerce payment processing.
Here's a key illustration of the difference. A Harvard Business Review Analytics Services (BRAS) study showed that the majority of retailers are now offering an omnichannel sales experience. Yet, 85% of consumers report they get inconsistent experiences across departments or channels. At the same time, retailers are not leveraging the data they get in a comprehensive way. Just 16% of companies have a single view of their customers across all interactions.
The importance of unified commerce
Customers today expect a seamless experience across physical and digital sales channels. Omnichannel is part of the solution, but reducing friction and meeting customer expectations take more.
Unified commerce helps enhance omnichannel retail by creating a comprehensive supply and value chain, including:
Avoiding channel conflicts: Ensuring accurate inventory counts across all channels to avoid overselling, stockouts, or inconsistent pricing.
Unified customer data: Enabling retailers to track every interaction regardless of where it occurs to provide more personalized experiences.
Data-driven insights: Creating a single version of truth to drive better marketing and operational decisions.
An effective unified commerce strategy enables retailers to deliver engaging brand experiences across all channels while streamlining data access. It provides business leaders with the comprehensive analytics they need for decision-making and marketers with deeper insights into customers.
The benefits of unified commerce
Unified commerce, including payment processing solutions, inventory and supply chain management, and complete back-end and front-end integration provides a wealth of benefits for retailers.
Unified commerce strategies have been shown to fuel higher revenue growth, lower operational costs, and better customer experiences.
Revenue growth
The 2023 Unified Commerce Benchmark report tracked 124 retailers across 11 segments, tracking real purchases and returns. The study included top omnichannel retailers (by revenue) and digitally native vertical brands (DNVBs) and showed the power of unified commerce. Retailers deploying unified commerce strategies outperform their peers by a factor of 3X to 6X.
Unified commerce creates:
Higher conversion rates across channels
A consistent brand interaction that encourages customer retention
Expanded reach by providing more shopping access points
Ease of creating new sales channels that integrate with existing ones
Operational efficiency
Retailers also benefit from more efficient operations, reducing errors and providing comprehensive data across channels.
Benefits include:
Reducing errors from disparate or disconnected systems
Creating more precise forecasts for customer behavior
Producing more accurate inventory management
Automating business processes to eliminate manual tasks
Sharing order management through any channel
Ease of scalability using cloud or Software-as-a-Service tools
Integrating retail POS software for consistency across channels and in-store
By eliminating redundancies and data silos, retailers have a more efficient way to manage operations, reducing costs.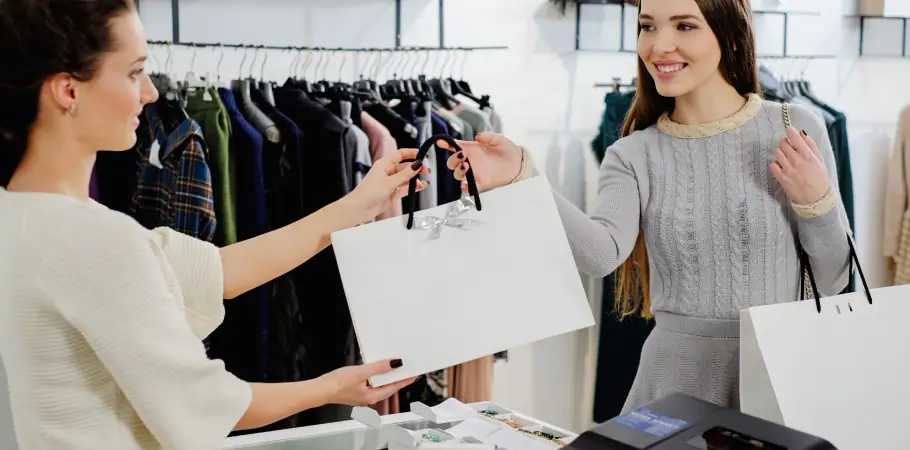 Better customer experiences
Friction points during the critical checkout process cost sales and reduce average basket value (ABV). A PwC study reveals that half of consumers will switch to another merchant which makes the shipping experience easier.
Unified commerce enables a better customer experience by overcoming common challenges. For example, less than a third of retailers currently provide real-time inventory counts on their product detail pages, limiting customer visibility into sales inventory. Just 15% of retailers allow customers to change purchase fulfillment methods after order confirmation — limiting the ability to use multiple payment or delivery options. While merchants accept online payments, only 6% enable a unified cart access across channels. Each of these creates barriers that might negatively impact the customer experience.
A unified commerce strategy produces better CX by:
Eliminating inconsistencies in pricing and promotions across channels
Making it easier for customers to track and redeem loyalty rewards
Creating a consolidated view of customers for associates and support teams
Producing a seamless fulfillment system for in-store, pickup, or delivery
Friction points during the critical checkout process cost sales and reduce average basket value (ABV). A PwC study reveals that half of consumers will switch to another merchant which makes the shopping experience easier.
How unified commerce is the future of retail
Unified commerce puts the customer at the center of your retail strategy, similar to the way they shop. With everything connected, your backend implementation mirrors the customer journey. Using four components, unified commerce keeps everything in sync.
Systems
Regardless of where or how customers shop, your foundation can adapt and scale. Expanding to new markets, locations, or channels is easy because your back-end tools can integrate seamlessly. If you close a channel or location, you can reallocate inventory automatically without skipping a beat.
This provides the flexibility you need to accommodate changing customer behavior. It makes adding buy online, pick up in store (BOPIS) or buy online, return in store (BORIS) simple. By linking these systems, it also avoids customer frustrations when they go to return something in-store that they bought online and store employees don't have access to the sale records.
Channels
Unifying payments with your POS systems across every channel makes it easy to identify and link customers no matter where they shop. This makes it easier to track and measure results. For example, if you open a new retail location, you can see how that impacts eCommerce sales in the region. Data like this becomes essential to make smart decisions about your business.
For example, if you launch an in-app loyalty program, you will want to track whether sales increase and whether they impact online or physical locations.
Products
Inventory accuracy is crucial, but most retailers do not maintain accurate inventory counts. With products spread over multiple locations, distribution centers, and channels, it is easy for counts to get out of sync.
There's a now-famous study done by the Auburn University RFID Lab that reported that the average inventory accuracy for retailers in the U.S. was just 65%. That means a third of the time, retailers can't tell whether an item is available or where it is. Yet, imagine the frustration of a customer who makes a purchase only to find out the item is really out-of-stock or unavailable when they show up at a physical store to pick up an online order. For retailers, inaccurate inventory counts can lead to stockouts (lost sales), overstocks (tying up unneeded capital), and cause significant supply chain problems.
Unified commerce allows for more delivery options and provides additional sales opportunities. For example, you can add "endless aisles" to display your entire inventory to shoppers at stores using kiosks.
Customer interactions
Customers today are demanding, and they make decisions about where to spend their money based on more than just price. Speed, convenience, and consistency all make a difference.
Personalization is no longer a "nice to have" feature for retailers. McKinsey research reveals that seven in ten customers expect companies to deliver personalized interactions. Unified commerce allows that to happen across channels and locations. How important is this? Three-quarters of customers said they get frustrated when they don't get a personalized experience.
Cloud unified commerce technology
To bring everything together, the cloud is crucial. A modern cloud architecture can facilitate unified commerce across channels and locations. Using APIs and microservices, each component of your infrastructure can communicate, providing a more comprehensive approach to data, systems, and payments.
Sekure Payment Experts's Retail POS system brings together everything you need to manage your retail business effectively across channels and physical locations, including:
Payments and point of sale, including self-checkout
Secure eCommerce payment processing
Invoicing and payment tracking
Centralized inventory management
Income and expense tracking
Customer relationship management (CRM)
When you partner with Sekure, you get the tools you need to deploy unified commerce efficiently and cost-effectively. Schedule a free demo today and see how Sekure Payment Experts can improve customer experience, streamline operations, and drive revenue growth.