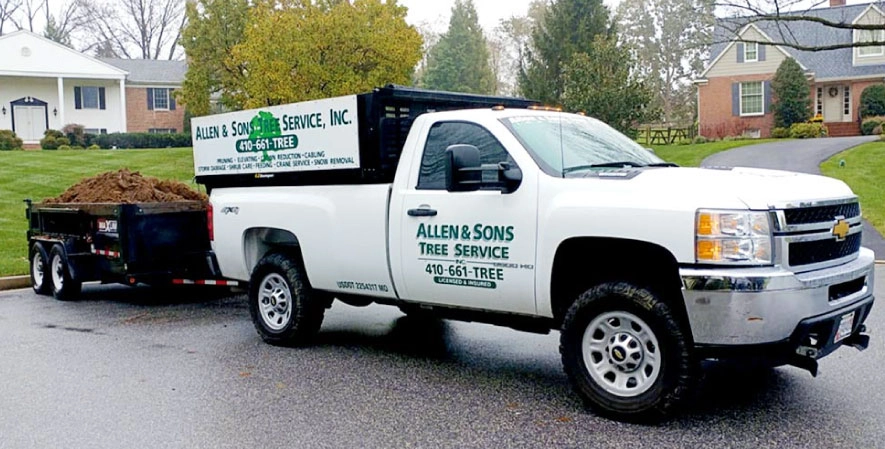 Allen & Sons Tree Service knows a thing or two about customer service. All it takes is a quick glance at its Google page to realize these tree lovers are doing something right—to the tune of over 200 rave reviews and a stellar 4.9-star rating. That's the kind of publicity of which most companies can only dream.
For the last 53 years, residents around Parkland, Maryland, have been entrusting their limbs and trunks to Allen & Sons. And with good reason—they put serious care into their work and don't call it a day until clients are happy.
As part of its Merchant Spotlight series, Sekure's content team sat down with Heather—the friendly face of Allen & Sons—to learn more about the business and find the secret to their success. We also wanted to learn about the company's relationship with Sekure and see how it began and how it's evolved.
Deep Roots
Allen & Sons was founded over 50 years ago by Mr. Allen and his wife. During those early days, they did well enough the support their family, with Mr. Allen providing the brawn, and his wife handling the administrative side of things. After they retired, two of their sons, Ben and Rick, took over the business. These two grew up in the industry alongside their parents, so they know a thing or two about trees.
"Salesy, go-getter" Ben generally handles the sales side of the business, while Rick oversees the crew. Mr. Allen, meanwhile, still has his foot in the door. He still picks out plants at the nursery—and remains a stickler for quality. Says Heather: "If the quality isn't there, he'll wait for the next batch of trees." That meticulousness is firmly ingrained in the business. Case in point: Allen & Sons doesn't accept payment until clients are completely satisfied.
Green Shoots
Although the company is solidly entrenched in the second generation, it looks like the future of Allen & Sons rests in good hands. Ben's two sons—aspiring ninjas aged 13 and 10—have taken an interest in the business, as has Rick's son Ryan. Under the tutelage of older cousin Ryan, the younger lads are already getting their hands dirty on weekends and during the summer. They've been looking after small yet crucial tasks, such as grinding stumps, spreading topsoil, and planting trees.
A Winning Front Office
The whole client experience starts with Heather, who handles inbound inquiries. This arrangement isn't necessarily typical of an outfit in the arborist industry. In most cases, if you call up an arborist, you'll likely be greeted by someone out in the field, their voice drowned out by revving chain saws and humming woodchippers.
Such is not the case with Allen & Sons.
Drop Allen & Sons a line, and Heather will answer. On one hand, she's the first point of contact, but she also dons other hats and frequently explores the limits of her job description (in a good way).
Once, she received a call from a gentleman whose car had met an untimely end under the weight of a falling branch. Mr. Allen went out that day (emergency calls are done on the same day) to assess the damage and provide a quote. What ensued was an epic back-and-forth between Heather and the insurance company.
To make a long story short, the insurance company initially said it would cover only $250 for debris removal. Heather called them and talked to a procession of agents, adjusters, and a secretary or two to do a little digging and explain the situation. They finally understood what was eligible and under which plan (home versus auto), and everything was covered because the incident was classified as a natural disaster.
These kinds of happenings make the job so rewarding for everyone at Allen & Sons and illustrate the extent to which they care about their clients. According to Heather, callers often share a lot about their lives; they become clients, and they grow their relationships over the phone. For her, this is one of the most rewarding aspects of her job.
Pain Point: High Transaction Fees
An online search for lower processing fees brought Allen & Sons to Sekure. They reached out to several payment processors because the 3% transaction fees were eroding the bottom line.
They settled on Sekure because our payments professionals were able to provide a rock-bottom 1% processing fee (plus they were fans of our customer service). Furthermore, the interface has also proved to be popular: "The portal to process payments is super easy to use. We haven't had any issues or anything. We just use the link and process payments through it."
In this line of business—where payment is commonly made over the phone and transactions are high value and low volume—a 3% cut is deadly. Consider a $10,000 job—Allen & Sons would have been bleeding $300 on each transaction. Now that's dropped to $100, savings that can go back into the business and keep the work-family strong.
Relationship with Sekure
We asked Allen & Sons about the relationship with Sekure, and while Heather's response might have offended some, it was music to our ears.
"It's great, so easy! We don't even have to have regular conversations. The program you guys have, it just works."
Silent and behind the scenes is just how Sekure likes it—so merchants can carry on their business and focus on what matters, i.e., passing savings on to their clients, accepting payments seamlessly, and providing outstanding service to their customers.
And when she has had to call Sekure, the experience has been positive: "They're always wonderful and helpful and have the right answers. It's been great!"
Conclusion
A lot has changed over the years, but the operation's founding values are intact: an unbreakable commitment to care, quality, and family. And by all estimates, Allen & Sons looks well-positioned to keep going for the next 50 years.
Stay tuned for more in our Merchant Spotlight series as we profile Main St. merchants and highlight businesses in the community that continues to make a difference.
Would you like to be featured in Sekure's Main Street series? Tell us about your business today!