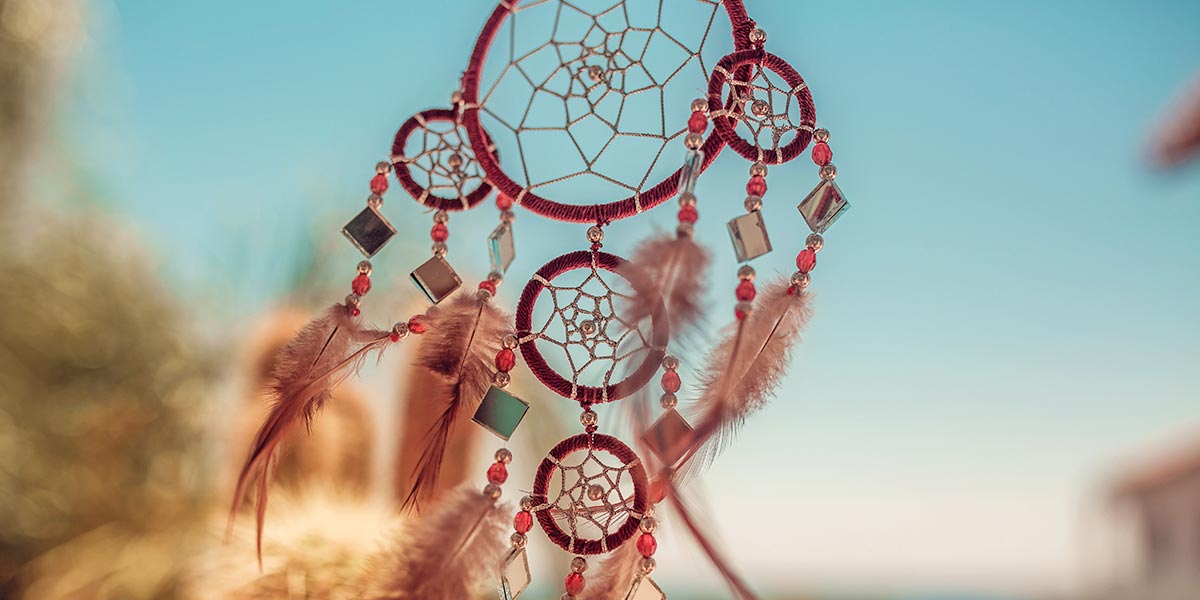 Nestled against the backdrop of the Appalachians and winding Oconaluftee River in the heart of the Eastern Cherokee Reservation is Medicine Man Crafts, a gallery featuring a wide selection of Native American artisan goods made locally by the Cherokee people as well as other tribes.
A Love of Traditional Arts that Runs in the Family
Since 1963, the Sharpe family has welcomed the curious and collectors through their doors. There, they can explore traditional artisan crafts like baskets and pottery, ceremonial and medicinal herbals, home decor, literature, and a host of other Native American goods.
Collectors have long been drawn to Medicine Man Crafts for the beautiful and highly prized woven baskets and Cherokee ceramics they carry. Kay Sharpe, who assumed ownership of Medicine Man Crafts in 1963, is a trusted expert in traditional Native American crafts. She has passed the torch to her son Ed, who is following in her footsteps and building on his mother's legacy by expanding the types of authentic Native American products offered at Medicine Man Crafts.
Together, Kay and Ed are deeply entrenched in the Cherokee community and ardent supporters of the artisans nurtured there. Without outlets like Medicine Man Crafts who sell the traditional crafts and artwork by these gifted artists, there is a chance that these artistic expressions of ancient and beautiful culture will be lost to history. Young artists have long trusted the mother and son team for their enthusiastic support and come to them throughout their journey to becoming master crafters.
Browsing through the Medicine Man Crafts website, it's easy to visualize that walking through the store must be a delight for the senses. Beautiful, one-of-a-kind artisan crafts like woven baskets, hand-carved sculptures, and masks beckon your touch. Incense cones, herbs, and candles offer up a fragrant bouquet while you are serenaded by the seraphic sounds of traditional Cherokee music.
Building a Lasting Legacy
To say that Medicine Man Crafts offers its guests an immersive experience seems an apt and accurate description. More than that, it is clear to even the casual observer that the Sharpes clearly have cultivated a longstanding relationship with the artisans whose adroit talents fashion such precious expressions of Native American culture and heritage.
Ed Sharpe has produced recordings of folklore and music performed by tribal storytellers and musicians. While these albums provide entertainment and pleasure, they also act as a recorded history of the First Nations people which ensures that these stories and vital links to their ancient culture are not lost to history.
These albums, along with the basketry, sculpture, and ceremonial items Medicine Man Crafts act as connection points to the ancestral Native American heritage that might be lost were it not for people like the Sharpe family who ensure that traditional artists can continue to make a living by making these wares.
Merging Tradition and Technology
Mr. Sharpe elected to keep his business closed and contribute to international efforts to flatten the curve during the worst of the pandemic. He took that time to focus on expanding awareness of Medicine Man Crafts on social media and providing online customers with the same inviting experience they would enjoy if they walked through the door to his brick-and-mortar location.
Tourism and travel are down worldwide, and small businesses like Medicine Man Crafts that rely heavily on the traffic and sales they bring have worked hard to overcome this hurdle. For Ed Sharpe, that has meant learning how to promote his business on social media channels like Facebook and ensuring that his website is optimized for online sales.
Through the website and social media channels Mr. Sharpe manages, he is sharing not only the crafts and folklore of the Native American artisans represented by Medicine Man Crafts, he is sharing the wisdom and awareness of the tribal cultures and heritage that are so integral to the fabric of America with the world.
Sekure's Commitment to Mom and Pop Business Owners
Businesses like Ed's do more than simply sell beautiful wares, they educate, inspire, and ensure that centuries of tradition continue on for centuries more. At Sekure, we are proud that Ed has chosen to partner with us for Medicine Man Crafts' payment processing services.
What story do you have to share? Tell Sekure about yourself, your business, and share your recipe for success with us. Your business deserves to be celebrated, and Sekure is here to help ensure that happens.