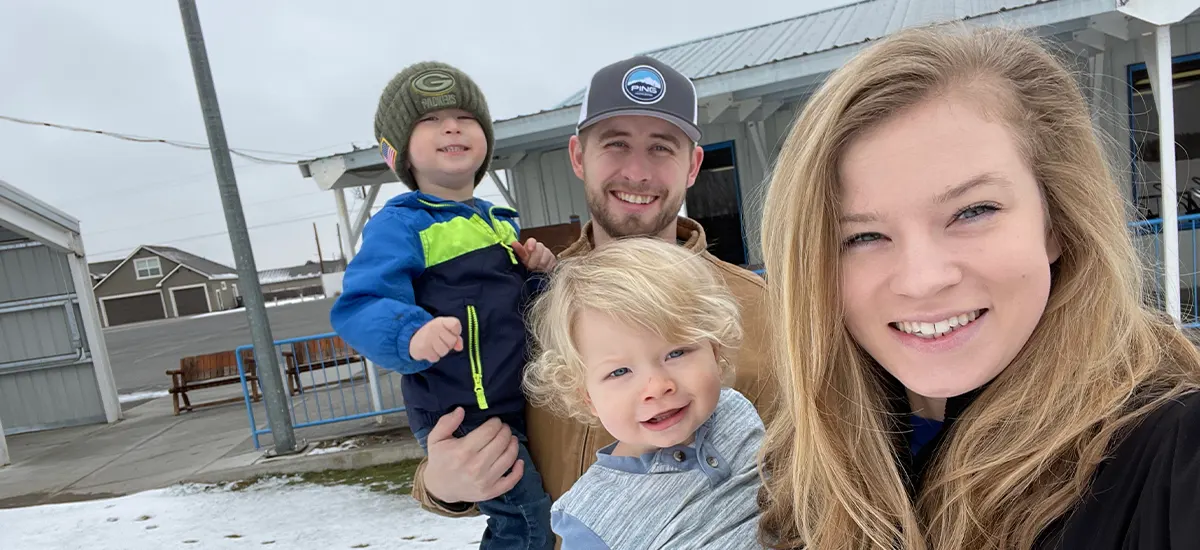 Small businesses, especially family-run businesses are the cornerstone of American life. Here at Sekure, we love highlighting the family businesses we serve, one of them is Pasco Golfland.
Pasco Golfland is located in Pasco, Washington and owned and operated by Justine Treadway VerMulm and her husband Nick.
The golf course offers 175 yards of natural grass teeing area, 9-hole par 3 course, group and individual lessons taught by a PGA (Professional Golf Association) Professional and a Pro-Shop to buy golf equipment. Pasco Golfland regularly hosts events, tournaments and golf camps for children.
In December 2020, Justine and Nick, bought the business from Justine's grandparents, Bill and Donna McIntyre who founded the business 27 years ago. Taking over the business was a way to keep the business within the family and helped to accommodate their growing family's needs.
We were lucky to catch up with Justine amidst her busy schedule, to discuss her foray into buying her family's business during the pandemic, raising small children and managing the business at the same time.
What motivated you to buy Pasco Golfland from your grandparents? Can you share a childhood memory of growing up on the golf course?
JTV: Our motivation partially came from growing up at the business and so it has always held a special place in my heart. I wanted to be able to carry on my family's business. It also came from our previous lifestyle, my husband worked as a farm manager with extreme hours and we were tired of never seeing each other or him being able to see our kids grow up. There was also an extreme need for the business to have more ownership and I had been doing the books for several years prior.
You became owners of Pasco Golfland during the pandemic? What was the transition in ownership like? What adjustments did you need to make?
JTV: Luckily where we were in the pandemic didn't really change anything for us. The transition of purchasing a business is a lot, to make sure everything is lining up properly and making sure everything with all the different state and local agencies is ready to go. We were also acting on behalf of both sides for some parts since I was taking care of the books, so that added extra difficulties.
How do your grandparents feel about seeing you, their granddaughter run the business? Are they still involved at all?
JTV: Unfortunately my grandmother passed away within the month before the purchase was finalized, but I know she would be proud of what we have done with the business and how we have changed some things that she was no longer able to do. She is my constant inspiration with this business. My grandfather still comes out multiple times a week and is always there if we have any questions, he is very happy to see what we have done.
Walk us through a normal day. What does it look like?
JTV: Having our own business makes everyday very different, depending on which situation needs to be handled or what came up that day. There is always something out of our control that comes up that needs to be handled, this is in part with having several different employees and customers. Also having a large piece of land that constantly has different things that need to be fixed or repaired. We are constantly jumping from task to task whether that means calling different companies, making orders, doing bookwork, helping employees, helping customers or just working the front of the ProShop all while taking care of our small children.
How are you managing juggling a business and raising children at the same time? How do you make it work?
JTV: We do what we can in each situation and we have all learned how to try and balance everything or how we will be better next year. Our children have learned so much being by our sides working everyday and we love being able to spend so much time with them and pursuing our family dream of this business.
Do you have help or any tips or suggestions for mom entrepreneurs and business owners? What have you learned so far?
JTV: Grace, give yourself grace to get through the situations that seem unmanageable.
Are there any entrepreneurs or business owners who inspire you? If so, why?
JTV: Just my grandmother, she inspires me all the time on how she started building the business side of the business and how I will continue in every way I can to make it the business it should be.
What's your vision for Pasco Golfland? Any new projects?
JTV: We have worked majorly on the inside workings of the business this past year and tried to up our standards on the rest of the business. We will continue to improve these types of things this next year as well as equipment and other needs as they are needed.
Thanksgiving is coming up. How do you plan to spend the holiday? Do you have a family tradition or a particular dish your family enjoys making?
JTV: We are blessed enough to live by both of our families so we will spend the day and weekend with our family. We will also open our business for a few hours that day for our customers.
To learn more about Pasco Golfland's weekly events and tournaments, follow them on Facebook.