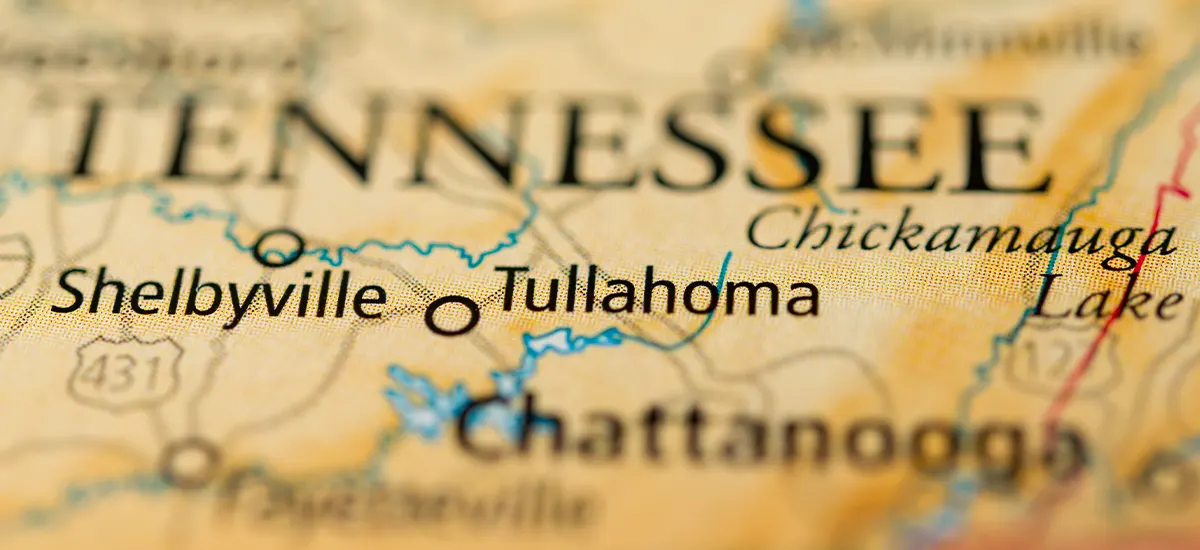 It's hard to sum up Tullahoma, Tennessee into one category.
Does it have small town charm, with a variety of retail shops, restaurants, and museums? Yes. Is it an area rich in lakes and natural parks? Yessir. Is it a world leader in railroad, engineering, and flight research? Also, yes.
Clearly, this is a place that lives up to the slogan on its welcome sign: "A City As Unique As Its Name".
A Very Brief History
Founded in 1852 as a work camp along the new Nashville and Chattanooga Railroad, Tullahoma sits comfortably in Coffee county. Certainly, it was the construction of the railroad that was the catalyst to charter the area, which quickly became an integral stop along the railroad from Nashville to Chattanooga. The county only barely survived the Civil War, prompting the State of Tennessee to eventually establish Camp Forrest. Camp Forrest became one of the largest army bases in the U.S. prior to the Second World War. In fact, throughout World War II, Camp Forrest stationed over 70,000 soldiers and employed over 12,000 civilians.
In 1946, after the war ended, the base was decommissioned, only to be recommissioned in 1951 into the Arnold Engineering Development Complex, putting Tullahoma on the map today for its advanced contributions to aviation, aeronautics, and their corresponding industries.
The Sights
Because of Tullahoma's fascinating history with strong ties to aviation, The Beechcraft Heritage Museum is a must-see for any aero-nut! Exhibits include the very first Beechcraft, a variety of aircraft ranging from 1924 to 1994, as well as original memorabilia from the Beech family collection. The museum is open to the public on a 60,000 square foot facility adjacent to the Tullahoma Tennessee Municipal Airport.
Next on the list to visit is Short Springs Natural Area, a 420-acre natural paradise, just northeast of Tullahoma. This is where nature-lovers can find the Machine Falls Trail, a 1.6-mile trail with a stunning waterfall right in the middle of the hike. The area is home to an assortment of trees, including beech, magnolia, and colossal sycamores, and is known for being one of the best spring wildflower sites in the whole state.
On Monday afternoons from May through October, you can visit Farmer's Market Tullahoma, for fresh, seasonal offerings and handmade goods from local farmers & artists.
To get a true taste of Tullahoma craft beer, head over to the Ole Shed Brewing Company, where they use their "hearts, heads, and hands in order to make delicious craft beer." If Whisky is your preferred drink, there's also Cascade Hollow Distilling Co., home of the famous George Dickel Tennessee Whisky. Due to the pandemic, they are currently unable to offer distillery tours but are still open for shopping and tastings.
When you get hungry, there are plenty of mouth-watering options to satisfy any craving! One22West invites you to "indulge your palate", and is touted as Tullahoma's landmark restaurant, with a varied menu, craft beer & wine pairings. Whiskey Trail BBQ and Steakhouse offers "seasoned to perfection" grilling and comfort food.
Lastly, after an evening of fine dining, The Celtic Cup Coffee House is where locals go for specialty coffees and "some of the best breakfasts" Tullahoma has on offer.
The People
While the history and the sights are enough of a draw for Tullahoma, Tennessee, what really makes any place a community is its people and the people of Tullahoma have heart and pride for their city in abundance. Take, for example, Florence Hull, owner of Clayton's Shoe Store on West Lincoln Street. This family-owned shoe business has been a part of Tullahoma for over 120 years (and counting!) and is still going strong today thanks to tried and tested service and quality. Florence has been quoted as saying "I am very much for Tullahoma", and Clayton's is proof of that the walls of the shop are covered with memorabilia and artifacts, displaying the history of Clayton's, while simultaneously documenting the history of Tullahoma. Some of the pieces on display have even been donated by lifelong Tullahoma residents, including a pair of shoes that came from Vera Mae Cawthron, which were purchased for her at Clayton's back in 1946.
Whether for its unique history, varied sights, dining, shopping, or welcoming pride and hospitality, Tullahoma is sure to delight and impress. It's not hard to see how this city has very much earned its designation as "Tennessee's Rising Star".