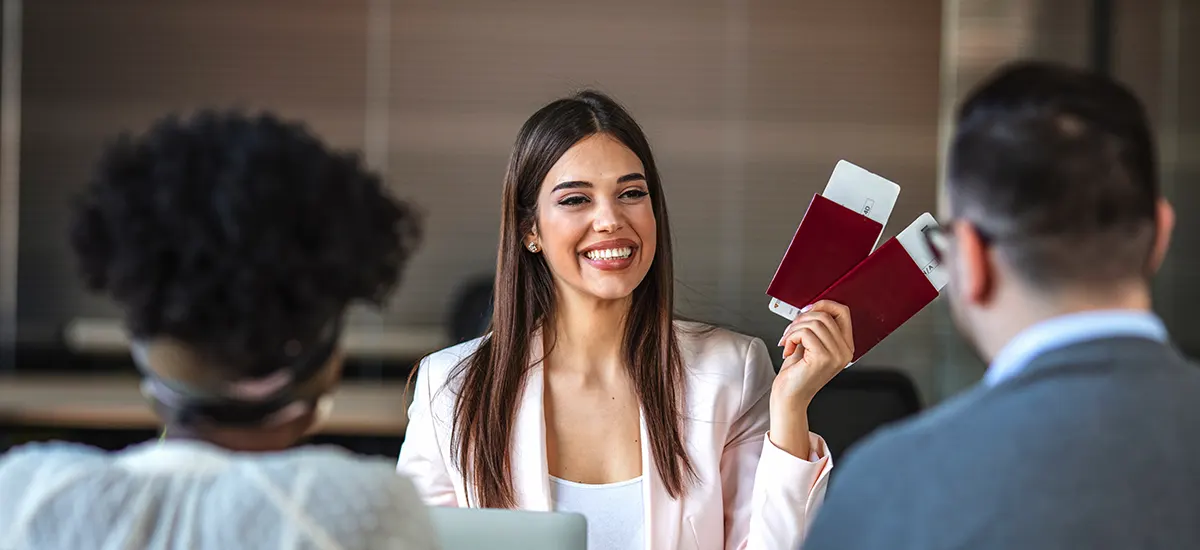 Although the travel industry's 2021 recovery continues, the Skift Recovery Index (which provides up-to-date performance measures of the industry across 22 countries) shows that travel is still languishing 35% below pre-pandemic levels. The recovery has also been uneven, varying between different geographical regions due to divergent travel restrictions, COVID-19 case counts, and vaccine rollouts and the relative strength of their domestic travel markets.
Furthermore, while travelers may be anxiously waiting to dust off their passports, the health concerns faced throughout the pandemic linger. Today, the thought of exploring a busy city, sharing food at a top-rated restaurant, or standing shoulder-to-shoulder with other globetrotters at tourist destinations might cause more of a shudder of apprehension than a shiver of excitement. There's no denying that nearly two years of monitoring global health statuses have conditioned us to react differently to these situations.
Where We're Headed
During the pandemic, recreational travel was trending closer to home: most travelers wanted to avoid public transportation and the risk of contracting COVID-19 and opted instead to explore local venues within driving distance. Domestic travel also boomed due to international travel's mandatory quarantine periods, as well as restrictions that limited access to certain destinations and attractions.
Now that restrictions are easing, international travel is opening up, and the industry is on the upswing.
As a travel agent, you may find yourself in higher demand as vacationers start to navigate the reopening of the world. Here are five tips you can use to help your clients handle the new travel normal:
Provide detailed and timely information. We all know how quickly things can change. Offering your clients comprehensive online itineraries with up-to-date travel guidelines will help them better prepare for any rules or restrictions during their trip. Also, knowing that their travel agent has their health and safety in mind appeals to travelers in the wake of a global pandemic.
Offer options for socially distanced travel. Yes, restrictions are loosening, but we still need to exercise caution. Also, as previously mentioned, not every traveler is enthusiastic about reopening yet and may still prefer to travel on the safe side. Offering trips to more remote locations or even niche tours (think birding or biking excursions) are excellent ways to ensure your clients steer clear of crowds.
Reconsider group travel. While travelling in a group can be a great way to meet new people or save money, it may not be sustainable for the near future. Expanding your bubble could expose you to greater health risks and makes it more challenging to follow social distancing guidelines. Travel agents who specialize in group tours might want to shift their packages to include more independent travel, at least for the foreseeable future.
Keep on top of travel hotspots. Destination popularity could be dictated by how well a particular region or country has handled COVID-19, and certain areas may see surges or declines in cases at random. It is important not only to be aware of these statistics but also to have other locations on standby so you can offer your clients an alternative should an outbreak occur in one of the trendier locations.
Be aware of shifts in transportation expectations. You may find that your clients are now more concerned with an airline's hygiene standards, likely wondering things like, "Are masks mandatory?" "Will they enforce seat occupation spacing?" Keeping abreast of changing regulations within your travel suppliers will help you answer any questions your clients may have about what to expect. Adapted from Tourwriter.
The COVID-19 pandemic affected every sector, but the travel and tourism industry was among those most damaged. Taking into consideration not only businesses involved in recreation and entertainment, but also those providing accommodations, transportation, and food services, the global industry nearly US$4.5 trillion in 2020, with the U.S. travel industry's losses accounting for $766 billion of that total.
While the industry is on the rebound, there is still a long way to go before it recovers, and even once it does, travel will look a lot different than it did pre-pandemic.
Tell us about your experience navigating COVID-19 guidelines and managing your business in the comment section below.