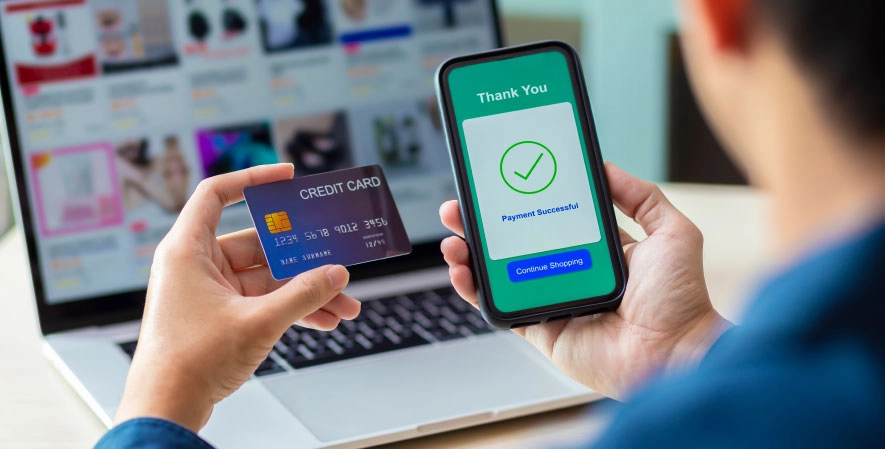 What is a virtual terminal and why do you need one?
Technopedia defines a virtual terminal as "a program that emulates the functionality of a classic terminal used during the early days of computing for accessing a server or a corporate mainframe."   Sometimes called a terminal emulator, virtual terminals are web-based software systems used by merchants to process credit card transactions.
In simpler terms, virtual terminals allow merchants like you to process payments without manually swiping cards through a credit card machine. This enables you to take orders without having your customer's card present (meaning over the phone, online or in-person). All that is needed to facilitate these convenient payment options are the software application and an internet connection for your computer, tablet, or smartphone. A USB credit card reader can also easily be added for in-person transactions from your computer.
The advantage of using a VPOS is that you won't have to buy, rent or lease a traditional credit card terminal if you're processing credit card transactions without a signature. One of the most significant benefits of this type of system is convenience. If you would like to sell products or services at a trade show, festival, or pop-up shop, all you need is a computer and an Internet connection with access to a virtual terminal.
To assist you in making the best decision for your business, consider these 5 virtual terminals.
1) Network Merchants
Network Merchants (NMI) is a platform offering payment solutions for merchants. Through their payment gateway, merchants from a variety of sectors can offer easy payment options. With a virtual terminal, transactions can be entered by hand or with a card reader if the client is present. When cards are entered manually, the terminal's real-time field validator highlights invalid fields that need to be fixed. In terms of billing or future billing, data can also be securely stored.
Pros:
Month-to-month contracts
No sign-up or cancellation fees
Accepts multiple currencies
Cons:
No account fees or processing rates listed on the website
Cost: Contact the company for pricing.
2) Payeezy
Payeezy Gateway by First Data offers an easy-to-use, multi-functional virtual terminal with value-added services such as fraud detection.
Payeezy Gateway has all the features necessary to accept payments and keep customers' data secure. Its web-based interface allows merchants to accept card-not-present payments swiftly and conveniently so merchants can focus on operating and growing their business.
Large businesses tend to have a better experience with First Data as a whole, while smaller ones might end up paying for services they don't need.
Pros:
Cons:
Service can be more expensive for small merchants.
No account fees or processing rates listed on the website.
Cost: Contact the company for pricing.
3) CardPointe
The CardPointe Virtual Terminal, also offered by First Data, is a browser-based, POS system that accompanies a CardPointe account. This terminal offers merchants the ability to process card payments either in person or over the phone. Moreover, it's versatile; it can work with devices that are PCI-validated point-to-point encryption (P2PE) and Bolt P2PE or for EMV protected transactions. There's also the possibility of using a USB or Bluetooth card reader, which could be cheaper and more secure than swiping.
Pros:
No long-term contracts
Robust security features
Cons:
Mixed customer support reviews
Cost: Access to the platform is $15 per month.
4) Authorize.Net
Authorize.Net's browser-based, virtual terminal allows merchants to enter transactions on a computer securely and efficiently. Any Authorize.Net merchant can use the service, which is exclusively available for Windows computers. When the terminal is connected to the merchant's computer, simply download the software and attach the card reader for payment processing. The newest Authorize.Net's virtual point-of-sale version uses the BBPOS Chipper card reader, which can accept both magstripe and EMV cards. It's important to take note that the card reader only supports EMV transactions through certified processors.
Authorize.Net also offers broad support for multiple currencies and robust security and anti-fraud features.
Pros:
Free software
Accepts chip card payments for select processors
No long term contracts
Support for multiple currencies
Cons:
Software available for Windows only
Cost: $98 for the credit card reader, plus $17.50 for a micro-USB cable.
Sekure has established a special Authorize.net offer for our customers, with no setup fee, a $5 monthly gateway fee, and a $0.05 transaction fee.
5) Payments Hub
Payments Hub, owned by North American Bancard Holdings (NAB), is a web-based system that does not require any software to be downloaded or installed.
The terminal is free for businesses registered for payment processing services and provides merchants with the ability to accept online, phone or remote payments. Its reporting and management tool provides a central location with advanced features to help merchants optimize their business. Purchases can be entered manually or swiped with an optional card reader.
Pros:
Free virtual terminal
No software download or installation required
Cons:
No account fees or processing rates listed on the website.
Cost: $14.95 per month.
Virtual terminals are generally an easy and inexpensive solution for merchants. Choosing the right one will depend on computer software compatibility, the size of your business, your business goals, and your budget.
Sekure can help you find the right virtual terminal for your small business.
A fast and flexible payment solution just for you.
Accept payments easily over the phone or online with our Payanywhere Virtual Terminal.