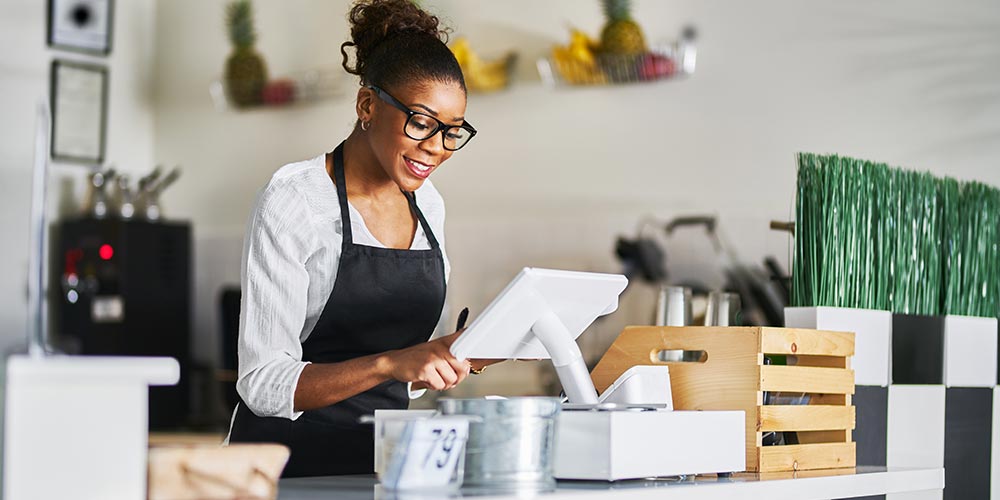 If you are a small business owner, entrepreneur, or freelance contractor, y
ou have 
probably 
found
 yourself 
thinking about
 scal
ing
 your business or 
considering an
 upgrade 
to your Point of Sale (POS)
 system. 
Both 
o
n-premise
 and cloud-based 
POS 
systems 
have attractive features and benefits. Let us help you to 
determine
 which system is most suitable for your businesses' current and future needs.
What is an On-Premise POS?
Also called a traditional or legacy POS, an on-premise system stores data on local servers and runs on a closed internal network. If you 
purchase
 this system, 
you'll
 need to rely on a technician for installation and maintenance. 
You'll
 also need a designated area to store the equipment (usually a back room). Furthermore, there's licensing fees, fees per terminal and 
you'll
be responsible for
 keeping the software up to date. While your on-premise POS system can come with features such as data storage, customer management, accounting --you can usually customize the system to suit your specific needs. 
What's
 important to note is that this system 
isn't
 accessible remotely; you must be on location. 
Cloud-based POS
These systems are a different breed. Often called SaaS (software-as- a-service), these systems are web-hosted, meaning data is stored on remote servers. Because they rely on an internet connection, access 
isn't
 restricted to a particular place. Users can access the cloud anytime, anywhere; you can be in your office on a desktop during the day or be at home using an app on your phone in the evening. Due to their remote ability, 
there's
 no physical installation and system issues can be resolved by calling your provider, instead of having an in-person technician. Fees are usually monthly (with software updates included) and can be based on the amount of stores or employees. Just like on-premise systems, cloud-based system providers offer an array of software solutions for your business. 
Which POS System Is Better?
The 
million-dollar
 question is which one is best. However, that answer will depend on what type of business you have and how much you are willing and able to invest. Usually smaller businesses choose cloud-based systems due to their functionality, 
flexibility
 and cost. They are 
relatively easy
 to implement 
and also
 to upgrade: no fancy equipment 
needed,
 and start-up costs are much lower as well. If you are a service-oriented business such as a cafe or restaurant, cloud-based POS systems can 
enhance the customer experience as well as keep your employees happy.
For larger businesses, opting for an on-premise POS might be a better fit; 
there's
a bit more independence as it allows businesses to adapt the system to their needs through customization, without relying on an internet connection. However, it is significantly more expensive and will need to be upgraded as technology evolves, adding more costs. Therefore, it requires a long-term commitment due to the financial investment.
But no matter the POS system, security is a major concern. 
It's
 crucial that sensitive information such as your customer's data is always properly protected, therefore do your research to select a POS system that is reputable and in compliance with data security laws and regulations
.  
How Do I Choose A POS System For my business?
To help you in making an informed choice on what POS system would work best for your business, consider these questions inspired by 
PayAnywhere list
:
Which one meets your budget?

 

Which one suits your business model?

 

What security features do you 

require

?

 

Which one is most convenient? 

 

Which one is easier to use and provides your customers and employees with a great user experience?

 
For 
assistance
 on selecting the right POS system for your business, 
c
ontact Sekure Payment Experts
 today for more information.