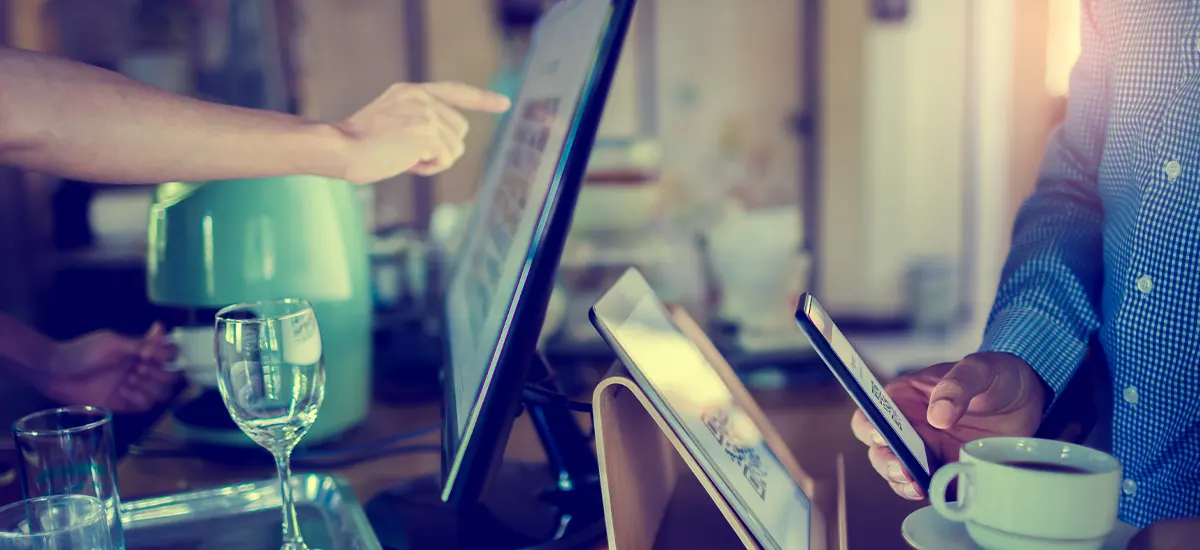 The hospitality industry has been facing huge challenges since the beginning of the pandemic. While restaurants relied on curbside pickup and delivery, the extended duration of lockdown measures threatened the survival of many small and medium-sized restaurants. The loss of revenue and the decrease in staff available– and wanting– to work have forced many restaurants to scale back their service hours or close their doors permanently.
Close to 70% of adults in the U.S. have at least one of the two needed COVID-19 vaccine doses, and these vaccinated Americans are flocking to rediscover their favorite eateries or eagerly discovering new ones. To serve them, some restaurants are turning to technology to compensate for staff shortages while also managing the new and evolving demands brought on by the pandemic.
Self-Order Kiosks, Reservation Systems, and QR Codes
The post-pandemic world is changing the restaurant landscape in multiple ways. The most pressing problem for the restaurant industry is the labor shortage of chefs, wait staff, and dishwashers. Restaurant employees are showing little interest in returning to their previous jobs for many reasons, including the restaurant industry's notably low wages, concerns over changing COVID-19 protocols, and transitions into new industries afforded by lockdown skills training.
While restaurant owners are trying to improve working conditions to attract and retain top talent, more and more are turning to technological solutions for their labor woes. Self-order kiosks (also called self-service kiosks) allow customers to view menus, place orders, and pay by touching a screen. Some research shows customers prefer self-order because they can skip waiting in line and feel freer to order whatever they want and more food —without fear of judgment.
Still, self-order kiosks are not a viable option– or a desirable one– for all restaurants. For many, wait staff remains an important part of the dining experience. This is why some restaurants are opting for table reservation systems like Eat App or OpenTable, where servers can better manage seating and expand their serving sections. Reservation systems add convenience and ease for customers because they can better plan their outings by reserving their desired seats, checking wait times.
Since CDC warns against sharing items like menus – QR barcodes are making a comeback. The little black code boxes can be scanned with a camera on a smartphone or tablet and can be used to view menus, place orders, and pay. Because the QR code information lives on a cloud system, menus can be readily accessible and shared without downloading an app. Changes to the menu can be made easily adjusted as well.
Technology Boosts Staff and Diner Satisfaction
The post-pandemic era has seen an unprecedented move towards future-proofing by adopting new technology, especially in the hospitality industry. More and more restaurants are viewing technology as a solution, not a hindrance, to increasing their operations and streamlining workflows.
For instance, restaurants are increasingly investing in mobile and contactless POS systems enabling wait staff to take orders at customer's tables and issue payments. This means they can avoid rushing back to manually enter orders at a stationary POS system or fetching a bill. Inevitably, this improves accuracy and allows waitstaff to turn tables faster without compromising the quality of service meaning they earn higher tips on more tables.
As customers and staff are increasingly seeking to protect themselves and their loved ones from contagious diseases like COVID-19, contactless payment options allowing customers to pay by waving or tapping their debit, credit card, smartphone, or tablet — will continue to increase in popularity. However, this won't likely help the labor crisis; restaurants will have to continue to adapt their working conditions by offering bonuses or raising wages to attract and retain personnel.
Sekure is the Preferred Partner of Small Restaurant Owners
If you are ready to explore mobile and contactless POS systems for your restaurant, Sekure's friendly and knowledgeable payment processing experts are here to guide you towards the best solution for your restaurant. We will help to match you with a right-sized POS solution and equip you with the right hardware to streamline your meal service and business management tasks more efficiently so that you can focus on what matters most– providing the best dining experience for your guests.