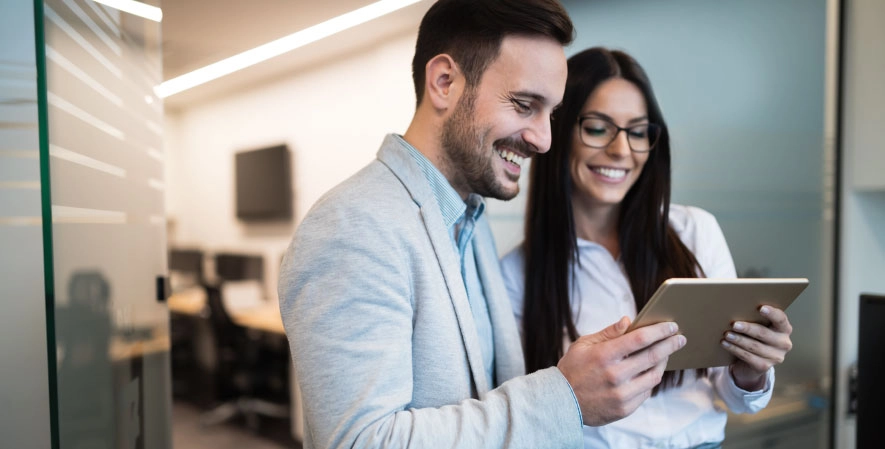 The right point-of-sale (POS) system is an important decision for your business. After all, a POS system is the hub of your business—and finding one that aligns best with your company is key.
In addition to checking out customers and recording sales data, the POS system brings together information about inventory, customers, and employees that will ultimately help you manage your business more efficiently.
With hundreds of products available on the market, it can be difficult to choose the right one for your needs.
Read reviews of the five most popular point-of-sale (POS) systems
Micros
The Oracle Micros Workstation 6 Family for hospitality and retail businesses like coffee shops features a modern appearance and slim footprint. The company's customer service reviews don't get high marks, and the start-up and upgrade fees—all quote-based—can be cost-prohibitive for small businesses. It's worth noting that Micros' client roster includes major food and hospitality brands, such as Ben & Jerry's, Sonic, Hardrock Café, and the Waldorf-Astoria hotel.
Among the Micros' numerous benefits are a 15.6-inch widescreen FHD display, Microsoft Windows OS, an integrated magnetic card reader, and an adjustable stand to accommodate power supplies and peripherals like barcode scanners and card readers. The POS offers a choice of three terminals offering flexible hardware options, and its integrated design provides consistent delivery across multiple devices, from tablets to workstations.
Pros:
Functionality, maintenance, ease of training, and use
Customization features
Durable and sleek
Cons:
Lack of customer support
The high price point for small businesses
Cost: Pricing available by quote only
ShopKeep
ShopKeep is a responsive, powerful iPad-based POS. The system offers tools to help you manage hospitality tasks quickly and easily. These include managing registrations, booking, marketing, inventory, staff, and payments. ShopKeep includes a built-in cash register to keep track of checks and payments and tools to track staff hours and calculate weekly and monthly payroll.
ShopKeep is a no-contract, pay-as-you-go, monthly subscription service. Pricing has been listed at $69 per month on review sites, but ShopKeep asks that you contact them for a quote. Glitches and bugs in the system have been reported, but ShopKeep's award-winning customer service does a good job at taking care of clients.
Pros:
Reasonable pricing
Intuitive design
User-friendly
Robust back-office features
Excellent customer service
Cons:
Some limits within the inventory
Bugs in the system
Cost of add-ons
Cost: Pricing available by quote only
Lightspeed
Lightspeed Restaurant is a cloud-based iPad POS system for restaurants, cafés, bars, and nightclubs. Manage the challenging tasks of restaurant management seamlessly from your POS or an iOS mobile app. Some tasks that are made easy by Lightspeed include floor management, inventory tracking, customer tracking, gift card support, employee management, and an offline mode.
Lightspeed connects your front and back-of-house to streamline communication between your kitchen, wait, and host staff together, so your patrons enjoy an exceptional dining experience. You can also manage inventory, track labor, and review your business sales reports in real time. Lightspeed lets restaurant owners track employee and product performance, inventory, trends, and consumer behavior, allowing them to pivot quickly and ensure they are stocked and staffed to provide the best experience for their diners.
Pros:
Sleek user interface
Intricate employee management
Real-time feature
Depth of reporting
Cons:
Offline mode can't process payments
Cost: $69 per month
Mindbody
Mindbody takes a holistic approach to health-and-wellness business management automation software. Manage your business intuitively from one central location. Mindbody automates client scheduling, invoicing, payment, and payroll processing and lets your team focus on what's most important: your clients, collection, confirmations, rescheduling, and payroll processing. Clients can conveniently book their next appointment through the website or the Android and iOS app.
Check-in on your business health with real-time monitoring of revenue, sales, attendance, and client retention. Tap into high-quality data and apply it when improving your business. Mindbody has a higher price point than most other POS systems, but existing users feel the cost is justified for the benefits it provides for their businesses.
Pros:
Robust feature set
Varied support materials
Cons:
Steep learning curve
Bugs in system
Expensive monthly cost
Cost: Starts at $125 per month
Vend
Vend is a user-friendly, cloud-based POS system that offers broad functionality appropriate for retailers of all types and sizes. Vend is non-versioned, and the regular updates ensure that users experience very few problems with their software.
Vend operates on Mac and PC operating systems and has a convenient iPad app for small businesses. Vend will integrate with a wide range of hardware present in every type of business operation, including receipt printers, cash drawers, barcode scanners, and others. Merchants don't have to worry that an internet connection issue will halt their operations. Merchants can continue selling, and Vend will resync automatically when the issue is resolved and the system comes back online again.
Pros:
User-friendly
Cost-efficient
Many integrations
No annual contract
14-day free trial
Cons:
Additional cost for priority support
Less robust than some systems
Cost: Starts at $99 per month for small retailers and $129 per month for established or multi-store retailers.
Sekure Payment Experts has partnered with Vend to offer this POS to our customers. Contact us at Sekure to learn more about Vend.