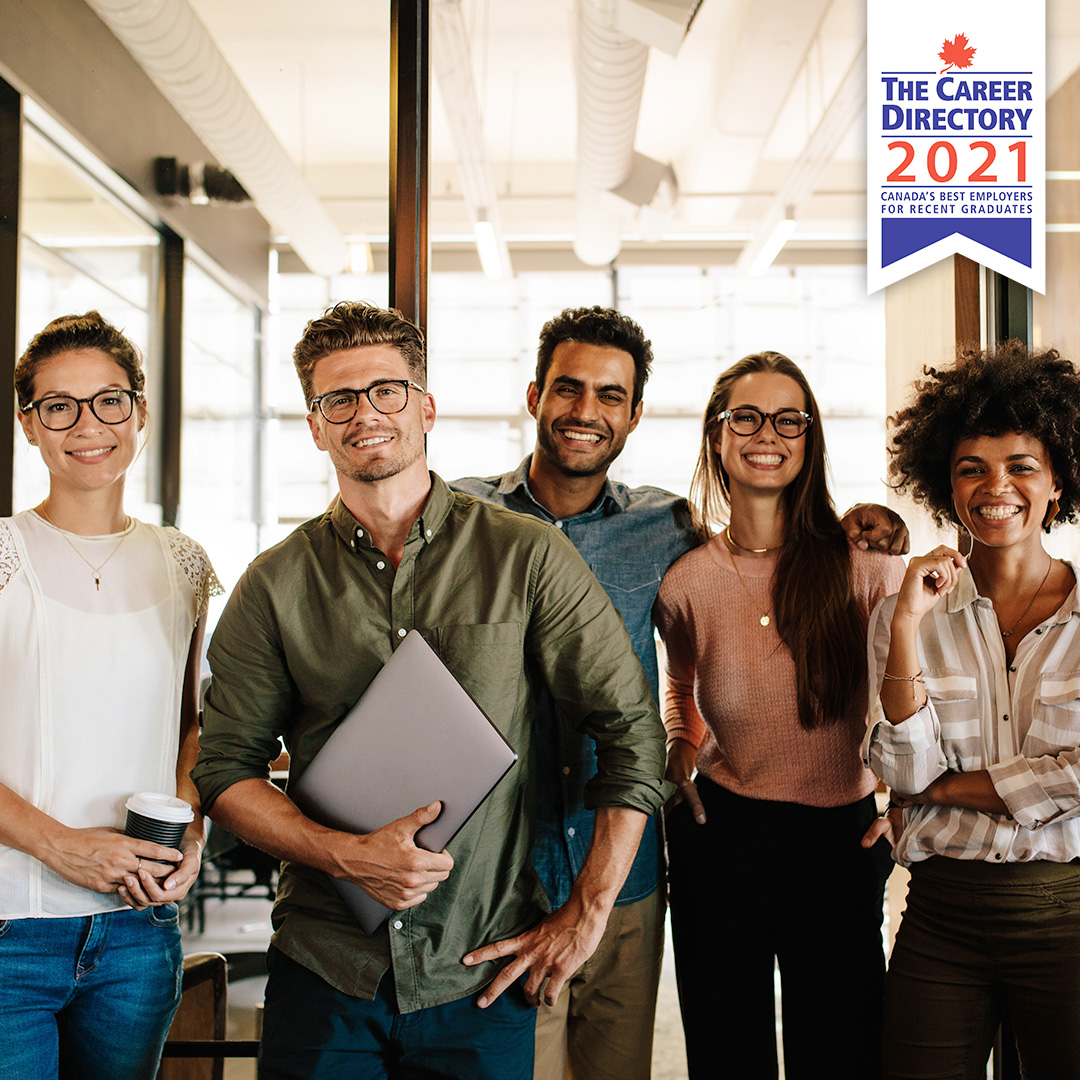 Une version française suivra.
The Career Directory is the go-to resource for students and recent graduates searching for jobs in Canada. Their recently published 2021 directory has named Sekure Payment Experts as one of Canada's Best Employers for Recent Graduates for the sixth year in a row.
Every recent graduate knows how difficult it is to find a job right out of university and understands that searching for an entry-level position is a classic Catch-22. Most prospective employers expect entry-level candidates to have experience right out of school, but few seem willing to give new grads opportunities to gain the experience they deem necessary.
To help them with this frustrating search, recent grads have turned to The Career Directory, an annual guide which reviews Canada's employers. It has become the go-to resource for students and recent graduates who are looking to enter the job force making use of their hard-won diplomas.
Sekure is honored to be named by The Career Directory as one of Canada's Best Employers for Recent Graduates for the sixth year in a row.
Why is Sekure such a great place to work?
For those working at Sekure, the announcement that their place of work is one of Canada's best for young professionals is not a surprise. The bonhomie between colleagues and the support from managers creates an inclusive culture focused on the growth, development, and well-being of everyone within the Sekure family.
Sekure is proud to offer recent graduates the opportunity to grow and develop their professional skills in a warm and inclusive environment.
Professional growth and development for recent grads in Canada
Sekure understands that a successful company is rooted fundamentally in the overall health, happiness, and well-being of its staff. In these unprecedented times, when access to healthcare is both crucial and restricted, Sekure employees are happy and relieved to have access to Dialogue, a company that provides comprehensive healthcare to patients virtually.
Sekure is dedicated to fostering an environment where new graduates can spread their wings and where all employees can continue to improve their skills. Through close collaboration with managers and colleagues, young professionals shape and hone skill sets and see them rewarded with opportunities for rapid advancement within the organization. Sekure is proud to further enrich the coaching and one-on-one development initiatives by offering employees free French language courses.
The French language courses and ongoing mentoring and skills development supplied by Sekure allow employees to build professional skills and keep their academic muscles honed and toned. Sekure recognizes that mind and body are equally important to your overall well-being, so employees also enjoy discounted gym memberships as well.
Learn more about life at Sekure.
Office wow factor
For jobseekers in the Montreal area, Sekure boasts two incredible office locations located in the heart of downtown Montreal and in the beautiful West Island. Sekure understands that professionals spend a large portion of their lives at the office and, as such, the space where their employees spend much of their days should be a place they are excited to come to every day.
The West Island office would not be out of place in Silicon Valley with its cozy lounge areas, fully stocked café, and envy-inducing workstations. For those living in the city, Sekure's office in Place Ville-Marie is a dream location in the heart of Montreal's vibrant, beautiful downtown core. The office is located steps from the Metro and Sekure provides discounted STM passes for employees to make the commute affordable as well as convenient.
Work-from-home opportunities
The unprecedented events of 2020 saw Sekure employees joining the rest of Canada in working from home. Sekure's team has successfully shown that collaboration and work performance are unimpeded by physical distance, and this has expanded opportunities for remote work within the company.
Like many forward-thinking enterprises in Canada, Sekure has responded to the mandatory lockdowns put in place due to Covid-19 and expanded its work from home opportunities. This opens Sekure's doors to recent Canadian graduates outside of Quebec who are looking to expand their professional skills and gain invaluable real-world experience, while being fully supported within Sekure's dynamic and enthusiastic team.
Sekure celebrates diversity
Sekure's team is truly global and celebrates the fact that their workforce represents dozens of nations across all five continents. Sekure has a truly collaborative culture, where each member's contributions are weighed and valued equally. The ongoing skills development and coaching young professionals receive at Sekure equips them with the confidence and experience to take ownership of their career path and quickly gain opportunities to rise through the ranks and lead projects.
Entry-level job openings are available
If you are interested in working with one of Canada's Best Employers for Recent Graduates, now is your opportunity to join the team at Sekure! No matter what your field of study, recent graduates are sure to find an opportunity that's right for them. Sekure has seen significant growth as a company thanks to the hard work and dedication of its passionate employees. As such, there are openings across departments from sales to IT and marketing.
Are you ready to meet your new team? Find your career at Sekure today!
Sekure nommé l'un des meilleurs employeurs du Canada pour les jeunes diplômés en 2021
Le « Career Directory » est une ressource incontournable pour les étudiants et les nouveaux diplômés à la recherche d'un emploi au Canada. En effet, son répertoire 2021, récemment publié, classe Sekure Payment Experts parmi les meilleurs employeurs au Canada pour les nouveaux diplômés, et ce, pour la sixième année consécutive.
Tous les nouveaux diplômes en sont conscients : entrer sur le marché du travail à la sortie de l'université n'est pas chose aisée, sans parler du cercle vicieux que représentent les emplois de niveau débutant. En fait, alors que les employeurs exigent que les candidats de postes de débutant aient une expérience dès la sortie de l'école, peu semblent disposés à donner aux nouveaux diplômes la possibilité d'acquérir ces acquis essentiels…
Pour faciliter cette pénible démarche, les jeunes diplômés se tournent souvent vers le Career Directory, un guide annuel qui fait le point sur les employeurs canadiens. Il est désormais un outil indispensable pour les étudiants et les jeunes diplômés souhaitant entrer sur le marché du travail et faire valoir leurs diplômes si durement acquis.
Sekure a l'honneur de figurer, pour la sixième année consécutive, parmi les meilleurs employeurs au Canada pour les jeunes diplômés, selon le Career Directory.
En quoi Sekure est-il un lieu de travail si intéressant?
En effet, cette annonce n'est pas une grosse nouvelle pour les employés de Sekure. Grâce aux rapports positifs entre collègues et au soutien des dirigeants, il existe une culture de travail inclusive qui met l'accent sur la croissance, le développement et le bien-être de chacun au sein de la famille Sekure.
Sekure est fier d'offrir aux jeunes diplômés la possibilité de s'épanouir et de développer leurs compétences professionnelles dans un milieu de travail agréable et accueillant.
Croissance et développement professionnels pour les jeunes diplômés au Canada
Sekure comprend que le succès d'une entreprise repose fondamentalement sur la santé, le bonheur et le bien-être de son personnel. C'est pour cela qu'en ces temps sans précédent, où l'accès aux soins de santé est à la fois crucial, mais limité, les employés de Sekure se montrent heureux et soulagés de pouvoir accéder à Dialogue, une entreprise qui propose des soins de santé complets aux patients de manière virtuelle.
Sekure s'efforce de créer un milieu où les nouveaux diplômés peuvent s'épanouir et où tous les employés ont la possibilité de se perfectionner. En collaborant étroitement avec les gestionnaires et les collègues, les jeunes professionnels auront la possibilité de développer et de perfectionner leurs compétences et se voir récompensés par des possibilités d'avancement rapide au sein de l'organisation. Sekure se fait également un point d'honneur d'enrichir les initiatives de coaching et de développement individuel en offrant gratuitement aux employés des cours de langue française.
Les cours de langue française et les services de mentorat et de perfectionnement fournis par Sekure permettent aux employés d'acquérir des compétences professionnelles et de garder leurs acquis scolaires à jour et en bonne forme. Enfin, Sekure reconnaît que le corps et l'esprit sont aussi importants l'un que l'autre pour le bien-être global, c'est pourquoi nos employés bénéficient également de réductions sur les abonnements aux centres d'entraînement.
Des bureaux formidables
Les chercheurs d'emploi de la région de Montréal découvriront chez Sekure deux incroyables bureaux situés au cœur du centre-ville de Montréal et dans le magnifique Ouest de l'Île. On le sait : les gens passent une grande partie de la vie au bureau, de sorte que l'environnement de travail doit être accueillant et susciter un grand enthousiasme de la part des employés.
À cet égard, le bureau de l'Ouest-de-l'Île, avec ses salons confortables, son café bien approvisionné et ses postes de travail impressionnants, évoque ceux de Silicone Valley. Pour les citadins, le bureau de Sekure à la Place Ville-Marie offre un espace idéal au cœur du magnifique et dynamique centre-ville de Montréal. Les installations ne sont qu'à quelques pas du métro, tandis que Sekure propose aux employés des titres STM à prix réduit, permettant ainsi des trajets domicile-travail aussi abordables que pratiques.
Des possibilités de télétravail
Les événements sans précédent de 2020 ont amené les employés de Sekure à travailler depuis leur domicile, tout comme le reste du Canada. Or, l'équipe de Sekure a démontré de façon convaincante que la distance physique n'entrave pas la collaboration ni le rendement au travail, ce qui a permis d'élargir les possibilités de travail à distance au sein de l'entreprise.
Comme beaucoup d'entreprises progressistes au Canada, Sekure a réagi aux mesures de confinement obligatoires mises en place en raison de la COVID-19 et a étendu les possibilités de travail à domicile. Ainsi, Sekure ouvre ses portes aux jeunes diplômés canadiens hors Québec qui cherchent à développer leurs compétences professionnelles et à acquérir une précieuse expérience pratique, tout en étant pleinement soutenus par l'équipe dynamique et enthousiaste de Sekure.
Une grande diversité
L'équipe de Sekure se caractérise par diversité et se réjouit du fait que ses employés sont issus de dizaines de pays des quatre coins du monde. Quant à la culture organisationnelle de Sekure, elle repose sur la collaboration, les contributions de chacun des membres étant évaluées et valorisées de manière égale. Grâce au perfectionnement continu des compétences et à l'encadrement que reçoivent les jeunes diplômés de Sekure, ils bénéficient de la confiance et de l'expérience nécessaires pour maîtriser leur parcours professionnel et saisir rapidement les occasions de grimper les échelons et de diriger des projets.
Possibilités de postes de débutant
Si vous souhaitez travailler au sein de l'un des meilleurs employeurs du Canada pour les jeunes diplômés, ne ratez pas l'occasion de rejoindre l'équipe de Sekure! Quel que soit votre domaine d'études, les jeunes diplômés trouveront à coup sûr une opportunité qui leur conviendra. Sekure a connu une croissance considérable grâce au travail acharné et au dévouement de ses employés passionnés. Par conséquent, des postes sont vacants dans tous les services, des ventes aux technologies de l'information et au marketing.
Envie de rencontrer votre nouvelle équipe? Votre carrière vous attend!